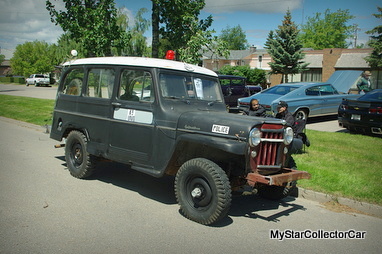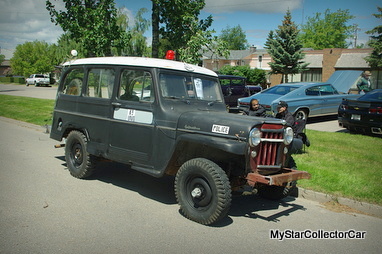 Jeeps were originally built to be a tool of the military because they were purpose-driven vehicles.
They had to be small enough to be transported efficiently, rugged enough to survive in brutal battlefield conditions and adaptable enough to function in many different roles.
Civilians caught Jeep fever when the war ended.
There were many reasons for the popularity, but the biggest factors were the same ones the military embraced-they were cheap, rugged and versatile…plus Jeeps were fun.
Trent Evensen is a big believer in that fourth factor as he explained, "I've had seven Jeeps in total, my first vehicle was a Jeep before I could even drive-they are so much fun". Trent's '56 Willys Overland is clearly a continuation of the Jeep fun factor in his life.
Trent explained the versatility of his Willys Overland, "They used them for everything because they could do everything". Trent likes to double down on the "they do everything" factor so he runs with a theme every year with this Jeep.
This time the Jeep was outfitted like a police K-9 unit with signage, period-correct emergency lights and a few "K-9s" for display purposes. At first glance his Jeep looks like a fairly serious vehicle until you look at the dogs. Trent filled in the blanks on the furry props, "Denise (his wife) has a lot of stuffed dogs so they kind of fit into the theme in a fun way".
Trent's exercise in imagination is a clear example of how much fun he has in the hobby,"It is a lot of fun because I like to do something different every year until it gets restored.I'll run with this theme this year".
This Overland is definitely a driver at this point and Trent is an analytical owner, "Right now it's got a 265 Chevy as far as I can figure. It's hooked up to an overdrive with an adapter".
Trent's experience with vintage Jeeps enables him to get a perspective on the performance of this Willys," I try to drive it when I can and it'll do about 50 miles per hour because it's a little more free-wheeling than the fat fender Jeeps and it's great on gravel roads".
There are some minor upgrades on this Willys even at this point, "It's got seatbelts and a cassette player so it's a little more than stock even now".
Trent has a well-defined game plan for the Jeep, " I'm going to work on it a little bit at a time, have fun with it and build it up as time and money allow".
His game plan is incredibly simple, "I'm doing a little rust repair a bit at a time and one area at time".
Regardless of the time factor, Trent is very firm on the future of this Jeep, "I'm definitely going to keep it and get it to another level plus have fun with it the whole time.
There are many reasons to own a Jeep and fifty years ago nearly everyone of them were extremely practical but over the year those reasons have changed significantly.
Trent summed it up this way.
"It's all about having fun".
Jerry Sutherland