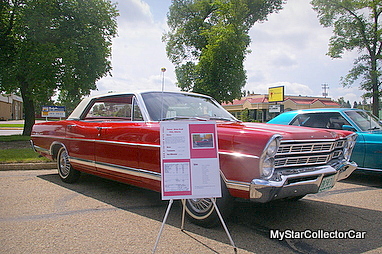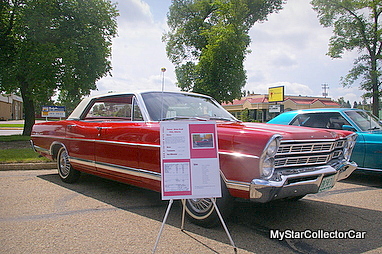 Big Ford sedans were extremely common in the 1960s.
You saw them on the road as police cars and taxis but most often they were full of kids because they were family cars.
Baby boomers grew up in the back seat of these large Ford Galaxies.
This particular 1967 Ford Galaxie is a time capsule back to a pre-minivan era when vehicles like this fulfilled many roles.
Brian Krall knows the history of this extremely low-mileage car better than his own family tree. He outlined the highlights of this car's background, "There's a lot of information on this car. It was too big for the original owner so it was covered up and left sitting for years".
Brian listed the paperwork on this '67 Galaxie, "I talked to the original salesman and the guy who sold the car new wasn't a Ford dealer but he sent the invoice from his records.There also a letter from Ford and a warranty card".
Ford Galaxies were mid-range cars in price back in 1967 but this car was above average in price as Brian explained, "The original order from listed it at $4075.30 but the dealer sold it for 3223.90″.
The low-mileage Ford eventually moved on to a new owner, " The 2nd owner told me he took some plastic off the back seat when he bought it. It was covered up until 1992 and it was traded in on a Dodge van. It was only on the lot a few days when it was bought by this guy with a collection of cars".
This is one of the most pristine examples of a 1967 Ford on the planet thanks to a series of events, and Brian is more than happy to be the current caretaker of this big Galaxie.
Brian recognizes that he's the owner of some serious Ford history but he also is the kind of owner who likes to put some miles behind the wheel as he explained, "It had 16,600 miles on it when I bought it and now it has 17,800 miles".
He's realistic about the balance between preserving history and having fun with his car. Brian described the feel behind the wheel, "I drove it to Radium and it rides like a brand new car. The only thing it didn't have is AC but that's pretty minor".
Brian disclosed one more thing about the car that made it oddly practical, "This is a 289 so the car actually gets really good mileage. I found that out on the trip to Radium".
This 1967 Ford Galaxie is so close to a factory time machine you can almost hear the Beatles on the radio but it did a few minor issues as Brian admitted, "It's all original except for some minor touch up on the rockers. This car was bought in Saskatchewan so it did see a little gravel but that's about it".
Brian's Ford was outstanding even at a large Ford show because it's such a great example of what was really on the roads back in the Summer of Love. The reality is the roads in '67 were full of Ford Galaxie sedans, not GTOs and Shelby Mustangs so this car definitely represents an era.
Brian loves the historical side of the car and the fun behind the ride but his practical sides kicks in when he sums up the experience.
"The stock market crashed when I bought it back in 2008 but I'm good with this car".
Jerry Sutherland