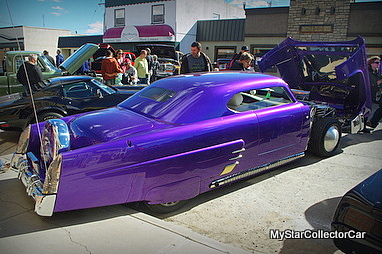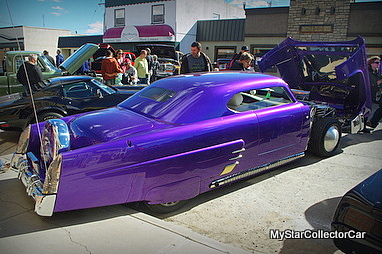 The biggest problem with this custom 1953 Monarch is the big crowd around it at every show.
Owner Dan Hawkins is used to the attention and is considerate enough to park about 5 feet away from his neighbors at car shows because he does not want their cars damaged by people looking at his car.
In fact, Dan likes to step back from his incredible custom car and just listen to the reaction of onlookers.
We found Dan when we asked out loud if anybody knew who owned the Monarch and he stepped out from the crowd and told us he was the guy.
The car is the result of three straight years of non-stop labor from Dan as he applied his considerable skills to a major custom project.
It was 6000 long hours later before Dan finished off the Monarch. He cut the car into 5 pieces and added 3 feet to its length, along with a 4 ½" chop to the Canadian Ford.
This car has been channeled, has a 126″ wheelbase and weighs about 4600 lbs. The donor car for the Monarch was a 1994 Cadillac STS and it now sports a Northstar engine and front-wheel drive.
Obviously Dan used everything he could off the Caddy, because his Monarch even has ABS and air bags.
The biggest appeal of this car is its stylish custom features. Dan has created front passenger doors that disappear into the rear quarter panels and the process was almost as complicated as the first lunar landing.
The system required 12 micro-switchers, 4 electric motors, a hydraulic system, and 255 feet of wire in each door. This part of his custom project severely tested his patience and forced him to ignore his wife of 43 years when she gave him this sound advice: "Just put hinges on it".
Dan is clearly a man who loves challenges and he was not about to give up on his hidden doors, so he rode out the storm and finally got the doors working according to his original vision.
He also applied his considerable talents to the roof and told us his roof is now only 1/3 original, while the rest is the result of many hours on the English wheel.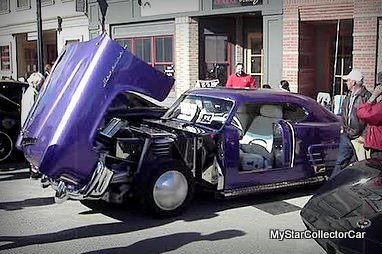 An English wheel is not something that can be used by just anybody because it requires excellent fabrication skills, endless hours of hands-on learning and a deep well of patience to master it.
Dan learned how to use the wheel after this process and the result is a spectacular roof line on his Monarch.
Surprisingly, he is a self-taught machinist and welder who built a spectacular custom Monarch. Now he can enjoy the fruits of his long labor and attend car shows whenever and wherever he pleases with the car.
The Monarch will drive whisper-quietly down the road and Dan assures us he can set the cruise and fly down the highway in more comfort than the original Caddy donor car.
Dan summed up his project with a message he borrowed from a friend: "If it's meant to be it's up to me".
Truer words were never spoken by the man who built one of the finest custom cars we have ever seen at a show.
Jim Sutherland