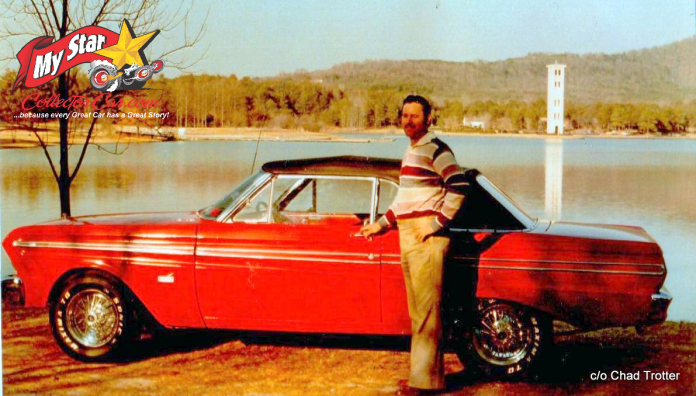 The best MyStarCollector Car owner's story is the one with a major family connection.
This 1965 Falcon convertible is a classic example.
Chad Trotter is the proud caretaker of this rare little Ford and he was happy to explain its history from the day his father Bill bought it: "My dad was on the hunt for a convertible to restore. He and mom were riding around when he spotted the Falcon in an individual's yard. He stopped and asked if it was for sale, but the man of the house was not home. He went back a week later and was able to purchase the car for $300! I believe it had a 170ci straight 6 with a 3-on-the-tree! It had the standard Futura package, bench seats, AM radio with one speaker (still in car), and 4-lug, 14" wheels. It did come with a power top which still works today".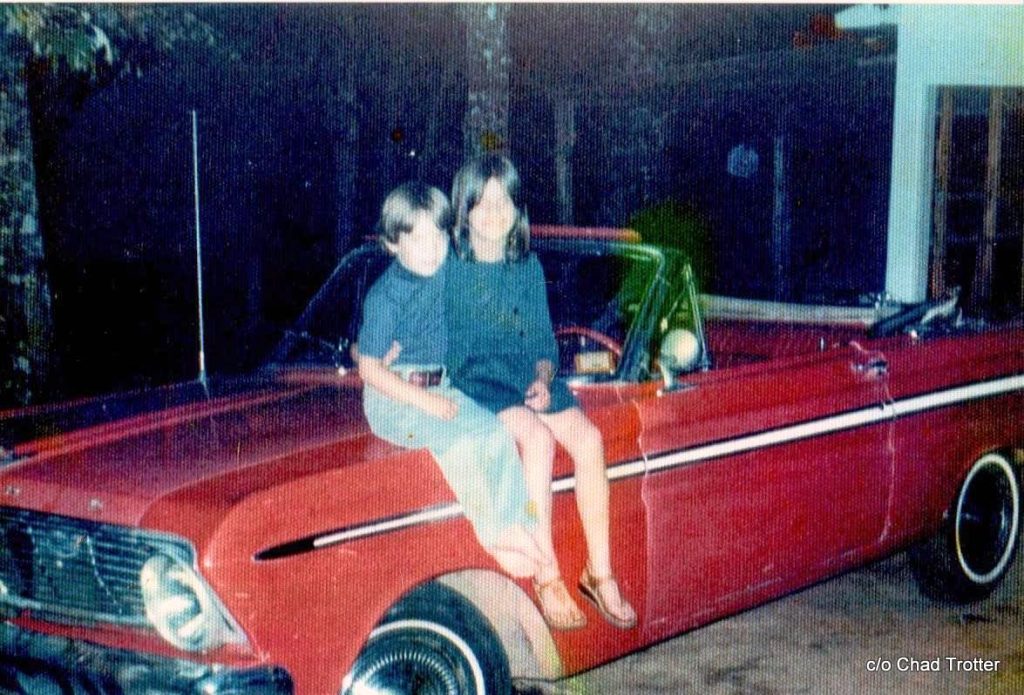 The Falcon was in decent driver condition: "The body of the car was in good shape, no rust. dents etc. The front floor pans have been replaced but we did that much later. Still had original paint, interior, top, and wheels. I believe the motor was shot so he replaced it with a 200ci".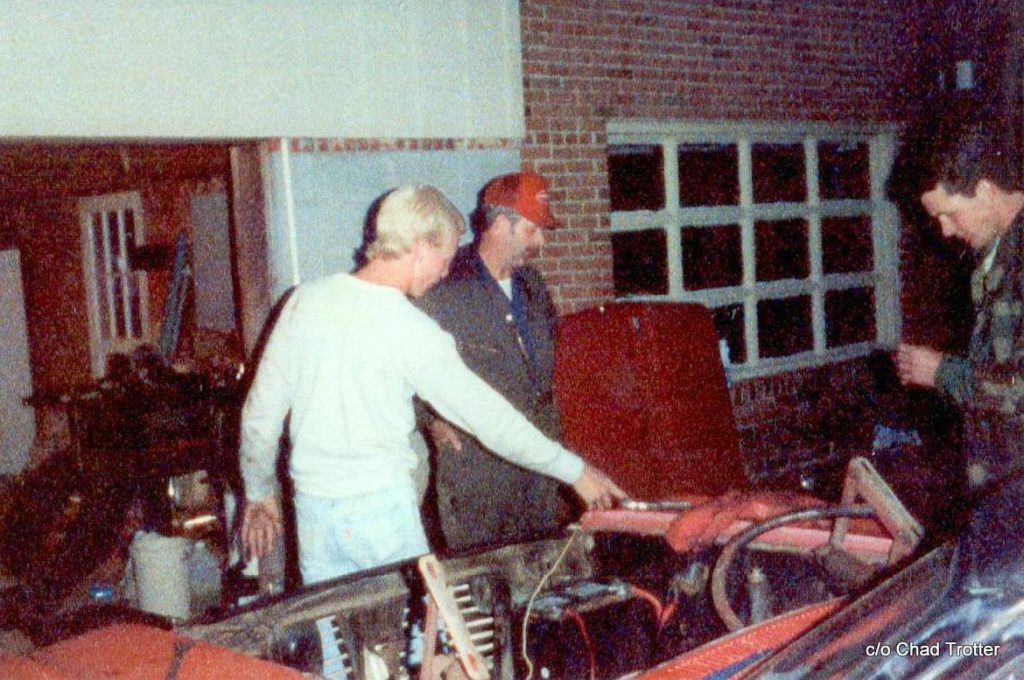 Chad's car was definitely bought with fun in mind: "He bought it for a toy. However, he did drive it on a family vacation once to Sanibel Island Florida- almost 800 miles! It did great and got better gas mileage than my uncle's Vega! He still brags about that today".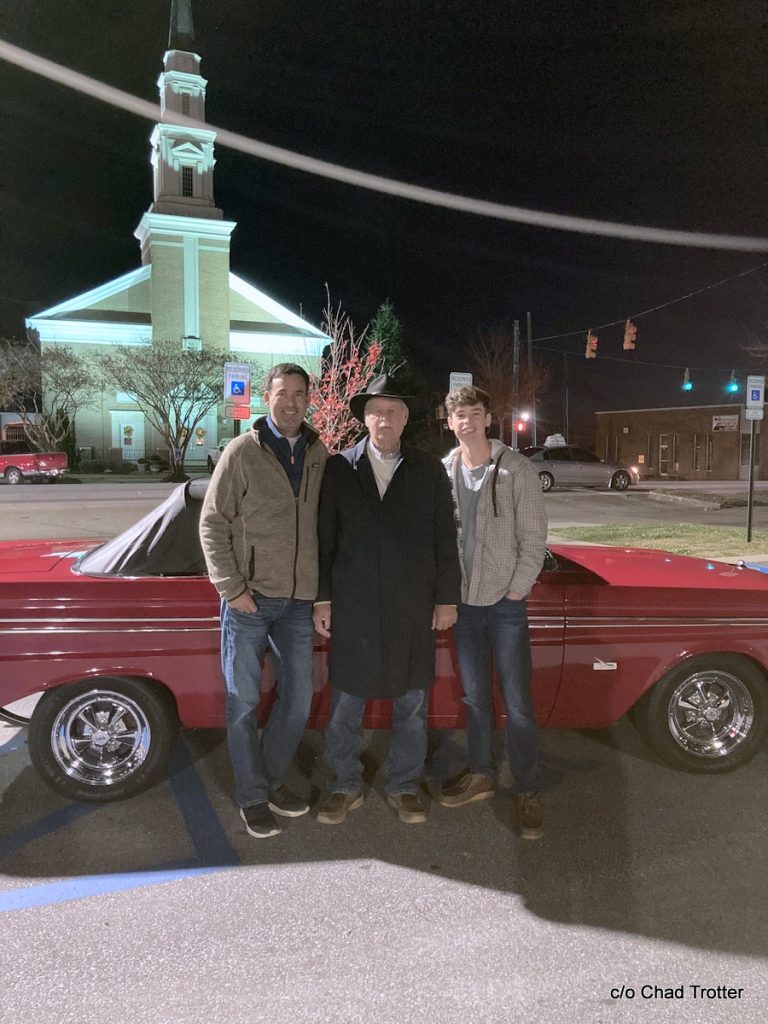 This Falcon wasn't a money pit because his father was realistic about his investment: "Repairs not as much as upgrades and changes. He first replaced the motor with another 200ci straight-6. He later repainted it and added a new top, interior, and Keystone Classic wire basket wheels. He also installed a Thrush muffler which I fell in love with! When I started driving it, I spun most of the wire baskets off! I ended up taking them all off and just ran the chrome wheels".

Chad was thrilled when he took over the car but it came with conditions: "I started driving when I turned 15 in '86 and boy, were my friends envious! My high school sat on a hill and I would put the car in second gear and let that Thrush muffler backfire all the way down the hill! It had been off the road for several years. Because it sat in the basement garage, the paint and top was still in decent shape. Unfortunately, it was not long until he took it away from me! My sister and I were home alone one weekend and I wrecked his truck–centered it up a tree at 1am showing off of course! It sat until my senior year in high school and then I got it back. On my 18th birthday he put the title in my name. That was a day I will never forget!"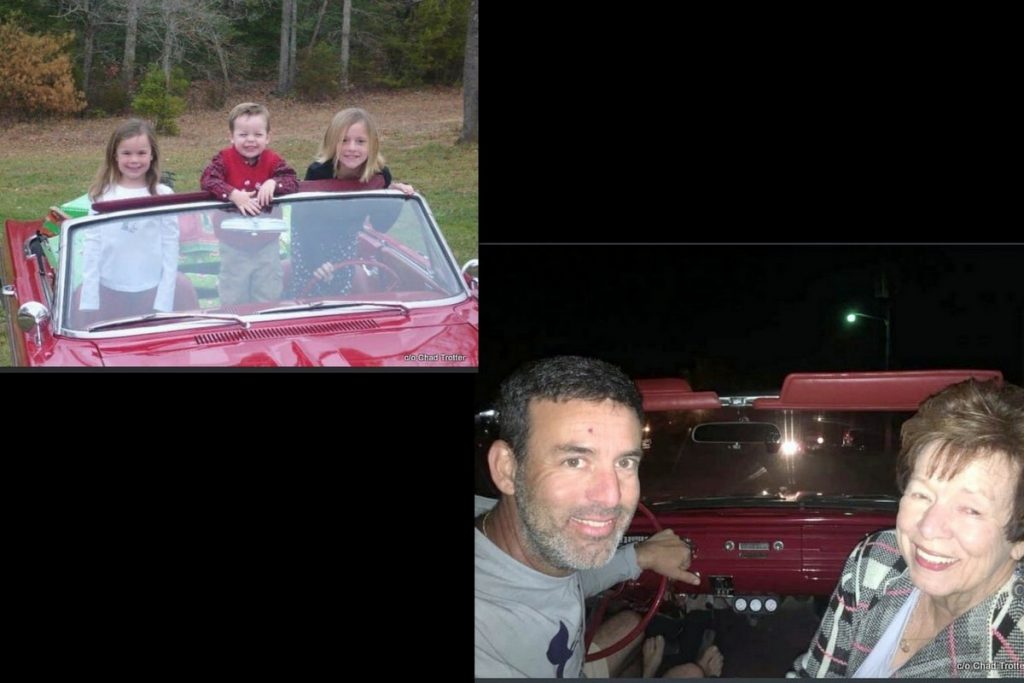 The Falcon has undergone many facelifts: "It has been restored three times all together and it's about ready for a fourth! When Dad gave it back to me in '89 we put in a rebuilt 200ci straight-six, new top and new paint. My buddies helped me strip the paint as well as replace the motor. We kept the Thrush muffler and by this time it had a hole in it. I just thought it sounded good earlier!"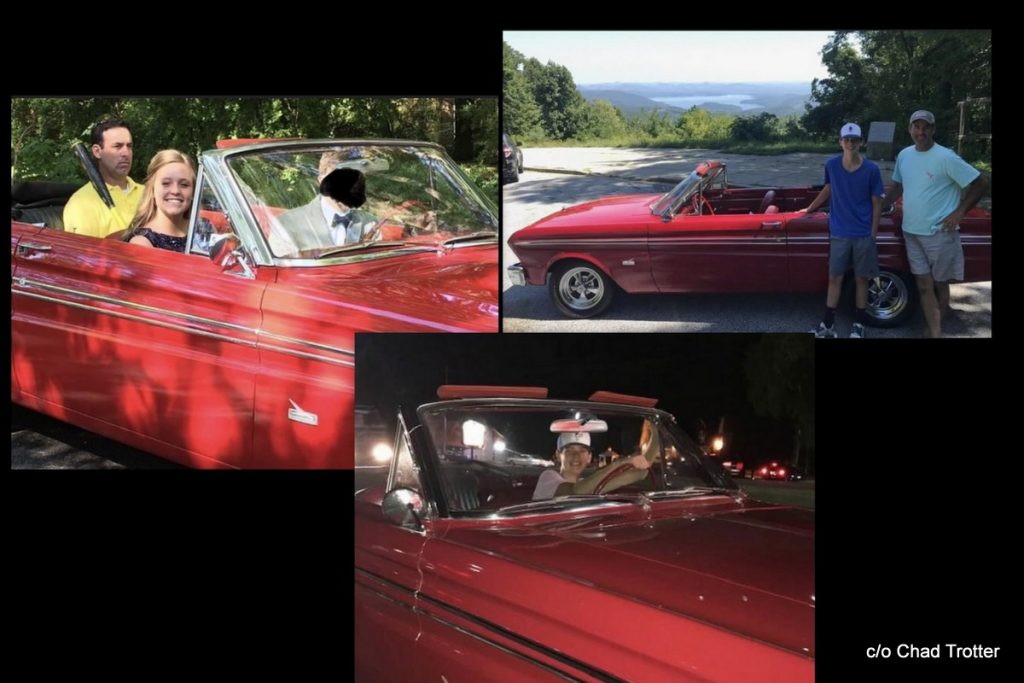 "We had to rush the paint in order to drive it on my senior trip to Myrtle Beach! I couldn't wait to cruise Ocean Blvd! Unfortunately, it ran hot at cruising speeds and I only got to cruise once at 4am! When my dad retired, we began its biggest restoration. We replaced the six with a 302, took out the 3-speed column shift and put in a C4 auto. I really wanted to go with a 4-speed, but I knew dad could drive it a lot longer with an auto. We replaced the bench seat with buckets, 4-lug to 5-lugs, added power steering, a new top, new paint and the Cragar wheels that are on it now".
Chad explained how the car has a very leisurely life now: "It's not garage art, but it doesn't get driven that much. The furthest I drive is once a year to Pigeon Forge, TN for the Rod Run. That's about 150 miles. We take occasional trips to the mountains and a few local cruise-ins. On pretty Sundays, my son and I will drive it to church as well. It's a blast to drive- mostly because of the compliments! I get a lot of horn blows, waves, and a lot of questions. As of lately, I spend more time in the passenger seat now that my son is driving. My friends are all shocked that I let him drive it, but I know those are memories that he will have forever! It will always be a driver!"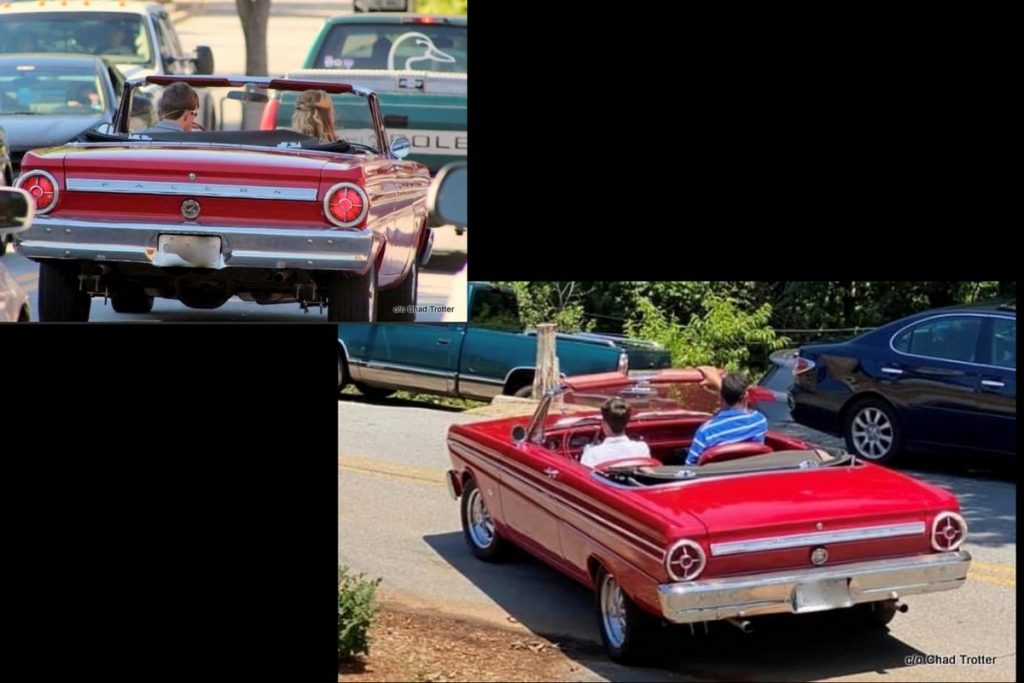 Chad is proud of the major family connection with this incredible little Falcon: "My best memories of the car are the countless hours dad and I spent together wrenching on the car. Neither of us really sure what we were doing but learned as we went. Every time I'm in the car the memories start coming back. Memories of mom and dad taking my sister Candace and I cruising Sunday nights after church. She and I would sit on the armrests in the back seat so we would look taller and older! Another fond memory is a time school was let out early due to snow. My friends and I drove around town with the top down as flurries were coming down. Another time my friends and I were coming home one night from a neighboring town and the dimmer switch went out, so we drove home by flashlight! Now my family and I are creating new memories".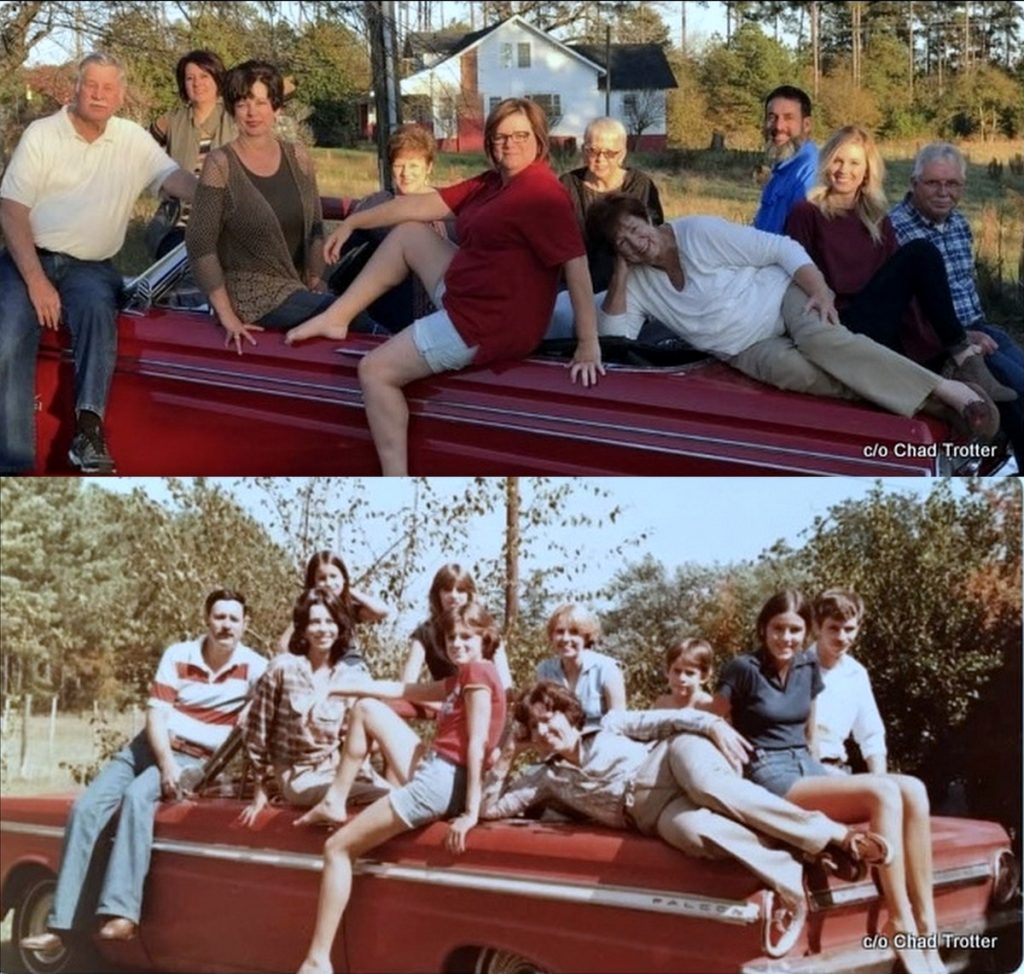 The Falcon has a bright future in the Trotter family.
Jerry Sutherland
Jerry Sutherland is a veteran automotive writer with a primary focus on the collector car hobby. His work has been published in many outlets and publications, including the National Post, Calgary Herald, Edmonton Journal, Ottawa Citizen, Montreal Gazette, Saskatoon StarPhoenix, Regina Leader-Post, Vancouver Sun and The Truth About Cars. He is also a regular contributor to Auto Roundup Publications.
Please re-post this if you like this article.