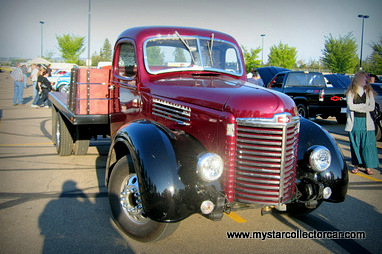 Kerry Mizera has a very unusual daughter.
Kjirsti looks like a cheerleader, but she is a dyed-in-the-wool car girl.
In fact, Kerry's daughter was a big part of a long and complicated resto-mod that involved a 1949 International Harvester truck, a Dodge Cummins powertrain, and a Ford Super Duty frame.
The end result was a striking vehicle that puts heads on a swivel every time Kerry and his daughter appear at a car show.
The project took seven years and involved an amazing amount of labor and patience from father and daughter. The project began innocently enough,as Kjirsti reported at the time. "Here's the truck. Looks rather dirty, but hey…what do I know? Dad's taking it apart, we're completely gutting it and re-doing everything".
The process was long and dirty as Kjirsti reported, "Slowly, but surely we have a truck! Dad's getting more excited as the days go by. We just got it back from the painters after getting it primed and putting part of the burgundy on, now we're attaching the cab to the deck again. *whew* loads of work".
Kjirsti had some faith in her dad's abilities-with some reservations "The truck now has doors, lights, steering, and a cd player! Dad and I were wiring the lights up last night, so far everything seems to work…nothing's smoking or smells burnt 🙂 It's going in for paint tomorrow".
The big diesel was not a natural fit in the old corn-binder. Kerry had to mount the intercooler under the truck floor, among other necessary modifications to pull off the project.
The General also played a role in the project because the steering assembly is pure General Motors. You could call this truck a multi-denominational ride, if old trucks are a religion to you.
We really liked this story because it is an unusual vehicle that became part of a larger bond between a father and his daughter. The two of them got up to their elbows in grease together and put together a stunning resto-mod that will roll down the highway all day and every day with anything on the road.
When Kerry started his project, all he wanted was something unusual that he could drive anywhere the road took him.
The fact that his daughter was such a big part of the project made it even more special to the two of them.

Jim Sutherland