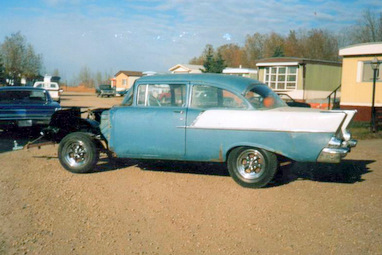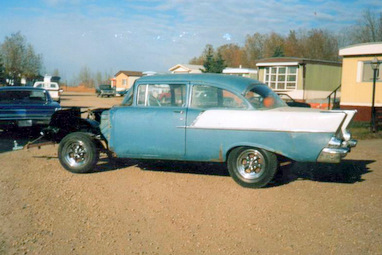 Like most car projects there is always a post mortem after the purchase and in some cases this comes as a huge shock-particularly when the problems are hidden behind tons of filler and new paint.
In Trevor's case this wasn't an issue.
The car was visually wide open and Trevor was an up and coming apprentice auto body technician so there were no heart-stopping moments found in this 57 Chevy. But the knowledge that come with experience in something like a restoration project also spells out how much actual work is involved-in other words ignorance can be bliss until you get the bill for work like that.
For Trevor Comfort, that wasn't a problem because he was paying in sweat equity-but he sure knew where his precious spare time was going to be spent for a long, long time.
Clearly the floors were an issue-they didn't exist because the car was missing every piece of glass.
Trevor attacked the project with a realistic plan so the floors were a priority but a concours restoration wasn't in the cards. He wanted this 57 post to be a basic driver in the first stages so he focused on the structure instead of the cosmetics.
Most of the initial work was done in Trevor's driveway so he had no ventilation problems.But he does live in Canada, not Florida,so he worked in some very crisp temperatures (-20-25) to get the job done. Eventually the floors were replaced and the car had a new chassis thanks to the donor station wagon.
The motor was actually done before the body-not unusual in many restorations but this was due entirely to having a sound engine out of the starting gate. That was a huge asset to a young family man on a budget.
Trevor wanted to drive the car in primer because of his financial restraints.
Guy,his boss had other ideas-he gave Trevor an early Christmas bonus by picking up the tab for the new paint.
To this day, Trevor still speaks highly of Guy, his late mentor and friend, for that and many other reasons.
Trevor had to acknowledge another partner in the project as well:"Please remember also to mention Arlo for doing the interior. Just as Guy helped with the cost of paint materials, Arlo did my interior within a very low budget. So at the very least I must always tell every one what a great job he did. I just pulled the front seat out to have it renewed after 18 years of family cruisin'. I always think it's great when people pay homage to the friends that helped make a project come together, with out the help of my friends I'd probably would have spent a few years cruisin' around in a primered car with blankets over the seats. (not that there's any thing wrong with that)".
Trevor drove the car in its original configuration for a year because-he wanted to drive it. That's a pretty simple answer, but it defines his practical philosophy to the project-make it safe and reliable for his family and do the add-ons later in stages.
He knew that the car still had a serious cosmetic rust worm problem but at this point it was a solid car with a pretty good paint job-plus it was ready for the road.
One year later,Trevor started working on Stage Two of the 57 Chevy project…and a period correct holiday trailer.