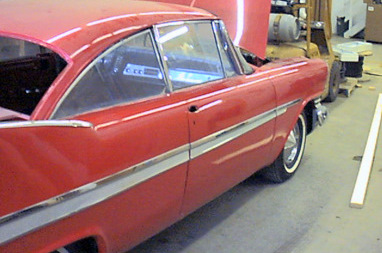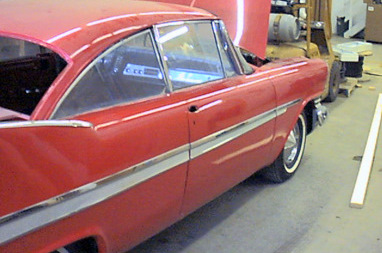 Getting into the game. The Famous Final Scene with Wally wasn't as poignant and sad as the legendary Bob Seeger song with the same title-in fact it was a very uplifting, positive experience to take over the reassembly of the 59 Plymouth and know that every hour spent on the car didn't come with another 4 figure invoice.
I'm not particularly religious but it was ironic that yet again, a major step in the project happened on Good Friday. The last time to recap, was when I picked up the pieces of the horribly mangled car on a Good Friday several years earlier from legendary lowlife Right-on John.
This time it was a triumphant return with a freshly painted fin car. But it wasn't without a problem.
That would be too easy.
Instead of a safe, uneventful 8 mile trip down a good dry highway my 1400 dollar windshield decided to be ground zero for the only rock within 10 miles of the freeway-instead of smacking the generic dime a dozen glass surface of the Chevy flat deck hauling the car the rock decided that a slightly higher trajectory would make more of a statement.
On my hard to find brutally expensive 59 Plymouth "bubble" windshield.
Even that wasn't a deal breaker on this resurrection weekend because the car was back in my hands and I could put most of it back together without having some guy standing in front of me every 2 weeks with his hand out. There were a few things that I couldn't handle but for the next few months that car was put together without one more check being cut. That, in car world, is the equivalent of climbing Mt. Everest without oxygen clad only in a bathing suit and living to talk about it on the Letterman show. This progress was made more exceptional by the fact that cars don't go together like plastic models with simple instructions-this was more of a trial and error strategy that was closer to a trip to Vegas and a blackjack table in luck than a concise game plan.
But the pile of bolts gets smaller and eventually you end up with a complete car with the exception of an interior and wiring and functional brakes-kind of like the legendary Ladas that came out of those Commie factories during those glorious "I'm a motivated Marxist" years.
The last stretch…2 more guys get invited to the party.
One wearing a white hat and the other has the standard black hat and mask. Stay tuned.