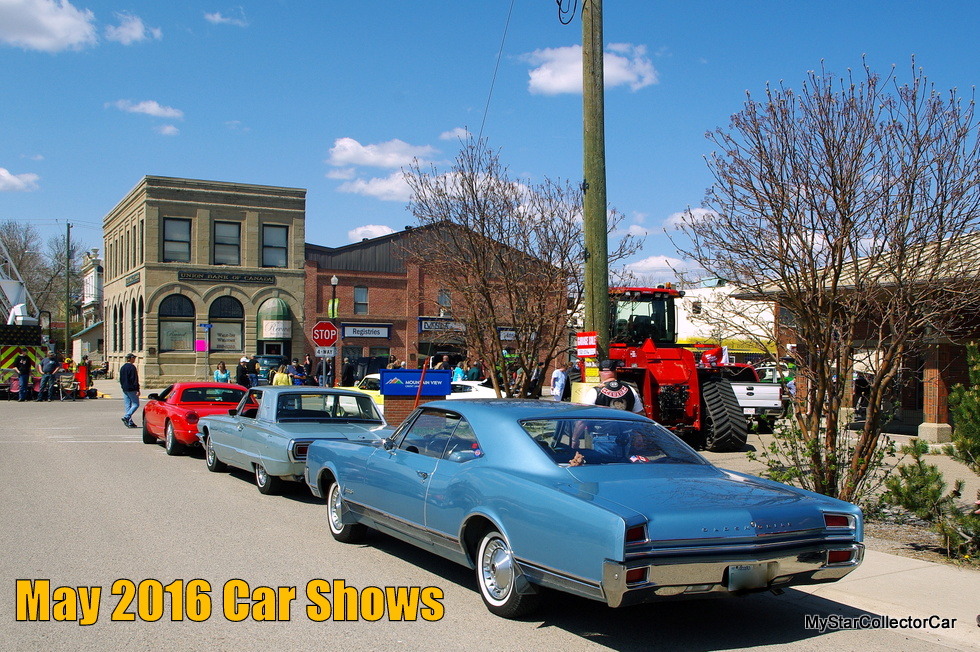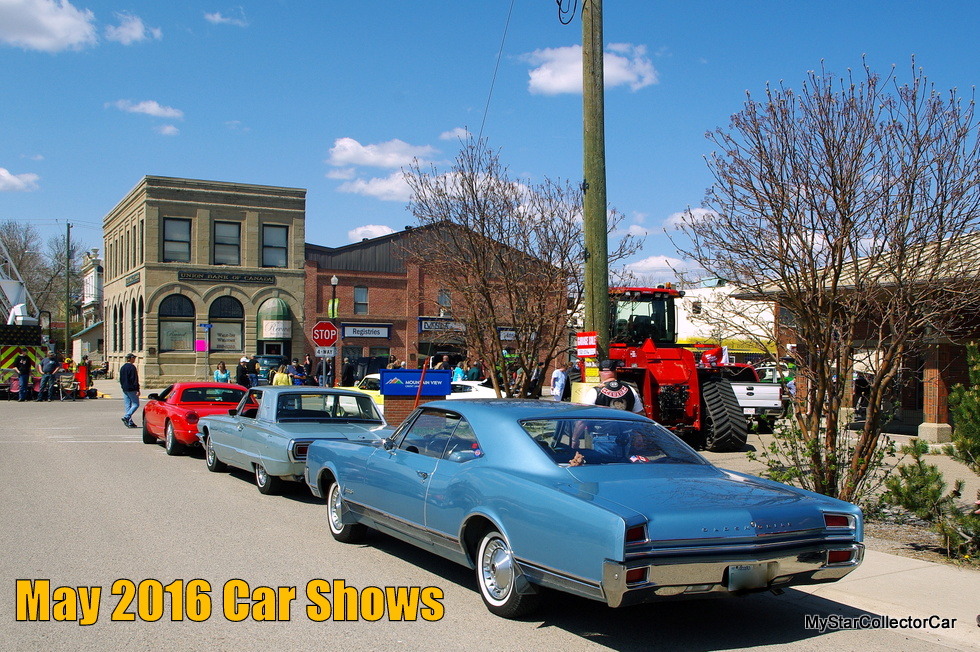 **Let us know about all your club meetings and community car shows and  we'll list them here FREE-we average 75-100,000 views per month–  Here's the contact link- https://mystarcollectorcar.com/contact-us/"

APRIL 30 – MAY 1: LINDSAY, ON – A.A.C.A – Antique Automotive Flea Market
MAY 1: COURTENAY BC Comox Valley Swap Meet
MAY. 1: JORDON, ON – Lions 1st spring Swap meet/Car Show, at our sports facility at the corner of 4th avenue and Jordan rd (2767 4th Avenue). Glen toys2many@yahoo.ca
MAY 1: LANGLEY, BC  29th Annual D W Poppy Car Show D.W. Poppy Secondary. This year we
are again looking forward to welcoming the Fort Langley Lions Club who will be offering a pancake
breakfast in the morning to our exhibitors and spectators. Preregistration for cars is $10 and is now open and available in person at the school office from 7:45-3:15 Monday- Friday or online thru http://www.brownpapertickets.com/event/2503661. contact Marlene Yakabuski at 604-612-7645 or Chris Janzen at cjanzen@sd35.bc.ca. ph: 604-530-2151 email yakabuski@shaw.ca

MAY 1: VINELAND, ON – Jordon Lions Club Annual Swap Meet/Car Show
MAY 2-3: MANOR SK Moose Mountain 8th Annual Cruise-In tvend@sasktel.net
MAY 5: RED DEER, AB Red Deer Cruise Night Every Thursday Evening May to Oct 6-9pm location Crossroads Church Dave @ 403-877-5047 reddeercruisenight.ca
MAY 5-8: FREDERICTON, NB Frexrod Car Show

MAY 7: DIDSBURY, AB Show and Shine
MAY 7: ROCKTON, ON 45th Annual Swap Meet/Car Show Rockton Fairgrounds, Dave Hounsell 905.304.9560
MAY 14: SASKATOON, SK Toon-Town Auto Swap Meet  306-222-5915  dalet@shaw.ca
MAY 14: LAKE SIMCOE, ON Innisfil Beach Park Innisfil Beach Cruisers Cruisefest
MAY 14: EDMONTON, AB 2nd Annual Jellinick Society Show and Shine Leonard 780-439-7434
MAY 15: CALGARY, AB Grey Eagle Casino Motorcycle Awareness Ride.  – Sunday May 15th.
MAY 18: SASKATOON, SK    5-6-7 Club Kick off to Summer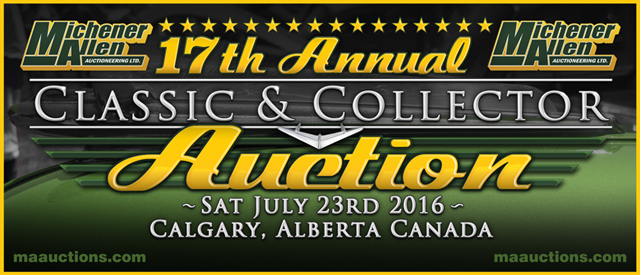 MAY 20: WATERLOO, ON – Cruzn' UpTown Waterloo. 7pm to 10pm. Drivers should arrive between 4:00-6:00pm on the corner of Caroline and Dupont Street.
MAY 20-22: KELOWNA, BC Corvettes in Kelowna 

MAY 21: MIRROR, AB 2nd Annual Show & Shine, in conjunction with Mirror Parade,activities planned for the day, pancake breakfast, hot dog sale, museum opened, Legion opened, kid activities across the street, evening Bar B Que & Street Dance kerrysmech@cciwireless.ca  Phone Number: 403-598-0520
MAY 21: GRENFELL SL 1-47 Cruisers 6th Annual Show and Shine CruiserI-47@sasktel.net
MAY 21: CARSTAIRS, AB Canadian Jeep Girls are hosting our 4th Annual All Things Jeep Go Topless Day!
MAY 21: CORMAN PARK, SK Team Boss Blue Spring Fling 306-975-2116
MAY 21: VANCOUVER, BC 32nd All British Field Meet
MAY 21: KELOWNA, BC Celebrating 50 Years of the Dodge Charger 778-215-6972
MAY 21 – 22: WATERDOWN, ON  Spring Swap Meet Car Show, Rockton, Fair Grounds 905-304-9560 www.waterdownswapmeet.com
MAY 22: PEACHLAND BC World of Wheels Car Show
MAY 22: CRESTON BC Valley Cruisers 11th Annual Blossom Show and Shine
MAY 22: WYNYARD, SK Rust Riders Fun Run
MAY 22: OXFORD MILLS, ON – Special Interest Auto and Motorcycle Show for the Anglican Parish  Chris Bryant (613) 989-3046
MAY 22: KASLO, BC 20th Annual May Days Car Show

MAY 27-8: ABBOTSFORD, BC 47th Annual Coastal Swap Meet
MAY 27-28 CHATHAM, ON RetroFest 2016 Classic Car Cruise and Show Connie Beneteau 1.519.352.8387
MAY 27-8: ABBOTSFORD, BC 47th Annual Coastal Swap Meet
MAY 27-29: VICTORIA, BC Saanich Firefighters 14th Annual Rock and Roll for Little Souls Car Show
MAY 27-31: KELOWNA, BC Classic T-bird 24th Annual Show and Shine/18th Annual 3-Day Tour kencarr@shaw.ca
MAY 28: MEADOW LAKE SK Cruisers Show and Shine acalvert@sasktel.net
MAY 28: CALGARY AB 2nd Annual Fire Rods Show 'n Shine
Apparatus Maintenance Facility 1755 18 Avenue N.E.,
Calgary, Alberta 9 AM to 3 PM Shop Tours and Barbeque 11 AM to 2PM $10 Registration Fee Benefiting Calgary Firefighters Burn Treatment Society hotrubber@live.ca
MAY 28: BLACKSTOCK, ON – Lions Car Show, Fairgrounds, Church St. 7am – 4pm Keith Brown 905-986-5603 keithbrown393@gmail.com
MAY 28: EDMONTON, AB 4th Annual May Madness Car Show and Shine fundraiser for STARS Air Ambulance. NAIT South Campus 7110 Gateway Blvd.
MAY 28: SHERWOOD PARK, AB "Got Chrome?" Show and Shine
MAY 28: REGINA, SK  Hooligans Car Club JDRF Fundraiser Poker Run  306-530-0597 evhanson@hotmail.com
MAY 28: INNISFAIL, AB Historical Village Show and Shine
MAY 28: ST. JACOBS, ON – Cruisin' Home for antiques, hot rods, muscle cars and special interest cars and trucks.  Jessica 519-664-2252, ext. 6430
MAY 28: DRUMHELLER, AB Boogie in the Badlands Show and Shine Bryan 403-321-0091
MAY 28: BARRHEAD, AB Chariots Car Club Fort Assiniboine to Barrhead Car Run
MAY 28: MEDICINE HAT, AB 7th Annual Harleys and Hot Rods Show and Shine jay@hdmedhat.com
MAY 28: FORT ERIE, ON – Annual Bridgeburg Car show  Central Fire Station 444 Central Avenue Dan Harkins 905-871-0321 or harknbark@cogeco.ca.
MAY 28-29: ROCKTON, ON –47th annual automotive swap meet,car show. Rockton Fairgrounds,Rockton,Ontario. May 28,29. Wknd after Victoria Day for 47 yr! Vendor fees-$15. daily,$25.wknd. Free camping. Vendor gate open Fri. noon at front of park; Sat&Sun. at 6:30 at rear of grounds. Follow signs. Car gate open Sat/Sun. at 7:30. Food bank donation is car entry fee,incl. driver,passenger. Spectator fee is $5. including parking. Spec. Gates open at 7:30.
MAY 28-9: WILLIAMS LAKE, BC Lakers Car Club 22nd Spring Roundup and Horsepower Hooligans Swap Meet 
MAY 28-29: WEST KELOWNA, BC Cops for Kids Show and Shine
MAY 29: WOODSTOCK, ON- Spring Show and Shine, STEELCRAFT, QCI. 1322 Dundas St East Grant  519-539-4040
MAY 29: REGINA, SK Collectors Car Club 32nd Annual Charity Show 306-949-6590  ccc@collectorscarclub.com
MAY 29: QUALICUM, BC VI Cruisers 6th Annual Picnic and Spamathon 250-338-6134
MAY. 29: COLBORNE, ON  Apple Blossom Tyme Festival Classic Car Show (pre 1989)  Keeler Centre, just south of downtown Colborne Contact number: 905-355-5004
MAY 29: AIRDRIE, AB Rockyview Show and Shine Melanie 403-945-4000
MAY. 29: ST. THOMAS, ON – Massive Swap Meet St. Thomas Raceway Parks.

MAY 29: MAPLE RIDGE, BC Senior Secondary Dry Grad Show and Shine 604-463-4175  dwatt@sd42.ca
MAY 29: EDMONTON, AB Super Cars For A Super Cause Stephan 587-982-3974
MAY 29: BARRIER, BC North Thompson Show and Shine 250-674-2956
MAY 29: CALGARY, AB Firebird Club 12th Annual Show and Shine
MAY 29: NANAIMO, BC Vancouver Island Mustang Association Spring Spectacular
MAY 29: GUELPH, ON  Revving Again Annual Car Show  15  revvingagain@hotmail.com 226-220-9734 or www.revvingagain.com

MAY 29: ST ALBERT, AB Cruisers 23rd Autorama
MAY 29: VANCOUVER, BC GVMA Spring Show Mustangs on Top 604-858-6763
MAY 29: COALDALE, AB Custom Cruisers Show and Shine Frank 403-345-3287
MAY. 29: MISSISSAUGA, ON – Annual Spring Fling 6500 Mississauga Rd three lights south of Hwy 401, 9 a.m. Open to vehicles from Dodge, Plymouth, Chrysler including AMC, Jeep, Mitsubishi, Rambler, Fargo, DeSoto, Willys and Nash. Les 905-877-9550, www.performancemopar.ca
MAY TBA: ELK POINT, AB EPAC Annual Show and Shine
MAY TBA: SYLVAN LAKE, AB Club Vee Dub Presents Fahrfromhome @ Sylvan Lake
MAY TBA: LANGLEY, BC Super Car Swap Meet hotrodrs@shaw.ca