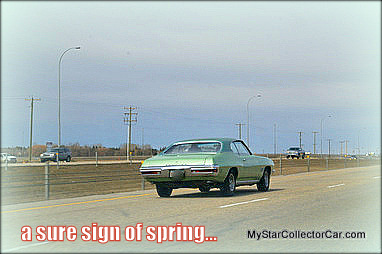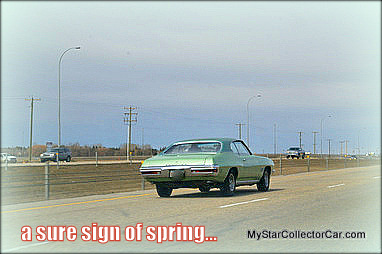 This is the time of year when signs of spring open the door to a much better season.
Songbirds return, grass starts growing, blossoms reappear and best of all…old iron hits the highway.
I travel with a camera 75% of the time and I wasn't disappointed on this early April day because today was one of those idyllic spring days when this 1970 Pontiac LeMans Sport whipped by in the fast lane.
Poets wrote lines about spring for centuries and foisted a series of poems on bored school kids forever when all they really had to do was insert this picture on the book.
The best thing about this Pontiac?
This was a LeMans Sport, not a GTO but don't interpret this as a shot at a legendary muscle car. The whole effect is important because even though this was a less glamorous model, they sold more LeMans than GTOs so that also made the lower end Tempest a far more likely prospect for car-spotting 42 years ago.
Today is a different story because a GTO is worth considerably more than a LeMans so from an investment perspective, money in a 'Goat' restoration makes more sense.
That didn't take anything away from this mint LeMans. One of the byproducts of immersion in the old car world is that you gain a multi-stage perspective on an old ride. The first stage is gut level-you're simply thrilled to see the old warrior on the street and your immediate reaction is a curious mix of admiration and envy for the owner.
Then you move on to a superficial analysis of the old classic. That can be fleeting if it's going the other way or you get a good look like this one if you can pace it on the highway. This old Poncho looked pretty good…clearly it had a stock paint code and the only mod from stock seemed to be the wheels.
After that you get down to the basics. This old Pontiac was travelling at an effortless 75 miles per hour, it tracked well, its ride height was stock and it didn't wallow down the highway. That narrows the answer down to either very low, well-maintained miles or a recent restoration that updated the guts of the suspension.
The final perspective is an analysis of the car's history. Typically a car like this Pontiac Tempest has a family connection so this was either Aunt Millie's car or a long term neighbor's ride. It could be a clone of a first car or favorite ride from the past or it might have been the kind of "stumbled-upon" deal no self-respecting car guy could overlook…a mint, low mileage, one owner museum piece.
That's where this springtime story has to end for me because those are questions about this old Pontiac that I love to ask on behalf of curious MSCC readers but they'll probably remain unanswered.
No problem-this 70 LeMans Sport made a great spring day a spectacular spring day.
Jerry Sutherland
Follow us on Facebook-http://www.facebook.com/MyStarCollectorCar
Follow us on Twitter at- https://twitter.com/#!/MyStarCollecto1