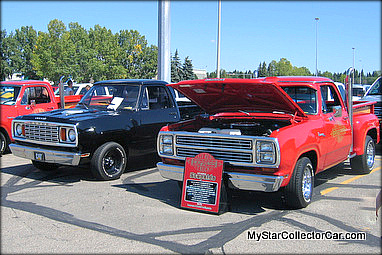 A couple of late 70s Dodge trucks side by side at a Mopar meet was interesting enough to investigate because one of them was a 1979 Dodge Little Red Express.
The black truck beside it was a muscled up Little Red Express painted black and given a 440 big block to add some fire to its belly.
It turned out that the trucks were owned by a husband and wife team who had immersed themselves in the hobby with their vintage Dodge trucks. Lawrence and Debbi Chenier were the enthusiastic owners of the pair and they love their pickups.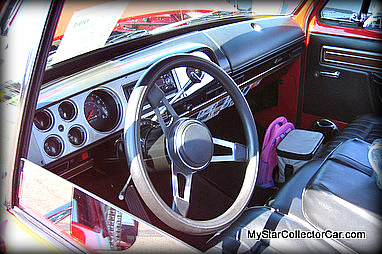 Lawrence grew up as a Mopar guy because his dad worked at a Chrysler dealership and spurred Lawrence's brand loyalty along the way. Lawrence's black Express will become a full-blown tribute truck that will replicate a little known Dodge called a Midnite Express.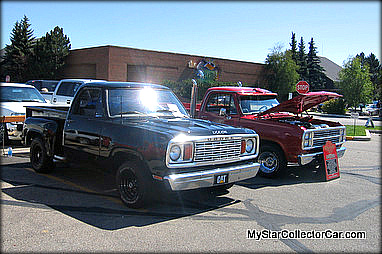 The Midnite Express was a very rare 1978 model that had a 440 under the hood to add some extra tire smoke to the equation. The originals are the very pricey stuff of legends for Lawrence and he wanted an affordable version of the original-thus the clone.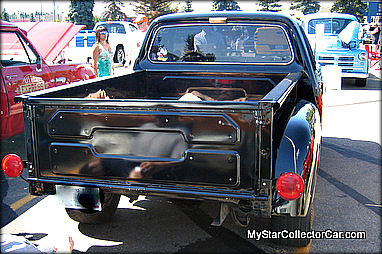 The cloning process was still ongoing for Lawrence but he was able to hit the show circuit in the black '78 Dodge with his bride and her Little Red Express to provide a solid pair of conversational pieces at the shows.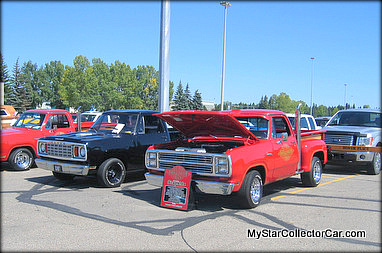 Debbi is a perfect partner for Lawrence because she shares his passion for the two year phenomenon from Dodge's 1978-79 truck model line-up.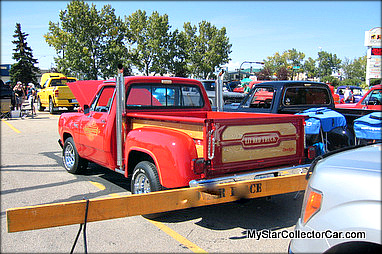 2188 Little Reds were made in '78, while 5118 Reds were made in 1979. No firm numbers on the Midnite Express models were found, but suffice to say that the Midnite models were extremely rare-rare enough to require a young Dodge historian like Lawrence to confirm their very existence with his tribute truck.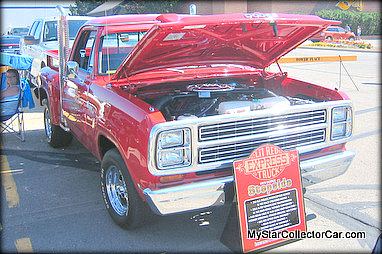 Even rarer than a good reason to listen to old Village People songs without a gun at your temple in 2012.
Jim Sutherland
Follow us on Facebook at-http://www.facebook.com/MyStarCollectorCar
Follow us on Twitter at- https://twitter.com/#!/MyStarCollecto1