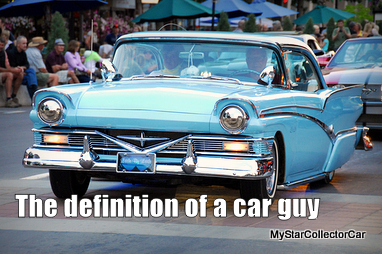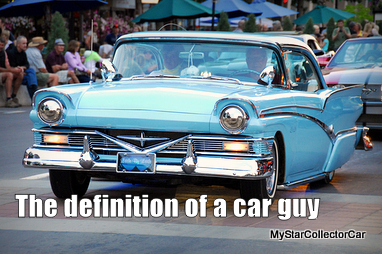 The best part about the old car hobby is who owns the old car.
Car guys are a breed apart from mainstream society because they choose to resurrect, rebuild and invest in old technology.
They are so heavily committed to this philosophy, they'll resurrect the past in a world where a smart phone is obsolete within six months.
Ike Martens was one of those heavily committed car guys.
Ike was the first car guy I met and interviewed for MyStarCollectorCar back in the spring of 2009. There were many reasons why Ike was chosen and the simplest explanation was that he had a very cool car. That's the simplest explanation, but the real reason was because Ike was a very friendly, well-informed car guy with a good story behind his 1963 Galaxie.
There were many car shows and events since 2009 and Ike was a constant at almost every one of them. He had a huge interest in old iron so whether it was a small show, large auction or giant tour, you could always find Ike at some point during the event.
Ike was the perfect conversationalist because he knew when to talk and when to listen, but the reality was you were far more likely to listen because his insight in the car hobby was impeccably correct, intelligent and informed. He was concise and factual – that's rare in today's world.
Ike provided a few stories for MSCC and one of the most interesting was his 1972 GMC. This was a textbook example of a low-mileage survivor but Ike was pretty matter of fact about this beauty. He stuck to the technical side of the truck and let admirers define it in their own terms. There's no question this was a unique vehicle and Ike was happy to tell the story behind it in his own concise style.
Some of Ike's car buddies used to play the "what's he driving today?" game because he had so many cool cars. I saw a classic '55 Buick in traffic a few years ago and couldn't catch up to it, but a few weeks later Ike showed up at a weekly show in that same Buick.
Ike had other cars like a '67 Cadillac and a '65 Thunderbird that he liked to take out occasionally to keep them loosened up and that was the real secret to Ike's car guy status. Ike didn't shove them into trailers because he liked the feel behind the wheel and the social side of the car show – he fit into both like a glove.
Every car guy on the planet has their signature car and Ike's was his 1957 Meteor two-door hardtop. This car appealed to him on several levels and one of the biggest was because it was distinctively Canadian. Another big factor was the period correct look of the car because Ike was really nostalgic about his high school years and this '57 Meteor took him back there every time he turned the key.
Surprisingly, I saw Ike a lot in the off car show season in odd places like grocery stores and gas stations and he was always a welcome sight because he represented the car hobby so well. An Ike sighting was a reminder that winter eventually does end and you do get back to the good times and old iron.
Every conversation centered around the hobby so most of them were at least 30-40 minutes long. This spring was particularly good for Ike sightings because I saw him at least six or seven times. One was a swap where he was looking at a '65 Fury convertible and he wanted some help taking pictures with his smart phone. He needed to convince his wife that a convertible was a great idea, but I couldn't help Ike with his smart phone or his wife.
There was another swap meet in early May and I found Ike next to another convertible. This time it was a '57 Ford retractable hardtop and I asked him if the hardtop convertible was a concession to his wife's lack of enthusiasm for top-down driving. He thought his strategy might work, but because he was an astute buyer, he was assessing the car from a pragmatic, mechanical point of view.
Two weeks ago, I spotted Ike in my bank and he was (you guessed it) there for car hobby related business. He lived and breathed the world of old iron winter, spring, summer or fall.
That would be the last time I saw Ike in person but I did contact him last week and line him up this month for a local car guy TV interview show about his beloved '57 Meteor. He replied right away, "By all means I'd be happy to get involved". That was Ike's style – brief and to the point.
Unfortunately, this won't happen because Ike passed away suddenly a few days ago and the world lost another true-blue car guy.
Jerry Sutherland