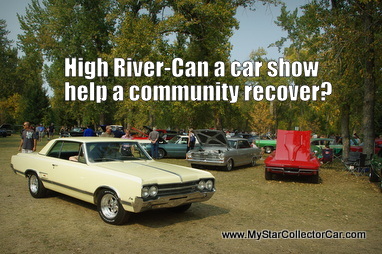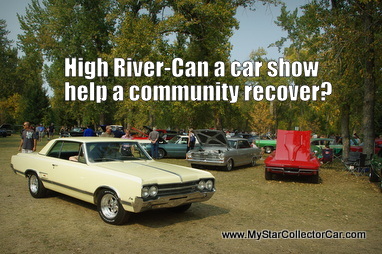 I get to see many car shows in the course of any given year because this job is one of those "combine work with pleasure" scenarios to the tenth power.
My favorite car shows are found in smaller towns because they are not just one in a series of scheduled annual events for the community.
Car shows are a showcase for the pride, the spirit and commitment of volunteers you can only find in a small town.
High River Alberta is definitely one of those towns.
Surprisingly, I'd heard about High River's car show long before I finally saw it. Car guys told me they had nearly 2000 old classics either registered, driving through or parked on the streets of High River during this event.
They gushed on about the number and variety of cars and trucks and raved about how well-run the High River show was for the participants. They raved about how friendly and receptive the locals were to the thousands of visitors at the show.
I have to admit the show piqued my interest because of the sheer number of vehicles. Every instinct told me this would be a goldmine for stories and the small town ambiance was a bonus, so last year was my first trip to the show.
The advance information about the High River show didn't quite prepare me for the sheer scale of this event. Make no mistake about it, this car show is done on a very large scale. I realized this when I saw the first gas station in town. There was old iron at the pumps, old iron pulling in and old iron leaving.
Parking was tight when you got into the downtown area, but the search for a spot was a car show on its own because the mundane new stuff on the street was laced with old and far more interesting iron.
Car shows are judged by how well they are organized and High River was at the top of the heap for well-run events. The directions to the show were clear, the barricades were up and the regular traffic flowed around the event with seamless ease.
I was struck by the size of the show because they had so many entries the first block was filled with vintage Pontiacs. The 2nd block had a gang of Monte Carlos and sprinkled in the middle were a number of very unique rides.
This spectacle was the tip of the iceberg in High River because the downtown area was clearly packed with classic rides down every street. The showcase was George Lane Memorial Park.
This park is like a real life Norman Rockwell painting because it's a heavily treed area with a baseball diamond, playground and a bandstand. In fact, Hollywood used High River as stand-in for Smallville in the 70s movie version of Superman because it had that perfect small town look.
The park was jammed with one of the best mixes of old iron you will see this side of the Barrett-Jackson Scottsdale auction. The park was full of survivors, rat rods,classic muscle, sedans, wagons, convertibles, British iron and six figure customs. The best part was that you simply could not take a bad picture in George Lane Memorial Park because this was one of the most photogenic areas I have ever seen.
The park was so small town friendly I felt like I had to go over and help out this guy who was hawking sausages and pancakes for a local charity and buy something just to repay some of the goodwill.
That was a good decision because he was getting rid of his supply so for a buck I got a giant pancake wrapped around a truckload of sausages. They say you can win a man's heart. through his stomach.
High River had that covered because it took two hands to hold that brute.
The whole town was full of vendors like that and the lineup was deep so clearly the local fundraising efforts hinge on this huge event.
The show is built around large scale buy-in from the local car guys and High River is right next door to Calgary, where there are over a million potential car guys. the came in droves.
Despite that proximity to a large urban area, this is clearly a High River event where small town rules apply. City car guys get it so they turn out in huge numbers and check the big city attitude at the High River town limits.
There was far too much to cover at the High River show last year but the stories we did get were exceptional and the cooperation of the organizers was unsurpassed.
I wanted to do a piece specifically about the High River show just before this year's event because I wanted to steer local car guys to this Woodstock for classic iron, but something happened on June 20 2013.
High River was nearly wiped off the map by a devastating flood and the future for this Norman Rockwell small town is far from certain. They've been buried by a wall of water and mud and rebuilding is a process that could take years.
There is no question High River will come back because this is cowboy country where only only the strong survive. People will rebuild the place because it is people, not houses that truly define a community.
High River will survive because of the intense and deep community spirit so the question is will they come back enough to host their world class display of small town pride on September 29th at the River City Classics Car Show?
I would say there is no doubt.
Jerry Sutherland