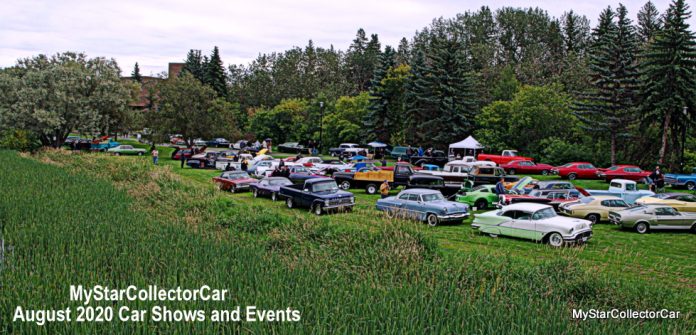 PLEASE CONTACT US TO LIST YOUR EVENT info@mystarcollectorcar.com
PLEASE NOTE — MANY OF THESE EVENTS HAVE BEEN RESCHEDULED OR CANCELLED… CHECK WITH THE ORGANIZERS
AUG 1: CALGARY, AB Sunfest Street Festival Show & Shine
AUG 1: SWAN HILLS, AB Show and Shine
AUG 1: PENTICTON, BC 24th Annual Rotary Wheels Show and Shine
AUG 1: TERRACE, BC Skeena Valley Cruizers Riverboat Days Car Show
AUG 2: MIQUELON LAKE PARK, AB main parking lot. 9:00-4:00pm
AUG 2: KEREMEOS, BC 18th Annual Kars Under the K Show and Shine
AUG 3: TOFIELD, AB Lions Club Heritage Classic Show & Shine
AUG 3: KENASTON, SK William Holder Memorial Show and Shine 306-252-1240
AUG 3: COMOX, BC Nautical Days Car Show
AUG 4-8 ST ALBERT, AB Rock'n August

AUG 7-9: IRRICANA, AB Pioneer Acres 51st Anniversary Show and Reunion
AUG 8: CAMROSE, AB Battle River BBQ Showdown, Show & Shine
AUG 8: DONALDA, AB Show and Shine Heather 780-781-0075 cell Time is 10-2
AUG 8: RED DEER, AB Central Alberta Mopar Association 2020 Mopars at the mall
AUG 8: AIRDRIE, AB Time Travellers "Doin' it On The Grass" August 08,2020. $15 per car
AUG 9: SALMON ARM, BC 20th Annual R.J. Haney Heritage Village Car Show
AUG 9: VERONA, ON 24th Annual Car Show
AUG 9: CLARESHOLM, AB 28th Porcupine Hills Classic Cruisers Show & Shine Contact: Kelly (403) 333-3339
AUG 14-16: SWIFT CURRENT, SK Eliminators Car Club–this is our 50th year as a club and will be our 40th year of Hosting the Riverside Run in Elmwood Park, Swift Current, Sask.The dates are August 14,15,& 16th, 2020.For info call 1-306-741-8173 / eliminators@sasktel.net
AUG 15: CALGARY, AB Northern Mopars 31st Annual All Mopar show Saturday August 15th at Capitol Hill Community Association in Calgary. Judged & non comp classes. Larry @ 403 243 4703 or 4gearag@gmail.com
AUG 15: Alberta Cruisin & Car Shows Season Ender Cruise Contact Jessica 780-686-4880 or our Facebook Page
AUG 15: NEW HAMBURG, ON 41st Annual Moparfest
AUG 15: DONNELLY, AB Smoky River Ag Society 75th Annual Fair Show'n'Shine Saturday, August 15th at 1:00 pm contact smokyriveragsociety@hotmail.com
AUG 15-16: LADYSMITH, BC Rod Run/ Show and Shine
AUG 16: SHELBURNE, ON 5th Annual Natasha Paterson Memorial Car/Truck/Motorcycle Car Show
AUG 16: OKOTOKS, AB Show and Shine
AUG 16: AIRDRIE, AB Rides for Relief Car Show & Fundraiser Sunday, Aug 16, 9-4pm Cam Clarke Ford Airdrie $20 per vehicle
All proceeds to local women's shelters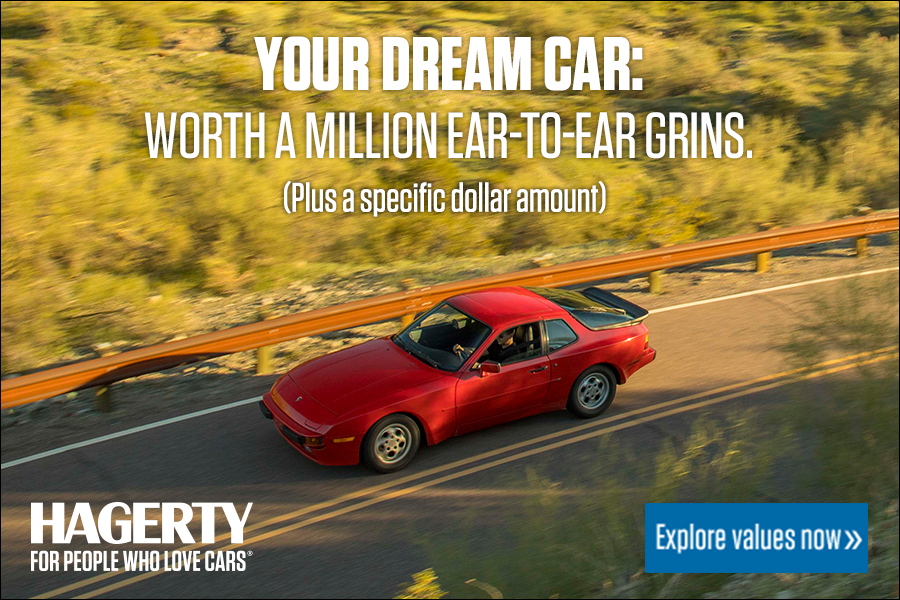 AUG 21: NANAIMO, BC VIEX Fair Friday Night Rockin Show & Shine
AUG 22-23: LEDUC, AB Northern Alberta Sports Car Club presents the 2nd annual Edmonton Speedway Park Revival; a weekend of Vintage and Sports Car Racing with a joint NASCC/CCHRA car show featuring race cars and car club displays.
AUG 23: EDMONTON, AB 2nd Annual Car Show 11am-3pm
11606 Jasper Ave
AUG 23: CHESTERMERE LAKE, AB Show and Shine
AUG 23: ALDERGROVE, BC Bradley McPherson Memorial Show and Shine/Burnouts in the Sky
AUG 28-30: MOOSE JAW Majestics Run to the Oasis
AUG 29: EDMONTON, AB 20th Bowties vs The World Charity Show and Shine

AUG 30: CALGARY, AB Show Your Ride for Brandon 2020 7th Annual Show Your Ride for Brandon. August 30, 2020. Calgary Stampede Park 8 am to 5 pm All rides welcome. 20$ donation. Raising awareness about impaired driving. Tons of attractions, awards and prizes!
AUG 30: WATERTON LAKES NATIONAL PARK, AB Waterton Wheels Show n Shine Sunday August 30 , 9-3