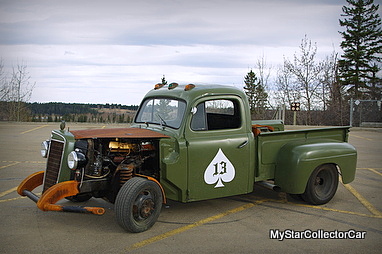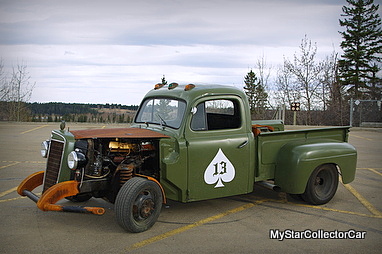 Rat rods are an acquired taste.
They draw an enormous amount of attention at shows for both good and bad reasons.
Some car guys would not even consider a rat rod project, while others embrace the entire philosophy behind rat rods and dive right into the deep end of a rat rod project.
The basic philosophy behind a rat rod is "less is more". Strip away every element of the comfort zone in a project vehicle and then add your own stamp to the project.
You will eventually end up riding as far away from comfortable as humanly possible in your rat rod, but you will be riding in style-your style.
No pain-no gain when it comes to rat rods. Any owner who can drive over three consecutive hours behind the wheel of a rattie is either into some sado-masochistic thing, John Wayne tough, or young with the ability to heal faster than older car guys.
Basically a true rat rod is loud, contains little wind protection, and provides a spine-crushing ride on a steel torture chamber seat.
Sissies need not apply for rattie ownership, nor would they. Membership has its privileges and, while some may question your sanity as a rat-rodder, they will never question your toughness.
Nathan Wheeler is the proud owner of a 1950 F-155 rattie made from his own personal vision. He is a welder by trade and a welder has a tough job by anybody's definition of toughness.
His welding talents made him a great candidate to tackle a rattie project because these rides lend themselves to the creative of the welding trade.
For instance, Nathan fabricated his rattie's battery box from four discarded ammo boxes. The rattie also sports a front grille from an International truck and the headlights are 1920s remakes upgraded to modern lights.
Rat rods are a pretty free-form kind of artistic expression and Nathan's is no exception to the rule. He added dual rear wheels into the mix because, in Nathan's words, "no one had done it before".
The rattie is powered by a vintage Ford 352 rescued from a 60s donor vehicle and has plenty of power for the open road. Nathan's plan was to spend plenty of time with his rattie on the road this year and he was not intimidated by the comfort factor in his ride.
Nathan was forced to put fenders on the rattie to get it safety certified, but it was a necessary step to get it on the road.
The car guy influence behind Nathan turned out to be his uncle because the guy has been a big influence in Nathan's life. The uncle is a dyed-in-the-wool car guy and Nathan described how "he has kind of been my saving grace since I was a kid."
Nathan's uncle lent some help to the rattie project, but his early influence as a car guy played a strong role in his evolution as a car guy.
The result is a spectacular example of one car guy's creativity and talents when it comes to a rat rod.
Congratulations Nathan, 13 really is your lucky number because you hit this one right out of the park.
Jim Sutherland
CLICK HERE to Like us on Facebook
CLICK HERE to Follow us on Twitter
CLICK HERE to Follow us on Pinterest