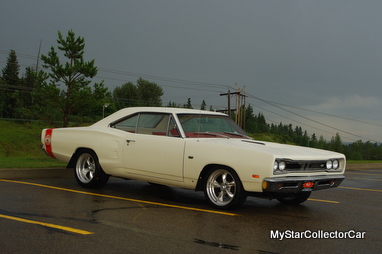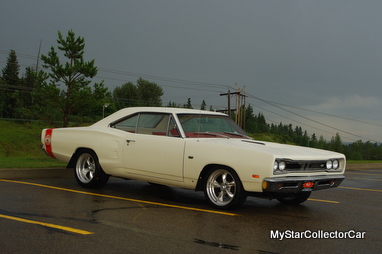 There are a few reasons to look for a vehicle on a Nissan lot but the option to buy a 1969 Dodge Super Bee is low on the list.
Nevertheless, this is the world of old iron and stuff like this really does happen.
Grant Taylor lived the dream with his '69 Dodge Super Bee.
Grant's a veteran car guy so he is willing to go down the road less traveled in a hunt for old iron so that's how this search began as he recalled: "This car was down in Utah, it was sitting on a Nissan lot because the guy used to be a Dodge dealer. I got it in April 2008".
This Bee was a natural fit because Grant is a self-described Mopar guy, "I've been into Mopar all my life, I've got a Road Runner, Cuda and a few other things".
This old Dodge muscle car has a mixed bag of options: "It's got M-code Magnum 500 wheels and the 383 motor. It's not a Magnum car, I just wanted it to look like something you'd see in the 70s.It's got the bulge in the hood so it's a bit of a stripper version".
The color is unique in its own way because many of these Mopar muscle cars were bright enough to be seen from the surface of the moon but this Bee traveled in a more subtle shade right from the factory.
The Super Bee wasn't pristine by any means as Grant explained, "It was very solid and complete but no door panels so I sanded it down, painted it and rebuilt the motor. The interior was changed out but it's the same stitching".
Grant added some more retrofits to the Super Bee: "I added power steering, brakes and discs to make it drive better plus the front end is all new".
Those modifications weren't done frivolously because this 1969 Super Bee is definitely a driver: "I drive it all over the place, it drives like a dream with that new front end plus it gets 15-16 miles per gallon, I put about 1000 miles a year on it because I like to hit a few shows. The longest trip was a few hundred miles away ".
There are some complications with an old classic like this Bee and Grant was clear on that issue: "It's tough to stop anywhere because I took it to a car wash and when I pulled out there was a bunch of guys hanging around who wanted to talk about the car".
The key to a successful car/car guy relationship is a succession strategy for the car–otherwise it's just an interesting short-term investment. Grant has a solid game plan for his Super Bee: "It's going to be around for awhile because eventually one of my grandkids will be driving it".
That's a very encouraging statement in an era where classic muscle cars have turned into blue chip stocks.
Attitudes like that have sucked the spontaneity and the joy out of the experience and turned many of these cars into mere commodities.
This Super Bee refugee from a Nissan lot will never face that fate.
Jerry Sutherland
CLICK HERE to Like us on Facebook
CLICK HERE to Follow us on Twitter
CLICK HERE to Follow us on Pinterest