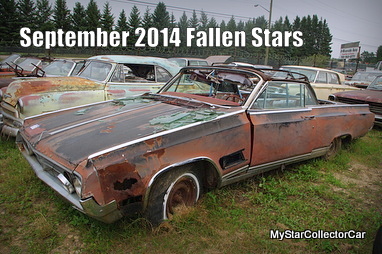 SEPTEMBER 2014 FALLEN STARS: SADLY, THE LAST OF THE GIANT CAR CROPS
There are few things more life-affirming for car guys than a massive collection of project cars.
Car guys see project cars and they want to hug them like they were warm puppies.

This assembly of yesterday's dreams is gone now but it was in all its glory last month when every one of these beauties (plus another 550) sold at a major auction.
You have to be a hardcore car guy to appreciate the scope of this collection because non-car people would only see an enormous number of old and rusty cars.
The reason they don't get it is because they have no car guy soul, so guys like that see these old rides as a blight on the landscape, rather than an inspirational experience.
There's only one way to describe bland, vanilla-oriented people who think like that…
They're definitely not MyStarCollectorCar Fallen Star guys.
For past MSCC FALLEN STARS please follow this link.
CLICK HERE to Like us on Facebook
CLICK HERE to Follow us on Twitter
CLICK HERE to Follow us on Pinterest