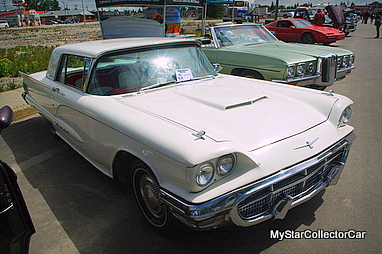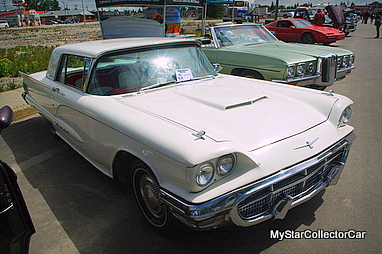 The 2nd Generation Thunderbird is often referred to as the Squarebird because its angles were a departure from the smoother 5-6-7 versions.
T-bird purists were less than kind to the next generation of their beloved 2-seater sports car but sales spiked with these larger versions.
Kevin Spicer is a major disciple of the Squarebirds thanks to family ties and coincidental birthdays.
Kevin credits his dedication to a basic fact as he explained: "This is a 1960 Thunderbird and that's the same year my mother was born".
This Thunderbird is a pristine example of a survivor car: "This is a 23,000 original mile car and it's 100 per cent original paint. My Mom got it for her birthday because she saw one in the movie Grease and really liked it. They used to drive it around to car shows".
Kevin explained the rest of the story: "Then it kind of fell into my hands. It went into the shed in 2006 where it was covered and put away so when I turned 16 it was still in the shed and I told them I'd like to own it".
This isn't the kind of car you'd expect a really young guy to own but Kevin is absolutely committed to this Ford classic: "I absolutely love it, I spend all my time with it. I take it out camping and I drive it every single day I can I 100% respect this car".
Dedication to old iron is fairly common with older car guys, but Kevin is a young guy who remembers his high school graduation like it was yesterday because it was almost yesterday.
Kevin had to address a few issues with his 55-year-old Ford as he explained: "I ended up cleaning the engine bay because it hadn't been cleaned since 1960 and there are a few other things like AC because it doesn't work but it's going to all get done. It doesn't take much to start it every year.The sound is pretty good with external speakers".
Squarebirds definitely reflect the technology of the period but Kevin is realistic about his car's habits on the road: "It's kind of a big, floaty boat compared to my Dakota, this thing's a kitty cat down the road but it's pretty low-I couldn't get into a parking lot with it at one place. The steering wheel is different, I can't believe how many times you have to crank it in a parking lot".
These second generation Thunderbirds are on an ascending curve in value but this one is definitely not for sale because Kevin has embraced this old classic in a big way. He explained his connection to the T-bird: "It's mine forever now, it's never leaving the family, it has to stay in the family".
Dedication to an old ride is  a trademark of the old car hobby, but Kevin takes it to another level with his 1960 Thunderbird and he admitted: "This car is so much fun I don't need a girlfriend".
Those are strong words for a guy who hasn't entered into matrimony but clearly this '60 T-bird will always have a place in the garage.
That's why they invented pre-nuptial agreements.
Jerry Sutherland
CLICK HERE to Like us on Facebook
CLICK HERE to Follow us on Twitter
CLICK HERE to Follow us on Pinterest
*Re-post if you like this MSCC article…thanks.