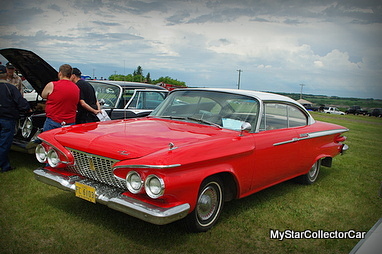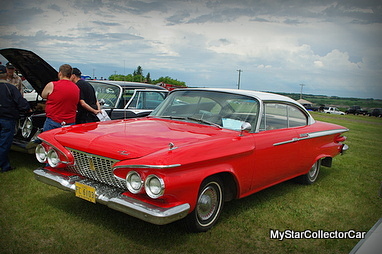 The fin era was on its way out in 1961 because buyers wanted something that said "we're in a new decade so give us a new look".
Fins disappeared overnight because they were too 50ish.
Fifty-five years later, all is forgiven and cars like this 1961 Plymouth Belvedere are rock stars in a world full of cookie cutter cars.
There is nothing on the road that can grab your attention faster than a car from 1961.
These cars may have been dated in 1961, but in 2015 they are so cool you almost need a press agent to own one.
Alvin Meyer is old enough to remember when fin cars were brand new, so he has a special Exner rides fondness for a pretty basic reason—his dad owned a brand new '58 Plymouth. He was literally born to own a car like his 1961 Plymouth.
Alvin fell into this Plymouth the old fashioned way as he explained: "Somebody had it and said she would sell it and she figured I'm the kind of guy who would like it so I've owned it for about five or six years. I didn't really know why she sold it because I dealt with her brother".
This Plymouth was solid but like most old cars, it was far from perfect as Alvin explained: "It was generally pretty good but it needed quarter panels. The trunk was pretty good and it had a new interior. I did all the work except for the paint and I made my own quarters because what the heck kind of farmer doesn't know how to weld? Farmers learn a lot of stuff like welding because they have to. I added the fender turn signal lights too".
There were few surprises with the car's mechanicals: "I work on these in the early spring and I haven't had to do anything to the motor".
Alvin's Belvedere is a lot better than he found it so it soared through a registration process, "It went through a safety inspection and the mechanic said it was better than his half ton". That alone is a solid endorsement of the car's condition and Alvin's built-in skills.
This old Plymouth is a huge testimony to old tech and Alvin is very outspoken about the built-in advantages of simpler mechanical engineering like the slant six under the hood . He loves to talk about the fuel efficiency of this old Plymouth: "It's really good on fuel-these days they tell you how they (new cars) are so good but this car makes as good mileage as my Honda plus it drives really nice".
Alvin takes the Belvey on regular small to mid-sized drives and every mile is a joy behind the wheel of his old Mopar: "I take it quite a few places, sometimes cover 100 miles a trip and people just follow you with their eyes".
That is a natural reaction because a 1961 Plymouth is an extremely rare sight on today's roads. You have a much better chance of being hit by lightning but that's the built in charm of the post fin car era.
Post fin car magic is alive and well in 2015.
Jerry Sutherland
CLICK HERE to Like us on Facebook
CLICK HERE to Follow us on Twitter
CLICK HERE to Follow us on Pinterest
*Re-post if you like this MSCC article…thanks.