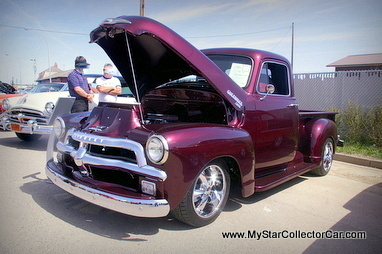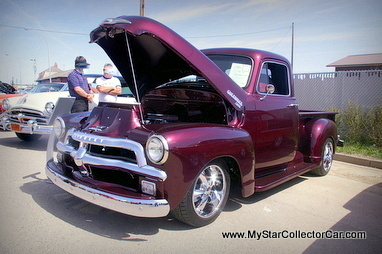 John Oliver moved to Canada in 1976 but he was a huge fan of the North American car culture long before he uprooted from New Zealand.
Eventually he became firmly entrenched in the world of old iron so the next logical move was to jump into a a great project.
Something classic like a 1954 Chevy pickup.
John grew up with dreams of deuce coupes and street-rodding but he narrowed his search down to a specific area as he recalled, "I decided to go for a 1947 to '53 Chevy truck because it was too expensive to buy a '32 Ford. I was driving through a small town and saw this truck with a great big 'for sale sign' so I had to stop".
The truck was a 1954 Chevy in his price range after a fairly lengthy search so the timing was good for a serious project as he explained,"The kids are grown up now so when I found this truck I knew I had the time to do a good job".
John defines the term "hands-on guy" because he was involved in every facet of the project with the exception of the final finish.
The truck was in good, but not great shape so the work took a few years but he added,"I could have built a new house in the time it took but it takes awhile to get things right".
John knew what he wanted when he built this truck because he knew that driving it in comfort and style was the key to success. This is where the term resto-mod really applies to this '54 Chevy because these old workhorses were a little slow and "loosey-goosey" in the steering in and brakes right out of the factory.
That's not a pleasant experience on the idiot infested roads of 2013 and John wanted to drive this more than 80 miles a day.
The solution came in the form of a Mustang II front end that was aided by some serious stopping power in the form of Camaro disc brakes. The truck runs a bulletproof 350 mated up to an equally bulletproof 350 automatic and the steering column came right out of a Nova.
John focused on the interior too, "I added some Ford Ranger seats and console so it's a lot nicer than stock".
John didn't do this alone, "I had an neighbor who asked if he could help to get out of the house so he ended up putting so much time in my wife ended up cooking supper for him but he was a big help".
John's wife also contributed in her own way, "She picked out the color (black cherry pearl). At first I hated it but once it was on the truck I loved it".
This was a lengthy project but John admits that the pleasure was worth the pain, "I had a bit of a distributor problem coming to the show because the distributor clamp kept springing loose so I put on an old Chevy distributor back in and set the timing-it was only out 3 degrees and the truck ran great all the way".
John loves driving the '54 ," It's easy to drive but I do put it in trailer when I go to Vegas.There are still a few road noise issues but I'm pretty picky".
The truck has affected John's lifestyle in a profound way , "we used to do a lot of camping but now we're going in a different direction like rod runs because it's great to get out and talk to people".
Classic '54 Chevy trucks are a great icebreaker.
Jerry Sutherland