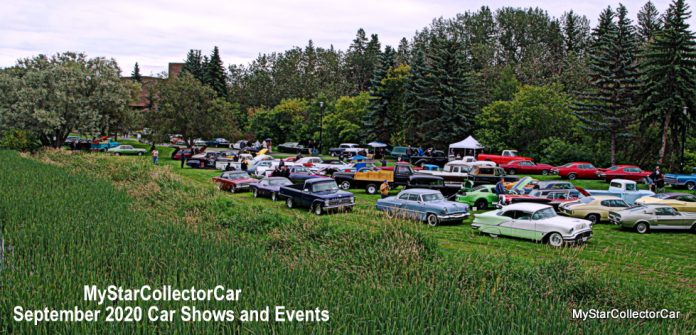 PLEASE CONTACT US TO LIST YOUR EVENT info@mystarcollectorcar.com
SEPT 6: ROUND HILL, AB Harvest Show and Shine $10 registration 9-11 Al 780-672-6104
SEPT 11-13: RED DEER, AB EG Auctions Presents the 13th Annual Fall Finale Classic
SEPT 11-12: BROOKS, AB Brooks Street Rod Association Drive-in Movie and Show and Shine Movie – September 11, evening 21st Annual Car, Truck and Bike Show & Shine – September 12, All events at the Centennial Regional Arena parking lot.
SEPT 12: CALGARY, AB Dalhousie Show & Shine 5432 Dalhart Rd, NW Calgary, 10-2, $10 per vehicle. All proceeds support Enviros.org
SEPT 12: EDMONTON, AB 5th Annual Show And Shine.13520 156 street Edmonton.Sept.12/2020.10am-4pm.$20 registration & $5 BBQ. All proceeds to The Stollery Childrens Hospital. Dyno on site.780 264 1354.
SEPT 12: CALGARY AB, Show and Shine 9am-3pm REGISTRATION- donation to Calgary Food Bank on site. 815 Highfield Ave SE
SEPT 13: SPRINGBROOK, AB * rescheduled to Sept 13th Props and Pistons Car Show 2020
SEPT 25-27: HIGH RIVER, AB River City Classics Club Show and Shine

CALGARY AB Thunderbird Club monthly meeting
SWIFT CURRENT, SK Eliminators Car Club weekly meeting
LETHBRIDGE, AB Le Barons Car Club monthly meeting
CALGARY, AB 5-6-7 Chevy Club monthly meeting
REGINA, SK Saskatchewan Ford/Mercury Club monthly meeting
VICTORIA, BC Corvette Club monthly meeting
RED DEER, AB Ford Central Car Club monthly meeting
VEGREVILLE, AB Iron Runners Auto Club monthly meeting

PRINCE ALBERT, SK Klassic Kruizers Kar Klub monthly meeting
OLDS, AB Mountain View Pistons monthly meeting
LETHBRIDGE, AB Street Wheelers monthly meeting
WINNIPEG, MB Triumph Drivers of Manitoba monthly meeting
LANTZVILLE, BC Old English Car Club monthly meeting
WINNIPEG, MB Manitoba Antique & Classic Auto Club monthly meeting
CALGARY, AB Foothills Street Rod Association monthly meeting
CALGARY, AB MG Club monthly meeting
CALGARY, AB Alberta Pioneer Auto Club monthly meeting
RED DEER, AB Central Alberta Mopar Association monthly meeting
REGINA, SK Collectors Car Club of Saskatchewan monthly meeting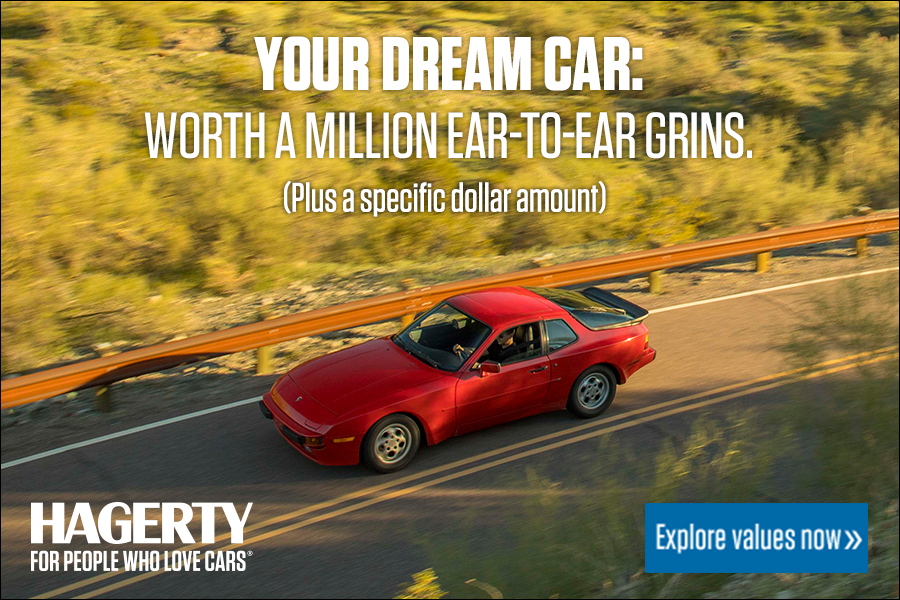 ST ALBERT, AB Cruisers Car Club monthly meeting
CALGARY, AB Vintage Sports Car Club of Calgary monthly meeting
WINNIPEG, MB Manitoba Mopar Association monthly meeting
COALDALE, AB Custom Cruisers monthly meeting
THUNDER BAY, ON Northern Ontario Classic Cruisers monthly meeting
DRAYTON VALLEY, AB Northern Thunder Car Club monthly meeting
CALGARY, AB Corvettes Unlimited monthly meeting
BURNABY, BC Lions Gate Model A Club monthly meeting
HAMILTON, ON Chapter Studebaker Driver's Club monthly meeting
THUNDER BAY, ON Lakehead Antique Car Club monthly meeting
LANGLEY, BC Mopars Unlimited monthly meeting
CALGARY, AB Northern Mopars Auto Club monthly meeting
FORT GARRY, MB AMC Manitoba monthly meeting
SUMMERLAND, BC VCCC South Okanagan monthly meeting
EDMONTON, AB Alberta Iron Indians Pontiac Club monthly meeting
SURREY, BC Canadian Falcon Fairlane Comet Club monthly meeting
CALGARY, AB Calgary Firebird Club monthly meeting
CRESTON, BC Creston Valley Cruisers monthly meeting
WINNIPEG, MB Manitoba Mustang & Ford monthly meeting
KAMLOOPS, BC Vintage Car Club of Canada monthly meeting
CALGARY, AB Foothills Model T Club monthly meeting
CALGARY, AB Alberta Mustang Auto Club monthly meeting
CLICK HERE to Like us on Facebook
CLICK HERE to Follow us on Twitter
CLICK HERE to Follow us on Pinterest