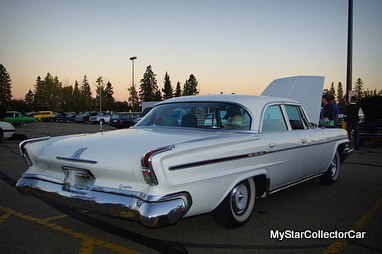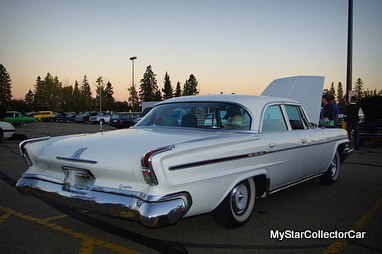 Most old car purchases are born out of opportunity because at some point an owner had to sell a beloved car.
After that, you get a series of owners with varying degrees of commitment to their classic rides, and finally the car gets a one-way trip to the crusher.
This '62 Chrysler Saratoga is a big exception to the rule.
Dwayne Thibeau is the current owner of this big Mopar and he is definitely the right owner for this car. He is like most committed car guys because he has an extensive knowledge of this car's history.
He outlined the background to the Saratoga, " I saw the car in an ad after I sold my car and I found this 153,000-mile Chrysler. She got it from an older fellow and I believe he was the original owner".
This transaction was one of those situations that defines opportunity in the old car hobby but it's a little painful at the selling end as Dwayne recalled, "There were tears in her eyes when I drove away in the car".
Despite the emotional side of the deal, the car is definitely in good hands as Dwayne explained, "They just don't make them anymore so I really wanted this one".
Dwayne was really happy with the car when he got it home even if it did previously have some old car quirks that needed attention, "Everything is new, the gas tank, dual exhausts plus it had bias tires so those will get changed out".
This Saratoga is fairly well optioned-out as Dwayne outlined, "This is a 383 car but it does have power steering and power brakes so it's nice to drive".
"Nice to drive" is a relatively mild term because Dwayne was emphatic about how positive this car is on the road, " This car is beautiful to drive because, it just flats down the road, it rides like a Caddy but not like a Caddy if you know what I mean. It really drives nice".
The big Chryslers had a dedicated following in 1962 because they were solid, dependable comfortable rides fit for mid-level bankers and high school superintendents.
Some detractors at the time were less enthusiastic about these (last of the Virgil Exner era) Mopars-including Exner, but these cars were nearly bulletproof.
Dwayne's Saratoga is a clear example of how history can often be misinterpreted because he had a constant procession of admirers filing past his car at the show. There's no doubt the onlookers were captivated by this mint example of a an early 60s Chrysler 4-door sedan because most of these large Mopars are long gone in 2014. Four-door sedans are low on the rescue list and 1962 Chryslers are on the bottom of that list.
That's why this Saratoga beat the odds.
Dwayne understands the circumstances that led to the purchase of this big Chrysler so he's determined to direct that fate of it from this point on as he explained, "It's a keeper".
"The only place it's going is in the garage".
Jerry Sutherland