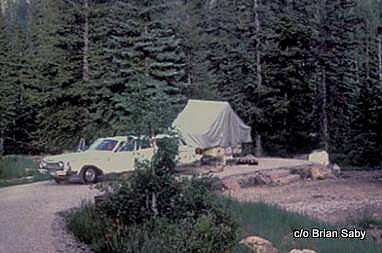 The movie "Vacation" was based on a typical baby boomer family vacation to Wally World with some Hollywood overtones like motel robberies, hostage-taking and armed conflict with police.
The star of the show was the "Family Truckster" –– a 4-wheeled parody of a station wagon in a Hollywood parody of a family vacation.
This is the real story behind a family vacation during the peak of the baby boomer era.
Brian Saby has done a lot of traveling since 1967, but the Disneyland vacation he took with his family in their 1962 Dodge station wagon was the best one he's ever taken. He explained, "This was the perfect age to take this trip because I was 10-years-old and Disneyland was a huge deal back then".
Brian's mom and dad were teachers so they had the time and the parenting skills for an extensive road trip with their four rambunctious boys back in '67. Brian's father Chester, was a detail guy like Clark Griswold in 'Vacation' but he had ten times the IQ points and planning skills.
Brian recalled how this was an old-school tour in the truest sense, "We went down the Pacific Coast Highway, it was the end of an era for travelling that route".
This was a well-budgeted vacation as Brian explained, "This was pretty basic, Dad said 'lets go camping kids' so all of us stayed in a tent trailer, two boys on one side, two on the other and Mom and Dad in the middle. That's how we did it. It was simpler times for sure because if we camped and there was a creek, that's where we went swimming. Those were the days when us kids could walk right up to a four point buck and pet it-nobody would even worry about stuff like that We only stayed in motels three times".
The '62 Dodge wagon was another story, " We'd duke it out for who had to sit in the middle where the transmission hump was but Gord, my younger brother had it figured out. He'd say he was getting car sick so he got to ride up front".
Brian is a guy who likes to solve problems so he figured out the seating arrangement in the big wagon, "There was a lot of space in the back even with all our stuff so I cleared out a cave back there and had this whole space to myself. I could snooze back there like crazy".
Chester engineered an incredible itinerary for the road trip and it included a piece of sporting history, "We went to Candlestick Park, got some cheap seats and moved down to better ones and we saw Willy Mays steal a base".
There were many other highlights on the Saby road trip, "We went to the Enchanted Forest, Weird Woods, Seattle Space Needle, the Lewis and Clark Caverns, Death Valley and we even went to Vegas. That was cool because we got a motel room to ourselves and mom and dad left us alone that night. This was back when Fremont Street was the big deal. Our folks even let us pull the lever on the slot machines".
The big highlight for Brian was Disneyland and Chester Saby had that mapped out too, " We got a 1-day pass that included two rides, so this was an express tour of Disneyland. Every time Dad saw a lineup we'd go to the next ride instead but the only bad thing was I wasn't tall enough to drive the little cars. We camped there too".
Brian summed up the secret to this baby boomer trip, "It was simpler times. We went to Santa Claus, California and it was unbelievably cool when I was ten. I went there a few years ago and it looked kind of sad and tired".
That wasn't a factor back in 1967 because Brian still calls this "the best damn holiday ever" but there was one nagging question about the fate of the '62 Dodge wagon and Brian had the answer, "Dad traded it in on a Bel Air sedan shortly after we got back".
The car may be gone but the memories are forever from this real-life Vacation.
Jerry Sutherland