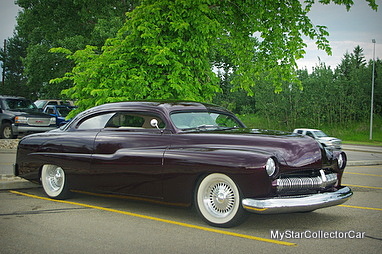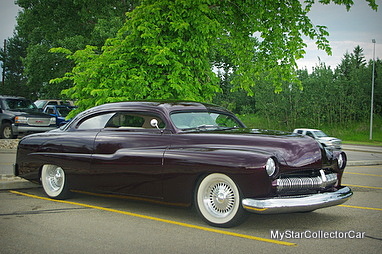 We encounter many car guy stories every year about vehicles that required an enormous amount of time, effort and talent to reach the ultimate level of excellence.
We have interviewed owners who devoted heart and soul to fulfill their custom dream, but Mike Verquin's 1951 Mercury custom may be a whole 'nother ball game in this department.
Believe it or not, the car is a fiber glass car built from an original steel Mercury body owned by Mike's father.
Mike took the original steel body and banged out every imperfection in its metal skin. Bear in mind most car guys would take the original steel body car and use it as the base vehicle for a custom Merc lead sled project.
Mike went in a completely different direction because he used the repaired original Mercury body as his base for fiberglass molds.
Mike said the process "took too many hours to even count" and felt "it would have been faster to just use the metal car", but now he has a one-of-a-kind glass custom Merc.
The project took eight years from start to finish and it is easy to see why Mike had to devote so many years to his custom ride because of the complexities behind the build. The idea of a glass 1951 Mercury built from an original metal body is an unusual approach to say the least.
However, Mike now has perfect molds from the project that could be used for future custom Merc projects and all of the hard work has already been done when he banged out the metal on the original car. Incidentally, the original car was purchased by Mike's dad back in 1973 for the princely sum of 25 bucks.
The entire project had the blessings of Mike's father and he was an enthusiastic supporter along the way. Like most customs, the Merc has many features donated by other vehicles, including a 1950 Meteor front grille.
The front steering was taken from a Volare and the engine is pure Chevy, with a 383 stroker under the hood. The headlights are from a Jeep Liberty and another example of the custom philosophy where the idea is to upgrade the original vehicle, in this case better night driving lights from the original myopic six-volt headlights.
The car is comfortable at high speeds and Mike admits he has tested it 90-100 mph where it runs straight and true down the road. In Mike's words, it "cruises pretty good", but he is more comfortable at 70 mph on the highway and that pace will keep him within the speed limit on most major roads.
A 1951 low-slung custom Mercury is a rock star at any car show because these cars fall comfortably within the legendary category for custom dream rides for many car guys.
The unique history behind this particular custom Merc places this custom dream ride in a class of its own.
Jim Sutherland