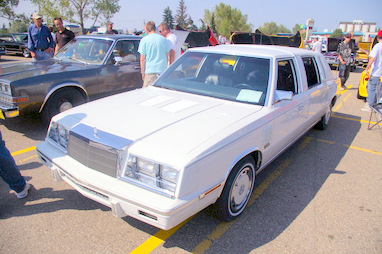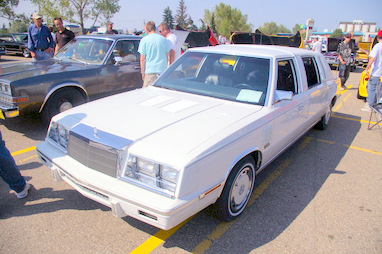 1986 Chrysler LeBarons were not the stuff of dreams, but they were a reliable upscale workhorse from the upper end of the famous K car platform that put Chrysler back on the right path in the 80s.
The Chrysler minivan redefined the family car philosophy when it ran the station wagon off the road in the coveted average family market.
The K cars were not glamorous, but they got the job done. So we were a little surprised when we saw this 1986 Chrysler limousine at a Mopar meet.
Needless to say, there was only one of them at that show. We guessed that this stretched-out LeBaron is a very rare vehicle. In fact, it is one of only 128 made, so it is indeed a rare kind of K car.
John Petterson is its current owner and his reason is very basic- he just likes limos.
And a 1986 vehicle that started life as a compact front wheel drive car is an unusual example of his dream car. The car has a highly extended wheel base and it runs down the road very well; in fact "beautifully", in the words of its spokesman/driver.
The car has been driven sparingly during its lifespan and only has about 50,000 miles on its odometer, so it has a lot of life left in its stretched frame.
That should be enough time for John to explain the history of his unusual hobby car. When you show up in this car at a show, one thing is certain: There will be many questions headed your way.
It comes with the territory when you own one of these babies.