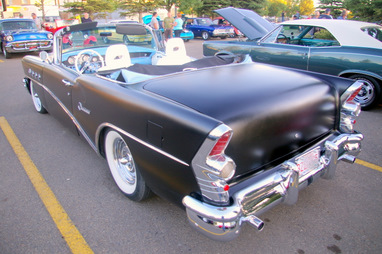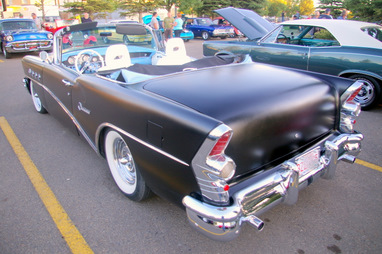 1955 Buick Century convertibles are a rare breed on the road.
Ian Harryet's tricked out 1955 Buick resto-mod is one of a kind rare.
'This is a striking example of one car guy's vision of the perfect marriage between old school looks and newer technology.'
Ian stayed with Buick under the hood. The major muscle under the hood is a 455 Buick big block that got massaged into a street monster before it found its new home. The car's first 455 big block went south after only 65 miles when it started knocking out a death rattle beat. Ian limped it home at a top speed of 5 mph by journey's end.
But it got Ian home before it died.
Ian is a hands-on guy who believes that sweat equity is a crucial part of the equation for his cars. The car has the usual replacement body parts including new rockers and floors.
Ian is a busy man, but somehow he found the time to construct a custom interior that includes a redesigned back seat and custom console.
The front seats used to belong to an Acura, but now they have a new home in this rare convertible from Detroit's glorious fifties. The Buick is now a classic driving machine tweaked up to provide an incredibly comfortable ride to any place where there is an open road and a desire to get there in style.
These days Ian tries to fit as much time as possible behind the wheel of his beautiful 1955 Buick Century convertible.
'And he can take great pride and satisfaction in the personal time he spent getting his ride on the road.'
Jim Sutherland