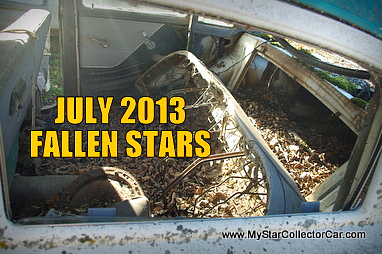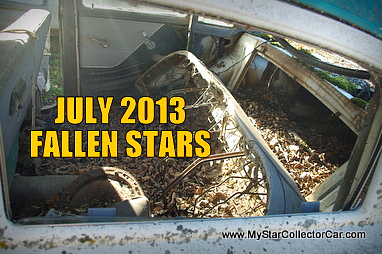 There are many ways to transform a car or truck from a daily star to a fallen star. The simple passage of time is enough to cause this major drop in automotive status.
It's a gradual decline then a quick drop off a cliff…the majority of these old classics have gone over the cliff.
Most of the time this metamorphosis into automotive landfill begins with the first owner.
Some owners treat their cars like a newborn baby right out of the showroom and never lose that dedication to preservation.
Most owners follow a not so rigid standard of long bouts before oil changes, winter driving on salt saturated roads and lots of time in crappy weather.
Inevitably, this results in a new owner with even less attachment to the old ride, another owner, possibly another one and finally a permanent stop in a swampy mess where nature really gets to inflict oxidation on the helpless metal.
Welcome to the Fallen Stars of July 2013.
For a look back at past MSCC Fallen Stars plese follow this link.