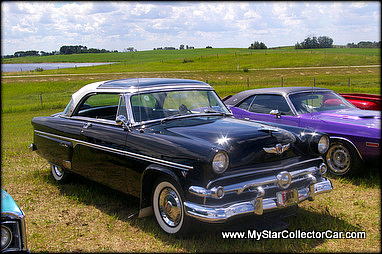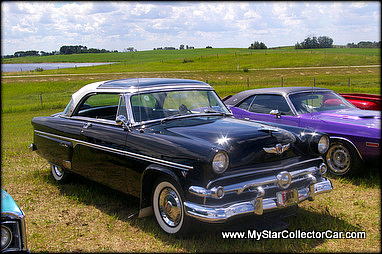 One of the first rules of MSCC is to track down the owners of unusual vehicles at shows because we may not get an opportunity to get the story for a very long time.
A chance to interview the owner of a rare 1954 Ford Skyliner two door hardtop was made easier because we found it at a small town car show.
That's why it took only a few minutes to find owner Bob Fitzgerald and ask him about the stylish '54 Ford. We always ask the owners why they chose their vehicles and that was our first question for Bob. It turns out that he owned a 1954 Ford Victoria when he was a 17 year old because that car fit into his teen-aged budget.
However he always had his eye on the Skyliners because they were equipped with the unique plexi-glass roofs that gave the cars an unusual transparent roof without the windy problems of open air convertibles. Plus they just looked very cool to a young Bob in a bygone era when Elvis was king.
Bob began a serious search for a Skyliner two door hardtop later in his life when he was able to invest in a classic Ford from his youth. The cars are rare and it took him on a 16 year search to find a 1954 Ford Sunliner that had survived the years in good condition with the right owner.
Bob will have owned his Skyliner for 10 years in 2013 after he was finally able to find this beauty in 2003. Bob took a major leap of faith and bought it sight unseen with a generous down payment to move along the purchase. It was a good gamble because the car is an original that has all of its original components including the power-train.
It also has a snap-in headliner cover that will shield the passengers from too much sun that would bake them in their seats. Bob says that the cover does a good job and that it is "like holding up an umbrella" in the car.
He is not afraid to push his Ford V-8 up to a steady 60-70 mph down the road because he has a lot of confidence in its durability.
The 1954 Ford Skyliner two-door hardtop was a completely new idea from Ford at the time. The smoked plexi-glass inserts were an early predecessor to a later era of moon-roofs and T-tops that added open air to the equation when they were moved or removed, depending upon the application.
'54 Skyliner 2-door hardtops were  four-wheeled pioneers for the later sunroof applications from Detroit, but it was an object of undying affection for Bob Fitzgerald in a love at first sight when he saw his first Skyliner.
We are glad to see that Bob got a classic car guy happy ending for his story and we are even happier that we caught up to the rare car and its happy owner at a small town show last summer.
Jim Sutherland