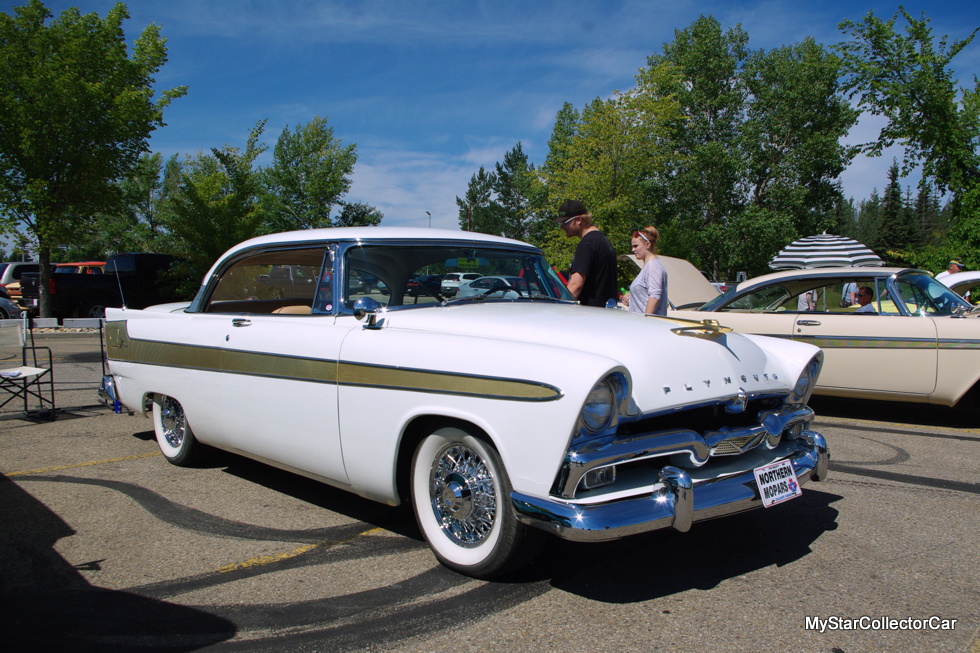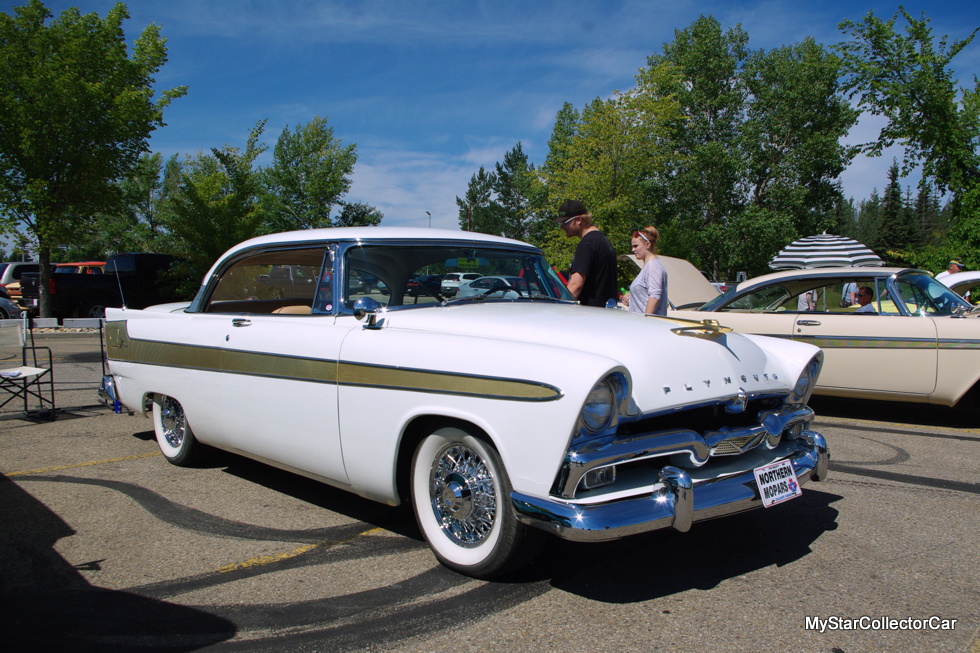 The debate has raged for decades about the first muscle car.
Many take the easy way out and assign the title to the 1964 Pontiac GTO but in reality, the Poncho was one of the first affordable muscle cars.  
'Muscle goes back to an era long before the Goat because the mid-50s Mopars like the 1955 C-300 were serious contenders and Plymouth jumped into the battle long before the Road Runner with the '56 Fury.'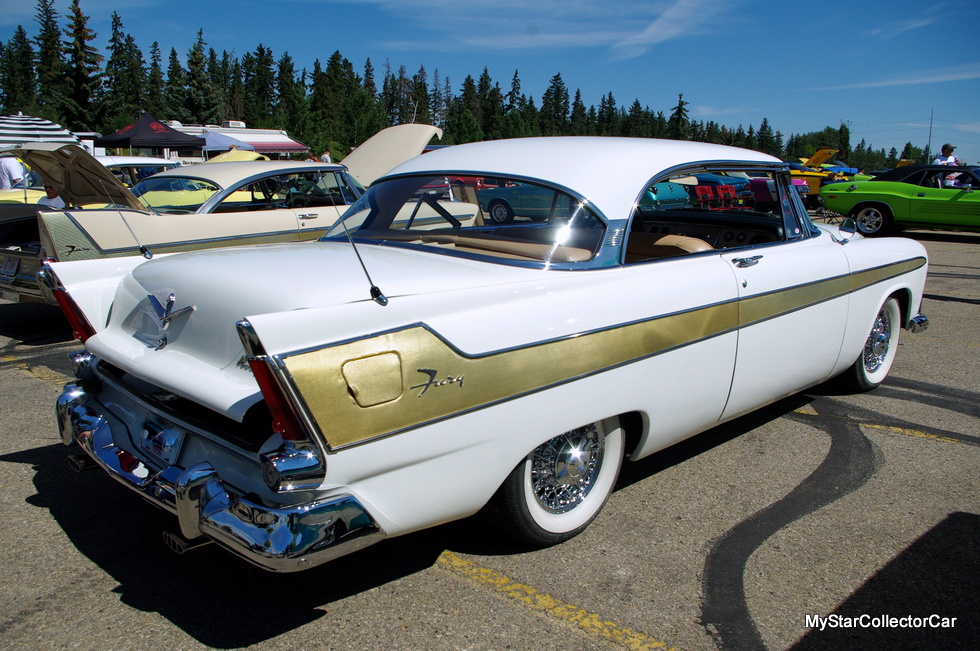 Larry Gammon is a Mopar guy's Mopar guy because he lives and breathes Mopar plus he's the President of the Northern Mopars Auto Club and his trademark car is his '56 Plymouth Fury. He saw these cars when he was a kid and he "wanted one ever since" because it was the nicest car he'd ever seen so it became a lifelong goal for Larry.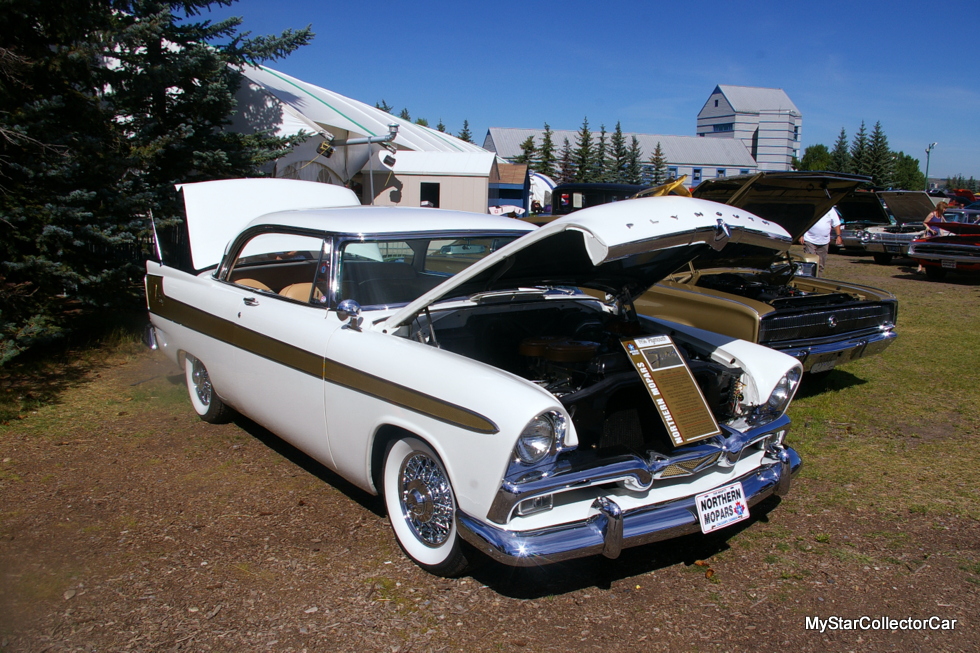 '56 Furys were rare even in 1956 so Larry couldn't flip through page after page of ads like a tri-five Chevy but he did find a Fury twenty years ago. He explained how he "saw the car in September 1996 and bought it in October 1996". This was a Colville, WA car and it was in less than pristine condition when Larry picked it up.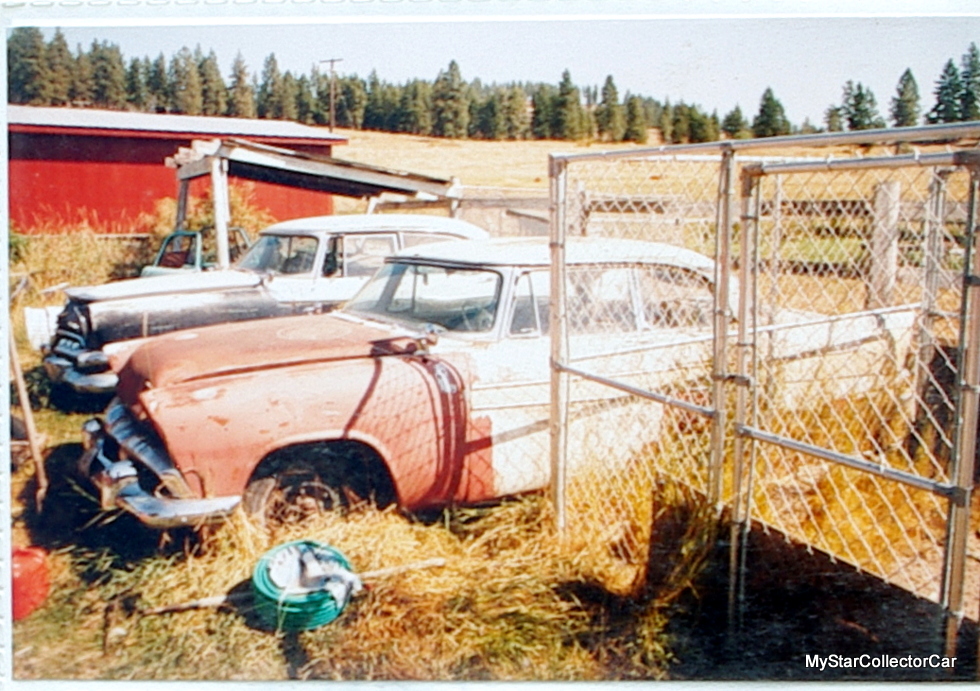 Larry said, "the guy wanted 1200 for it so I gave him 1200 Canadian because this car had sat in a field for 30 years so it was full of pine beetles—but at least it wasn't full of mice".   
Larry added "the headliner blew right out of the car" when it was on the trailer at highway speed because it was in such rough shape. Border guards are notoriously suspicious of deflated prices in declaration forms but in Larry's case the border guard went the other way. She thought Larry's declaration was too high for the rough-looking car she saw on the trailer.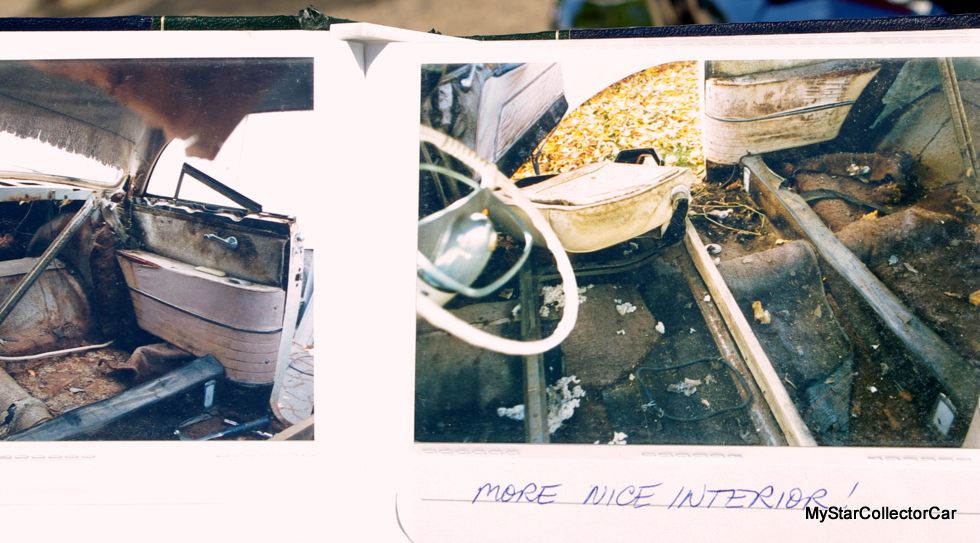 The Fury still had the original block but this car was a big job because Larry explained how "the whole thing had to be torn apart". Larry did most of the work and he had to do the floors and trunk floor plus he had to replace a fender, the hood and the trunk.
He used a cherry-picker to lift the body off the frame.  He added a few things to the Fury after replacing the driveshaft and rear end plus he had to fix a botched attempt to make the car a 3-speed.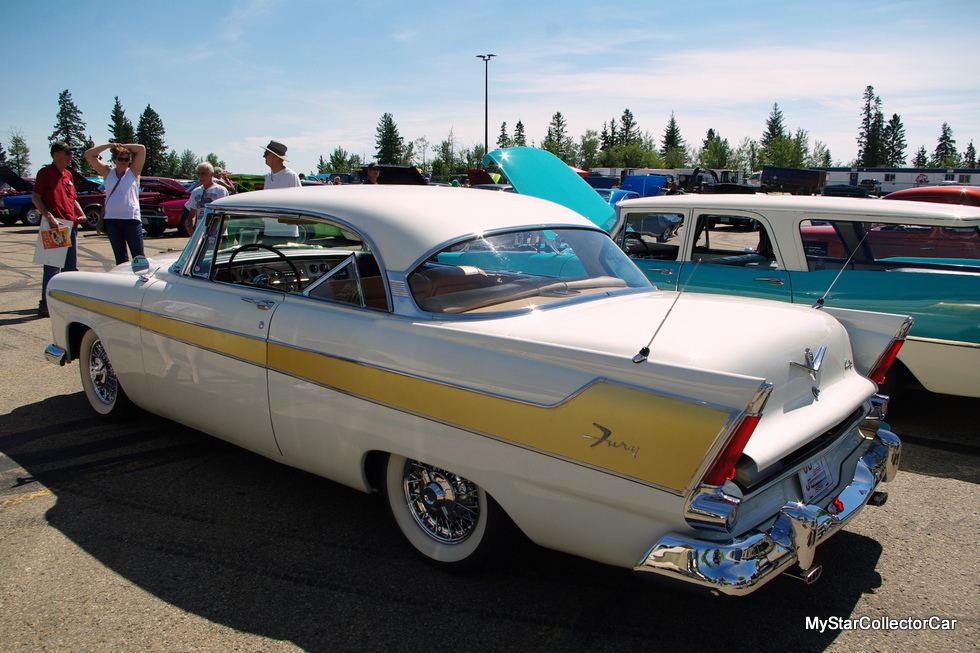 Larry got the Fury up to primer before he was sidetracked by another project but the car has been on the road for many years. He added dealer option 2×4 carbs, dealer-installed wire wheels and NOS dual antennas to take this Fury to a high-option level.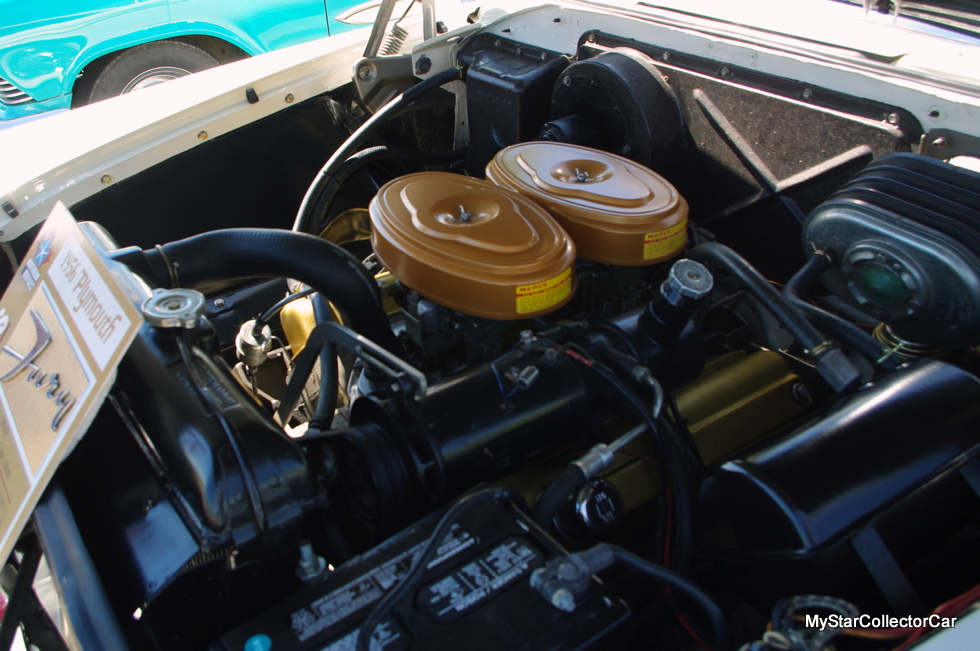 Larry's Fury is not a dreaded trailer queen so it's seen its share of adventures. Larry was pulled over by the police because his "vintage plate wasn't in the computer" even though he'd done everything properly but eventually he made his case with the female officer.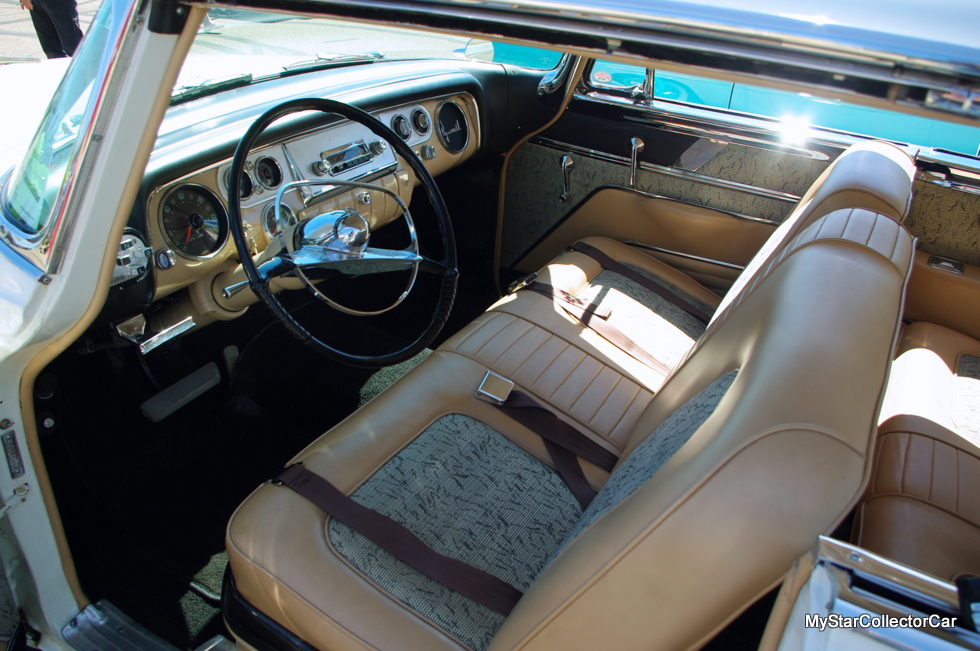 He runs it at 65-70 miles per hour because he "doesn't go hog wild to save gas". Larry says he has to make sure he doesn't get distracted when someone pulls up and blow their horn to let him know how much they like his car. He's always aware of how "new cars like to show you what they have" so the Fury get passed a lot.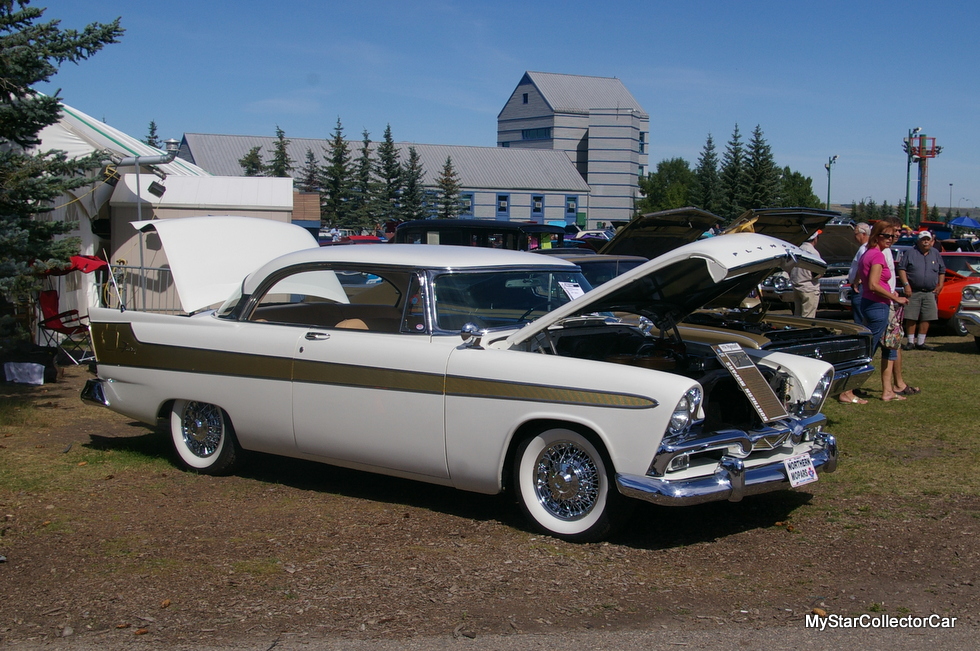 Larry said the Fury has "been a blast, drives nice, it floats down the highway" when he takes it out and it gets a 6-month hibernation in the winter so it's still a very pristine car.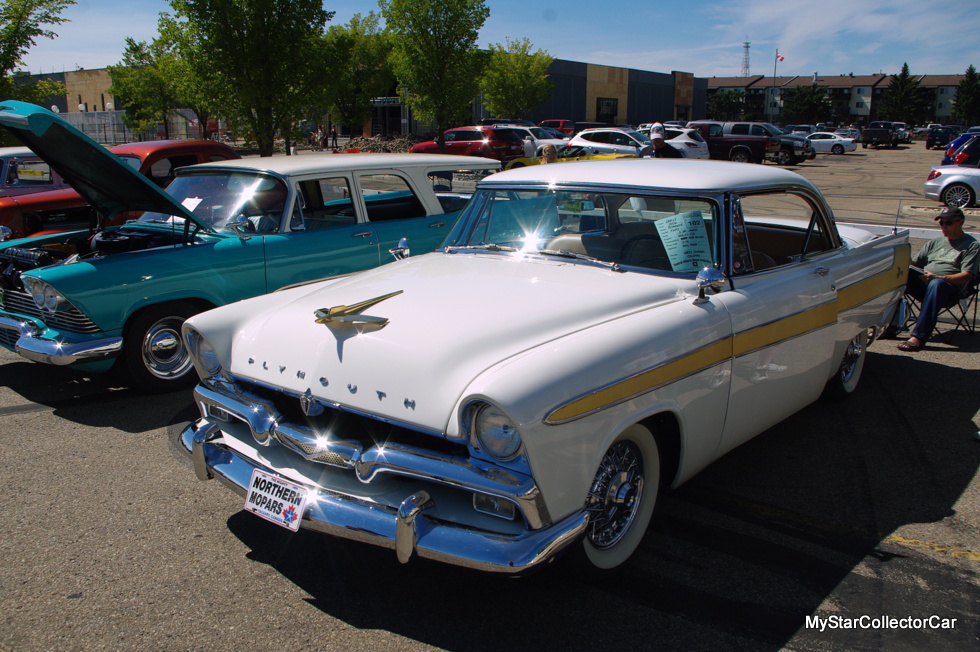 'This '56 Fury is a great example of the original muscle car—it made Larry's lifelong quest a reality.'
Jerry Sutherland
CLICK HERE to Like us on Facebook
CLICK HERE to Follow us on Twitter
CLICK HERE to Follow us on Pinterest
**Please re-post this if you like it.