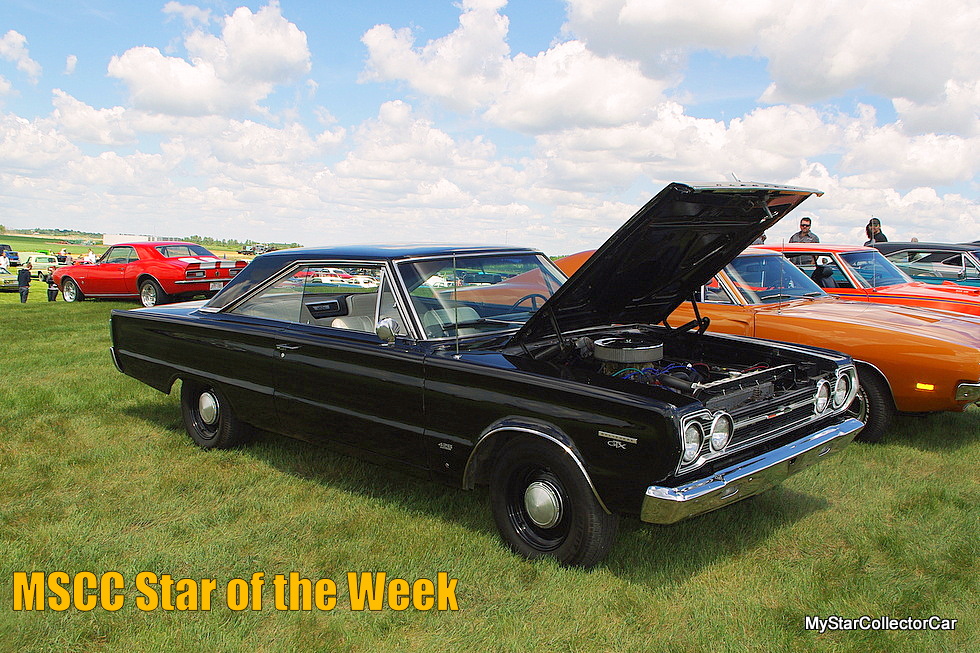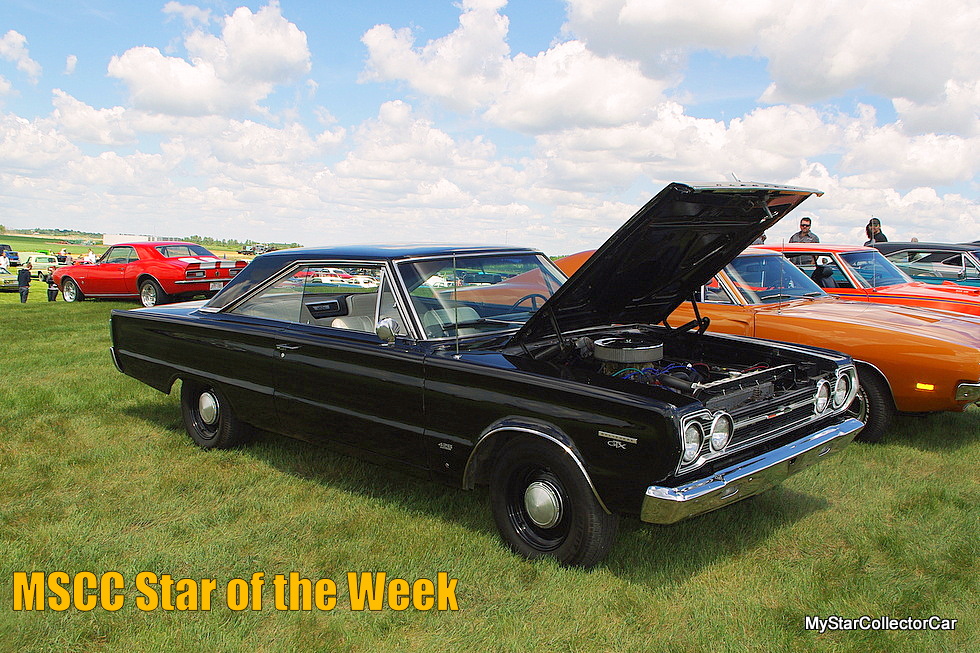 MSCC SEPTEMBER 6 STAR OF THE WEEK: '67 HEMI GTX—GOOD THINGS COME IN PLAIN WRAPPERS
Chrysler took more bows for its engineering prowess than its good looks in the 60s.
They were clean-looking, functional cars but nobody confused a '63 Plymouth with a '63 Vette when both were fresh out of the showroom.
Chrysler didn't care because their buyers were pragmatic people who liked reliability over looks but when you needed a raging monster under the hood Mopar came through in a big way back in the 60s.
This MSCC Star of the Week plain Jane (dog dish hubcaps and all) '67 Hemi GTX is all about how good things (and monsters) come in plain wrappers.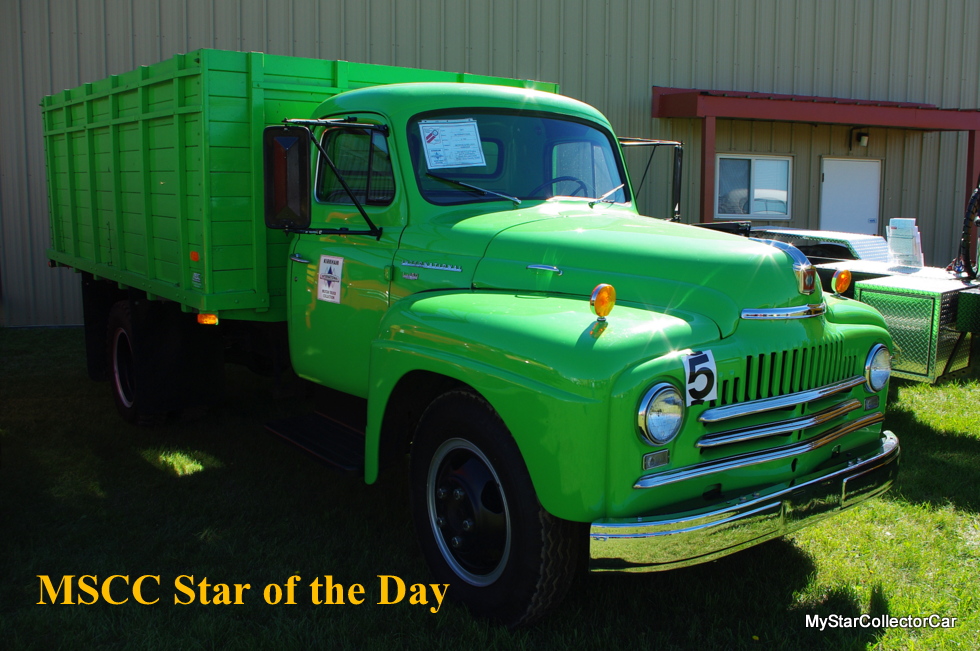 MSCC SEPTEMBER 5 STAR OF THE DAY: 1951 L-160 IHC—BECAUSE FARM TRUCKS ARE SPIKING IN COOL FACTOR
There was a time (probably less than ten years ago) when you couldn't give away an old farm truck.
You'd see 40 or 50-year-old trucks at auctions with less than 20,000 miles sell for less than 1000 bucks.
Nobody seemed to want these old farmhands until a few years ago when people suddenly realized these old trucks are affordable classics.
This MSCC '51 IHC L-160 was at an August show where it was surrounded by admirers because these old farm trucks are spiking in cool factor.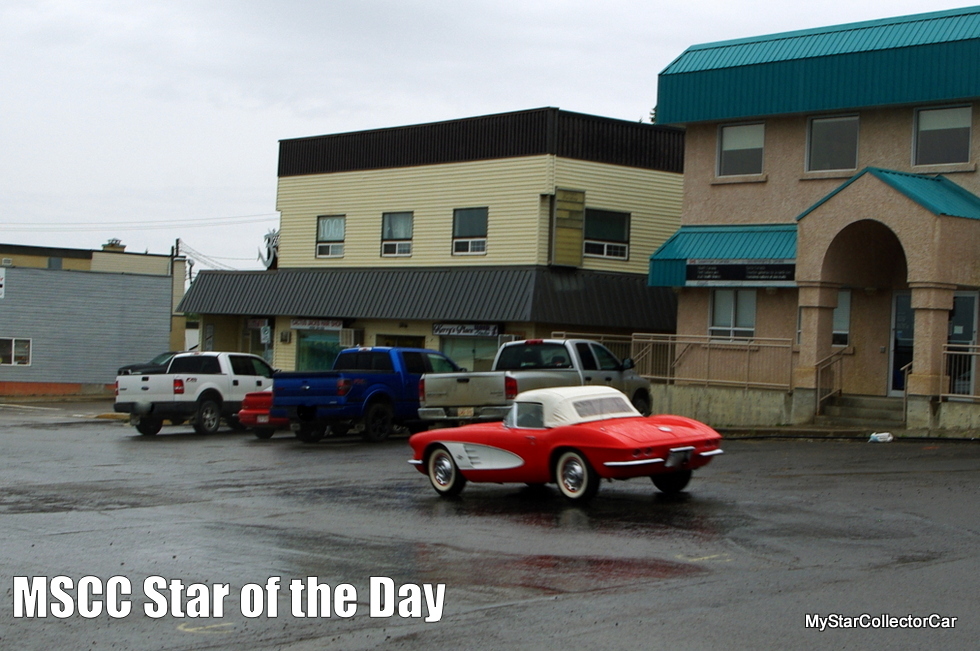 MSCC SEPTEMBER 4 STAR OF THE DAY: ANY DAY IS A GOOD DAY IN A VINTAGE VETTE
Life is full of good days and bad days.
Good days for car guys are warm and sunny—not scorching hot days because old carbs and radiators hate new gas and excessive heat.
That's the perfect scenario for vintage rides.
This MSCC Star of the Day is the exception because this old classic was out in horrible weather because any day is good day in a vintage Vette.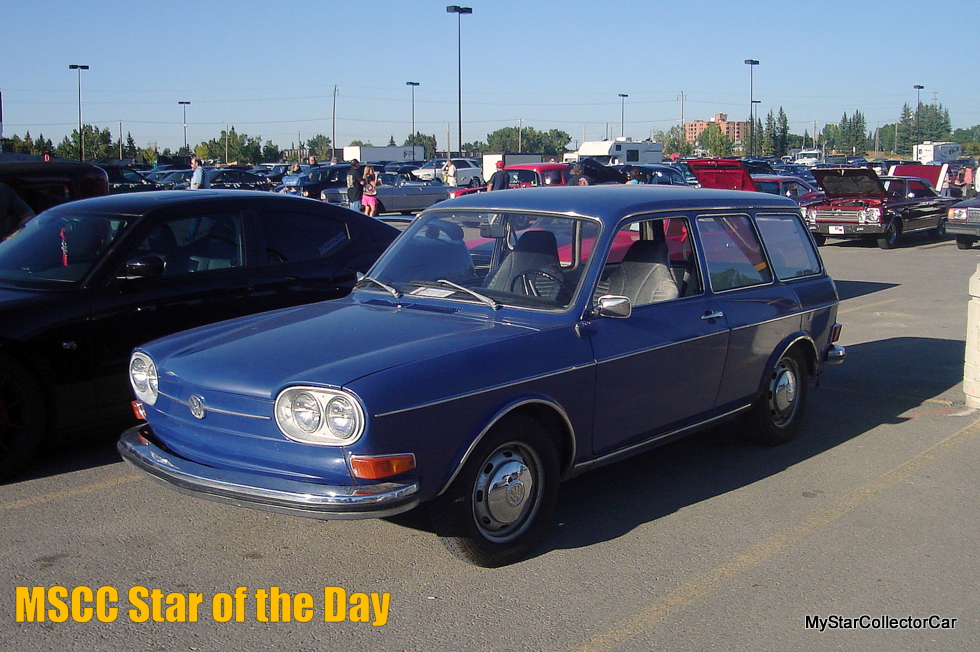 MSCC SEPTEMBER 3 STAR OF THE DAY: VW 411 – VOLKSWAGEN MOVES ON FROM THE BEETLE ERA
Volkswagen couldn't lose with the Beetle because it was cheap enough and cute enough for owners to forgive its limitations.
You could overlook a Beetle's lack of heat, lukewarm power and hairy road manners when you pushed it too far because these cars were icons.
Nevertheless, lifestyles changed and Beetle owners needed more room and more doors so VW introduced the 411 to give buyers more options.
This MSCC Star of the Day 411 is how VW moved on from the Beetle era.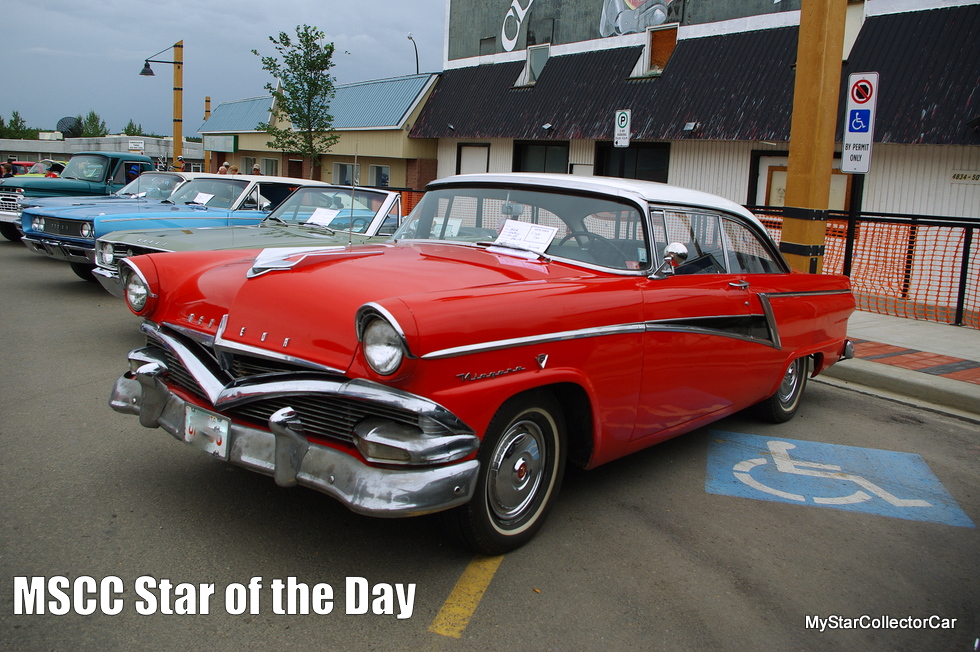 MSCC SEPTEMBER 2 STAR OF THE DAY: '56 METEOR NIAGARA—THINGS GOT A LITTLE WEIRD NORTH OF THE BORDER
Canadians have fought an identity crisis since 1867 because they live in the shadow of the most powerful country in the world.
Proximity to the United States produces odd rules like mandatory Canadian content regulations on radio and TV to protect national identity via state-issued music and television.
This isn't a new concept-it's been around for decades.
This MSCC Star of the Day '56 Meteor Niagara is a great example of how things got a little weird north of the border 60 years ago.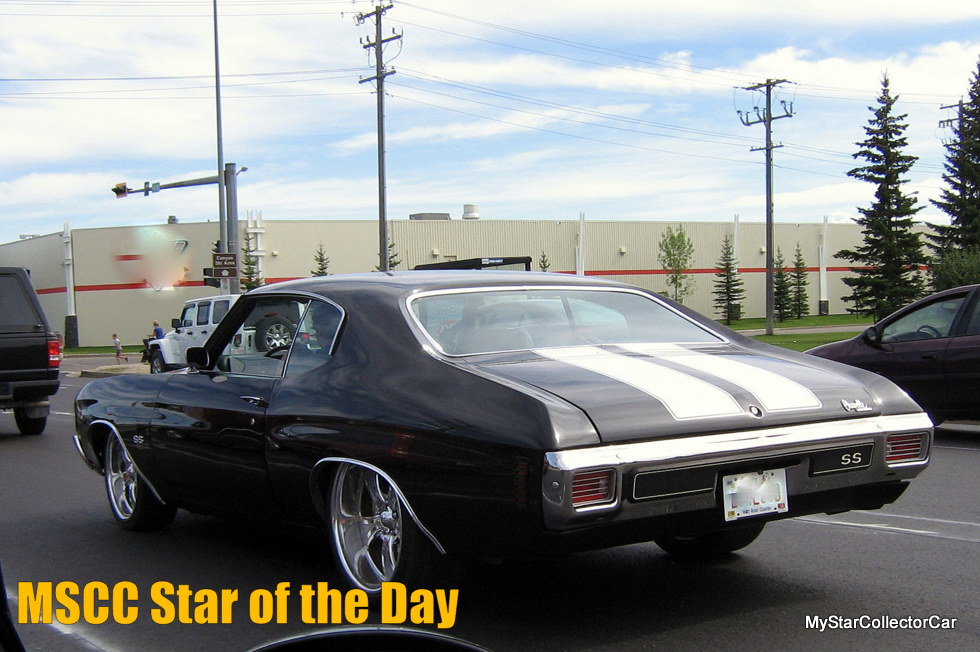 MSCC SEPTEMBER 1 STAR OF THE DAY: CHEVELLE SS ON 'ROIDS – I LOVE THE SMELL OF RACING FUEL IN THE MORNING
Apocalypse Now had one the best lines ever delivered by Robert Duvall.
He was in the middle of a major firefight on a beach and he said: " I love the smell of napalm in the morning…The smell, you know that gasoline smell".
The same thing happened yesterday in traffic because a guy rolled up in traffic yesterday in this muscled-out, far from stock SS Chevelle and clearly it was running race fuel.
MSCC Star of the Day—the smell of racing fuel in the morning.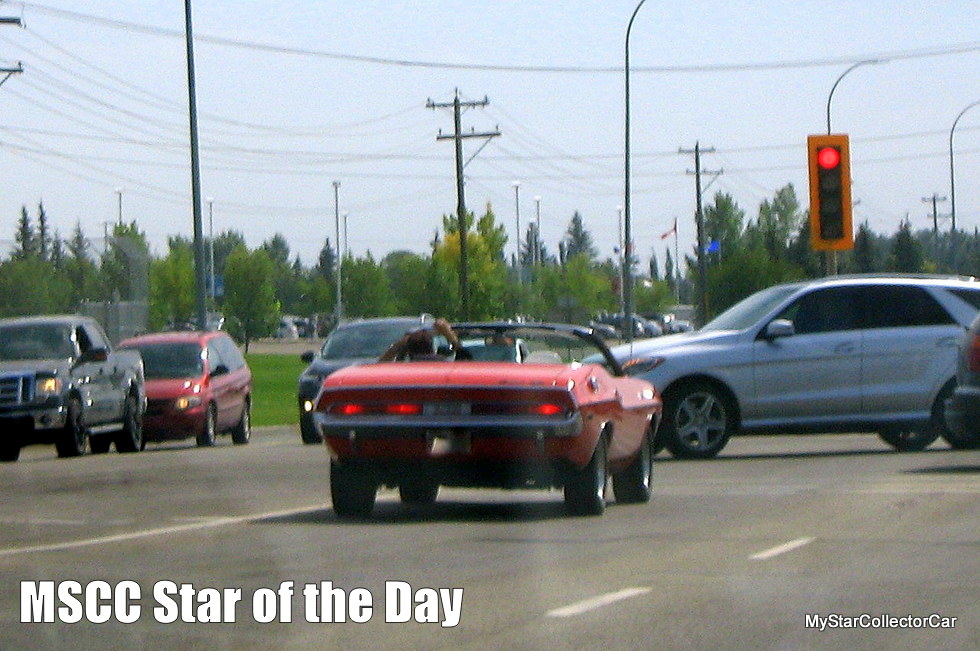 MSCC AUGUST 31 STAR OF THE DAY: CHALLENGER CONVERTIBLE-A DAY FOR GOING TOPLESS
Yesterday was the last weekend of August 2015 and it went out in a blaze of glory.
There were several great examples of old iron on the street because car guys can sense when the season is on the back 9.
Every car on the street yesterday was cool but one guy was a notch above in the cool department.
This MSCC Star of the Day Challenger convertible made a strong case for going topless.
CLICK HERE to Like us on Facebook
CLICK HERE to Follow us on Twitter
CLICK HERE to Follow us on Pinterest
Please re-post this if you like this article.