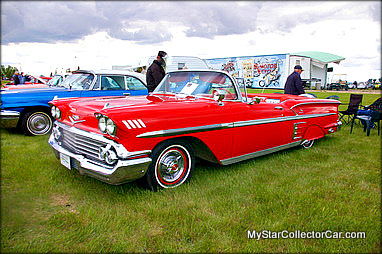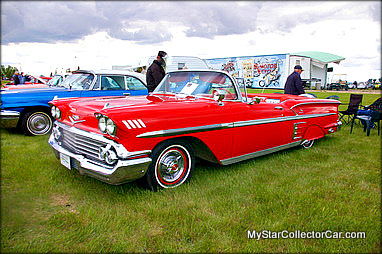 Most classic car "barn finds" are actually discovered inside the barn-not in the barn yard.
According to legend, they are typically covered in dust but they are always found in pristine condition.
That's how the legend goes and in most cases, the barn find is in decent shape…for a project car.
This '58 Impala convertible was found in the proximity of a barn up to the door sills in mud.
It was far from pristine-in fact the car was teetering on the brink of extinction when Lloyd Long heard about it from a friend.
The car had endured a hard life that began when the original owner rolled it during a high speed run on a gravel road. Somehow he survived and the car was still mobile so it was consigned to life on the farm as a hay wagon. The farmer actually fed his cattle from round bales set in the old Impala.
The shock of the plummet from high-end classic 1950s car to a stripped down bale hauling hulk shortened the life of the Impala by approximately 90%. The Impala was retired after a very short agricultural career.
Lloyd and his wife Evena were undeterred by the incredible mess that used to be one of the flashiest Chevy convertibles on the planet. This car was a natural candidate for a frame-off restoration-to determine if it still had a frame.
The car was stripped down to a mass of parts and rebuilt over a mere 30 year period. The Impala has an original 348 tri-power motor  so rarity was an issue for cost and availability of parts. This was the pre-Internet era so the only recourse was old fashioned phone calls and word of mouth parts sourcing.
The '58 Impala was a major project and it was completed in 1989 but the car still looks like a show winner over 20 years later. Lloyd had ten great years behind the wheel of the classic Chevy before he passed away in 1999. Evena takes the car to local shows and often has her nephew Darcy drive the big red convertible for her. She admits that Lloyd likely would have put far more miles on the Chevy but she prefers to drive it "for certain reasons" at this point.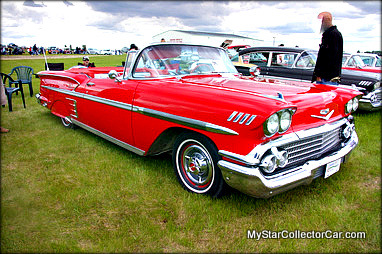 Clearly this '58 Impala was the worst case scenario for a "barn find", thanks to its outside location and brutal history but Lloyd saw the beauty in this barn yard beast.
Today it's one of the most impressive '58 Impalas on the planet thanks to a man with patience and vision.
Jim Sutherland

Follow us on Facebook-http://www.facebook.com/MyStarCollectorCar
Follow us on Twitter at- https://twitter.com/#!/MyStarCollecto1