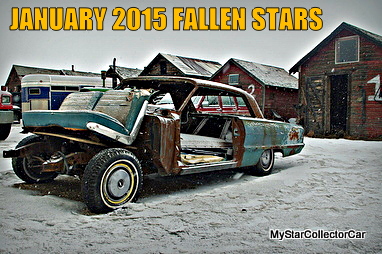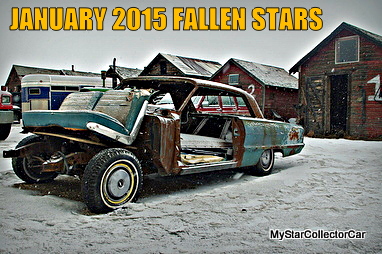 JANUARY 2015 MSCC FALLEN STARS: ONE OF THE WORST SEASONS FOR OLD IRON
January can be brutal for old iron in the project stage because nobody wants to wade through waist deep snow in sub-zero weather to rescue an old ride.
Car guys are motivated but they're also realistic so hauling out a relic with no wheels that's stuck to the tundra is well above and beyond automotive heroism in January.
That C-body Chrysler may look enticing in June, but the depths of winter are a completely different story for a rescue mission.
There are two different scenarios for old projects so January 2015 Fallen Stars features examples from summer and winter to drive home which one is the worst season for a recovery.
For a look at past MSCC Fallen Stars click here. 
CLICK HERE to Like us on Facebook
CLICK HERE to Follow us on Twitter
CLICK HERE to Follow us on Pinterest
If you like this MSCC article please re-post it. Thanks