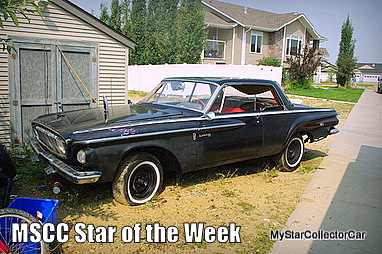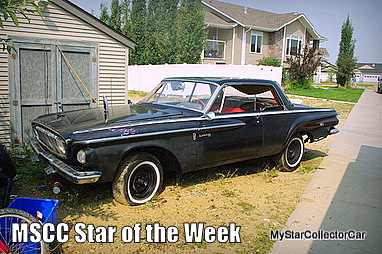 MSCC DEC 21 STAR OF THE WEEK: '62 DODGE TWO-DOOR HARDTOP—FUTURE CLONE
'62 Dodges didn't warm the hearts of most car buyers when they hit the show rooms.
They were statement cars for sure and a lot of people didn't like the words in the statement but they were beasts at the track.
Max Wedge cars were brute force on 4 wheels in the quarter mile so looks were not a huge factor but wins were.
This MSCC Star of the Day '62 Dodge could end up in several forms but a Max Wedge tribute would be at the top of the list.
MSCC DEC 19 STAR OF THE DAY: '57 FORD FAIRLANE 500-THERE ARE ALWAYS POSSIBILITIES
Star Trek's Mr. Spock was a full time science geek/first officer on the USS Enterprise but he had another talent.
He was a great philosopher.
Spock once told Captain Kirk "there are always possibilities" when faced with a life and death situation and those words are profound for car guys.
This MSCC Star of the Day '57 Ford Fairlane 500 was at a yard back in 2010 and it was definitely full of possibilities for life or death.
Let's hope Spock was right.
MSCC DEC 19 STAR OF THE DAY: '64 IMPALA—THEY COME IN MANY FORMS
1964 Impalas were one of the hottest sellers in the history of the nameplate because people loved the clean style of these American icons.
The two-door hardtops were a serious buyer magnet because they sold over 440,000 copies in '64—that was popularity that would rival Beatlemania.
This MSCC Star of the Day was at a May show and it clearly had a few add-ons that weren't factory options.
Impalas have many forms in 2014.
MSCC DEC 18 STAR OF THE DAY: VEGA WAGON—WHAT WAS ONCE HUMBLE IS JUST PLAIN SCARY
History will show the Vega wasn't the best idea GM ever had but it was a necessary evil.
The Vega was built to offset the Japanese invasion in the compact car market and initially it did pretty well.
Build quality and aluminum engine parts sank the Vega in its first year and that was a blow that would haunt this car for its whole run.
This MSCC Star of the Day Vega wagon was at a summer show and clearly it had migrated from stock.
This humble little car looked pretty scary in 2014.
MSCC DECEMBER 17 STAR OF THE DAY: '58 PACKARD-THE END OF THE LINE NEVER COMES IN CUBA
Packard was a top shelf car maker for decades because they built high-end cars for high-end people.
They survived because they built a car based on quality and innovation but by 1958, Packard was essentially gone.
They'd come under the Studebaker umbrella so the 1958 Packard was a re-skinned Stude but it still had a distinctive look that set it apart from the mother company.
The Star of the Day '58 Packard may come from an extinct company but this one is alive and well in Cuba where there is no such thing as an extinct car.
MSCC DECEMBER 16 STAR OF THE DAY: CHEVY STEPSIDE—FUNCTIONAL BECAME COOL
Stepside trucks were at the low end of the option list in the early 60s.
In fact, they weren't even on the option list because if you had to tick off an option, it wasn't to get less room in the truck bed.
Fleetsides were the weapon of choice for farmers and contractors because of the extra room but shoveling grain or dirt out of a Stepside was easier without the inner fenders in the bed.
Despite the impracticality, Stepside Chevys actually hold their values better than Fleetsides in 2014.
This MSCC Star of the Day on the street a few years ago show you why.
MSCC DECEMBER 15 STAR OF THE DAY: '69 GTX CONVERTIBLE – MOPAR MUSCLE ON A PERFECT JUNE DAY
There are two constants in life—Mopar muscle cars will always be popular and June is the perfect month to start summer.
The days are long, the sun goes up and if you're lucky enough, the top goes down.
Most Plymouth GTXs didn't come in convertible form so the ones that survive to this day are pretty rare.
This MSCC Star of the Day GTX convertible defined Mopar muscle on a perfect June day.
For past MSCC Stars of the Day please follow this link.
CLICK HERE to Like us on Facebook
CLICK HERE to Follow us on Twitter
CLICK HERE to Follow us on Pinterest
Star of the Day page sponsored by Southside Dodge
Please re-post this if you like this article.