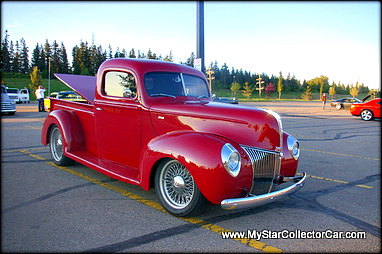 The 1940 Ford is revered among car builders for a simple reason – it was an extremely cool ride from Day One.
The flipside of the '40 Ford equation is the pickup version of this legendary ride.
They're far less common but these trucks also lend themselves to some incredible results in the custom world.
This '40 Ford truck is a blueprint for how to build one right.
Custom vehicles are all about the details and this truck has a seemingly endless list of the little things that turn "custom" into art. One of the recent trends in a build is the tendency to use Ford in Ford, Mopar in Mopar and Chevy in Chevy and this incredible truck adheres to that philosophy.
This Ford celebrates the Blue Oval under the hood as owner Gord Skakun explained, " It's got a 5.4 SVO under the hood that pumps out 500 horsepower". Clearly the "Ford in Ford" game plan didn't hurt the performance.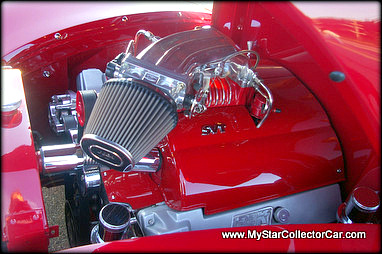 Gord went on to explain the heritage of this truck, "It was built in Syracuse and ended up in Seattle. This truck was so well planned they actually had blueprints for the build". He went to add that the Ford was on a calendar for a major automotive speed parts supplier so the charisma of this truck extends beyond an audience of admirers at shows.
The list of pure driving options on the truck is also significant as Gord outlined, "It's got a Ford overdrive with power steering, power brakes, tilt, power steering and power windows". The cab is also pure comfort, " Those are power Recaro leather seats, pure prime leather plus they're heated and it has AC".
This '40 Ford is still Ford but the technology has moved up the decades as Gord explained, " It's got a Mustang II front end, power rack and pinion steering, chrome coil overs and discs all around".
Gord likes the fact that the truck appears stock but, " It's been chopped an inch and a half plus the brake lights are perfectly flat. I like those subtle touches and other things like shift lights. It's the little things that really make these truck work".
Gord actually auditioned to buy this '40 Ford as he explained, "He had a boatload of cash in it plus he was pretty protective so when I closed the door he gave me heck and showed me how to gently close the door. That could have killed the deal".
Understandably, this truck has won numerous awards including a best "Ford in Ford" at a bug show in Syracuse. This 1940 Ford caught the eye of numerous magazines so this '40 truck has been in more shoots than a Sports Illustrated swimsuit model.
Therein lies the problem. Gord reports, " It's almost too nice, I finally bought one that was too nice to drive because this truck is even nicer underneath so I try to keep the miles down but it's too much fun to park. I could get better mileage even with 500 horses but I have a little problem with the foot. It's awesome to drive and it doesn't take too long to get there".
Gord is a "behind the wheel" man with his vehicles so he likes to drive them, not trailer them but this incredible '40 Ford truck causes nothing but inner turmoil for him. It's a blueprinted, award-winning, calendar worthy magazine star but he likes to show it off at shows and on the road.
Car investors know that every extra mile on a show winner is a threat to its pristine condition but car guys know that they're built for fun so how did Gord end that inner debate?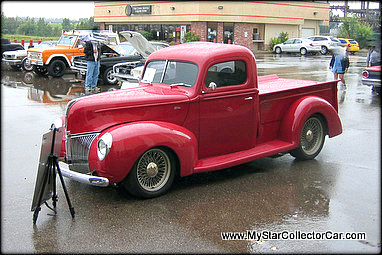 He supported his local Ford club car show on a very nasty day back in July by bringing his '40 Ford to the party…his inner car guy won.
Jerry Sutherland
Follow us on Facebook at-http://www.facebook.com/MyStarCollectorCar
Follow us on Twitter at- https://twitter.com/#!/MyStarCollecto1