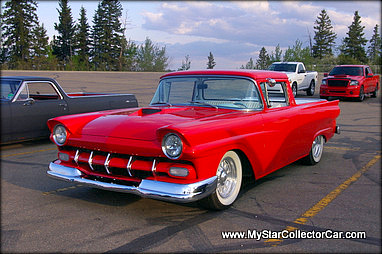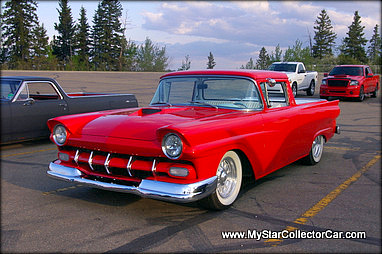 Dan Cronin is a young guy with a fondness for the stars of the 50s.
To be honest, we never asked Dan about the other icons of the 50s like Buddy Holly or Elvis because we were too busy admiring his 1957 Ford Ranchero.
1957 Fords are not common at car shows and 1957 Ford Rancheros are as rare as compelling reasons to watch 'Jersey Shore' without a gun to your temple.
When Dan wheeled up in his bright red Ford car/truck (a term from childhood that describes these unique vehicles), we headed right over to the two of them (car/truck and owner).
Our first question at MSCC to every owner is "why did you pick this vehicle?" Dan has always been a fan of the 50s culture and he has always liked the vehicles from that era, including the hybrid car/pickup trucks that was re-started by Ford in '57.
Chevy jumped back into the game in 1959 with the El Camino and Dan actually preferred the Chevies, but the Ranchero was his first real opportunity to jump into the game, so he bought it.
Then he went to California and drove his new purchase back home to Canada for a serious road test of his 55-year-old Ford. It passed with flying colors and suddenly Dan owned a car old enough to be his father if it were human.
The car has a 289 heart transplant and is equipped with power steering. After that the option list gets a little thin, but this Ranchero scores very high on the 50s cool option and that is all that really matters for Dan.
Dan is comfortable at 60 mph behind the wheel of his Ford because he says that it drives like a 50s car which, for a young guy like him, is the rough equivalent of Fred Flintstone's stylish but crude Stone Age sedan.
Dan got into cars pretty young in life and has cultivated his old car hobby interests on his own, although maybe his father's former occupation as a car salesman had a subtle effect on him early in life.
One thing is certain: when a guy from Gen Y shows up at a car show with a very unique vehicle from the baby part of the Baby Boomer generation, we at MSCC are going to talk to him about his ride.
It only makes sense to ask him why he owns such a great set of wheels.
Jim Sutherland
Follow us on Facebook at-http://www.facebook.com/MyStarCollectorCar
Follow us on Twitter at- https://twitter.com/#!/MyStarCollecto1