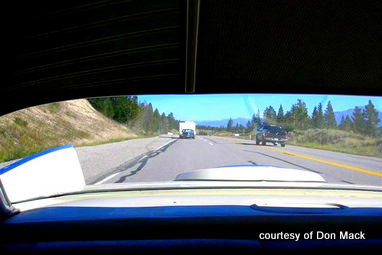 The Coasters tour featured an incredible variety of old rides from the classic 50s era and this 1959 Plymouth Belvedere was a great example.
Virgil Exner is a god to Chrysler Corp. fin car guys–he was the styling genius behind this iconic era for all things Mopar.
Most fin car guys strongly believe that this period was the high water mark for Chrysler even though these cars rarely get anything close to the automotive press coverage seen for 60s and early 70s era Mopars.
Don Mack isn't a Johnny Come Lately to this unique group of car fanatics.
In fact he's a charter member. He joined the club in 1958 as he explained, " A 1958 Belvedere was my first new car. Iceberg white. Through the years I traded this and other cars in on new ones".
Don's fin car roots never waned-the '58 Plymouth left a permanent tattoo so he had to renew his relationship with a late 50s Plymouth. He outlined his search process, " As I got close to retiring I began searching to replace this car. One day, in 2007, on eBay I spotted a 1959 Plymouth, Iceberg white, 2 Dr HT, 318 T. Flight, original, no rust, repainted 2005, 60,000 miles. Instantly I knew I could be happy with this car. On the final day of bidding I put in my first and only bid and to my astonishment the screen lit up and said "The item is yours. Please pay now" A week later I was on my way to Tennessee to pick up the car," Belle".
Don was a realist about the 50-year-old Plymouth in today's traffic "Although this car was in great condition, for safety reasons I upgraded to front disc brakes and dual master cylinder, upgraded the exhaust system, and new Diamond Back wide white walls".
Fittingly, Don bought the car to enjoy his retirement with his wife Marg and relive a fondness for a simpler past. This Plymouth has been a priceless investment for that purpose, "June 2010 I drove to Portland for a National Plymouth Meet, where Belle took a third overall…"
Don enjoys the old car culture and the Coasters Tour was a natural fit, "I have this car to enjoy and I saw the Coasters Tour as a chance to meet people who also have an interest in Vintage Cars. On the tour I found people very keen to share their knowledge in old vehicles and to share their time in helping anyone in need on the road".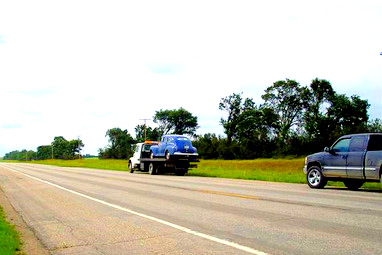 Rosetown- there goes the car– '41 Dodge Sedan to garage in Rosetown Aug 10 '10
He joined the tour in Saskatchewan so he did manage to cross three provinces on this giant road trip. Don wanted to see if the middle-aged Plymouth was up to the challenge of a 21st Century car vacation "The Tour also allowed me to test the performance and endurance of the 51 year old car Yes, I did have a few problems on tour. The starter solenoid/relay switch had to be replaced in Saskatchewan, and one rear wheel seal had to be replaced mid-Alberta".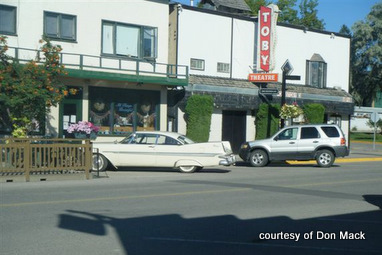 That's not a bad record for a car from the Eisenhower years. He didn't have any problems in the mountainous regions of Alberta and British Columbia. In fact the only thing that came out of the Coasters Tour was a yen for air-conditioning.
None of this should come as a surprise because this Plymouth was built for the then new systems of turnpikes so 70 miles per hour was a light workout for this 50s refugee.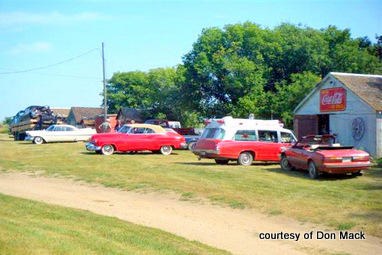 Many Coasters go out to Bob Jones's property to see his collection of stuff and visit with the man Aug 9, 2010.
Don and Marg truly enjoyed the Coasters Tour and like virtually every participant-they came away with lifelong friendships. The adventures didn't end in 2010 as Don outlined the 2011 road trip agenda, "Our summer 2011 is busy with car shows in Montana, North Dakota, Idaho and Alberta".
Don & Marg have a photo op with Ed Komarnicki Aug 8 '10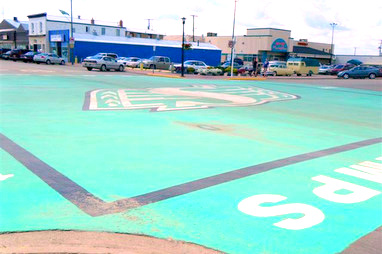 Unity SK. intersection looked like the Riders football field Aug 11 '10
Like most car stories, this one has a happily ever after ending because unlike his beloved 1958 Plymouth from his past this big finned car buddy is going to stay. Don summed it up in these words "I plan to keep and enjoy my '59 Plymouth…"
Words that will choke up the most stoic car guy.
Jerry Sutherland
More Coasters Tour stories found here- http://www.coasters2010.com/