We at MyStarCollectorCar have no idea how many of our readers are Jimmy Buffett fans, but they will likely understand the title borrows most of the opening lyrics to 'Come Monday', one of the late entertainer's best songs.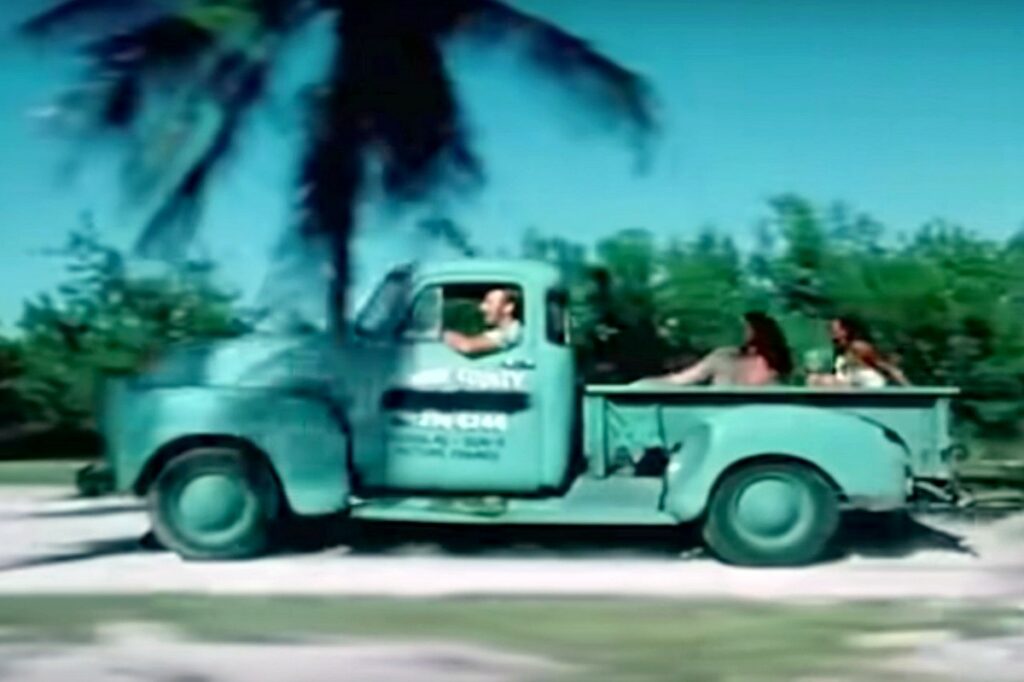 Therefore, it seems appropriate that we chose to attend a car show held adjacent to a body of water-even if Gull Lake, Alberta Canada is much-much smaller than Buffett's oceans, given the singer's deep attachment to tropical seas in both song and lifestyle.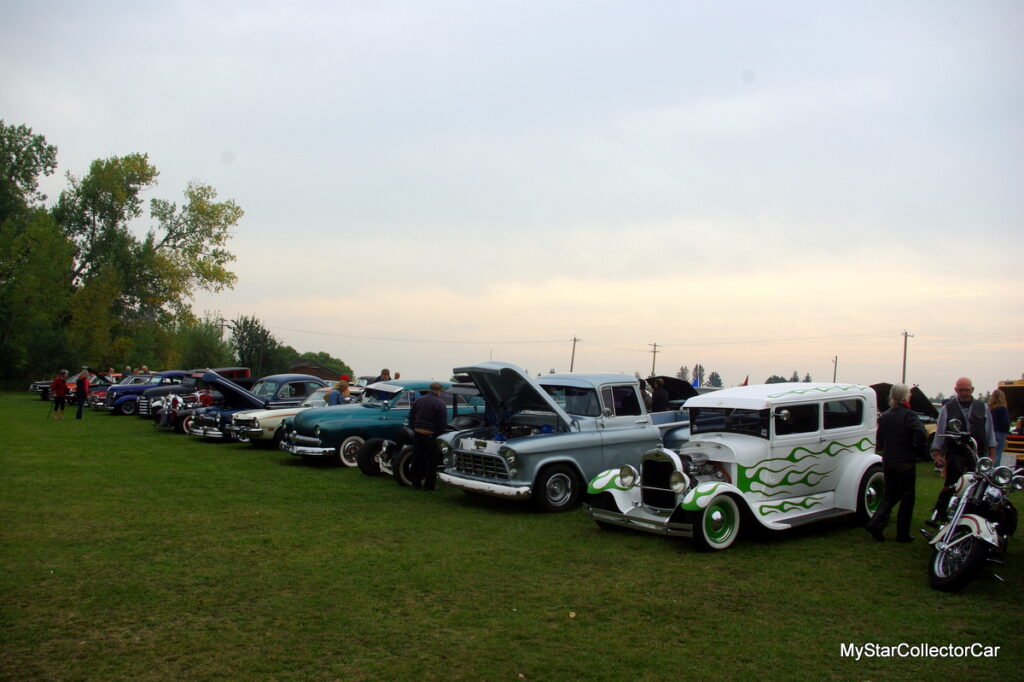 However, MyStarCollectorCar did not attend the Gull Lake car show to spontaneously honor Jimmy Buffett, we went because we thoroughly enjoy their annual event.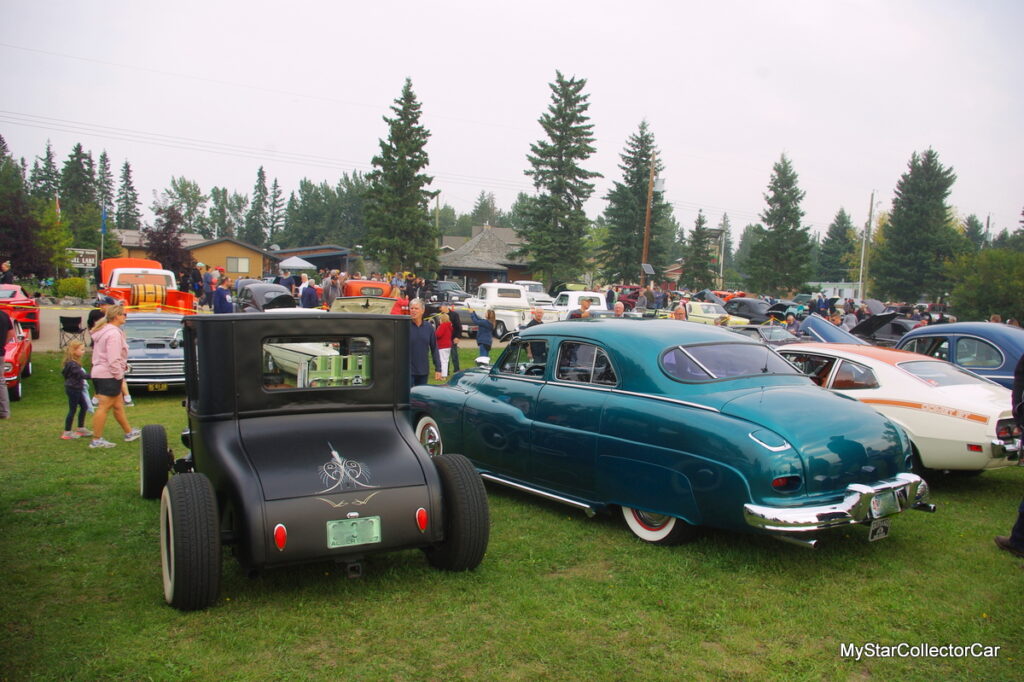 A sense of community is always an excellent by-product of the Gull Lake show because they have a small army of friendly volunteers who put together an amazing breakfast held in the community center adjacent to the show itself.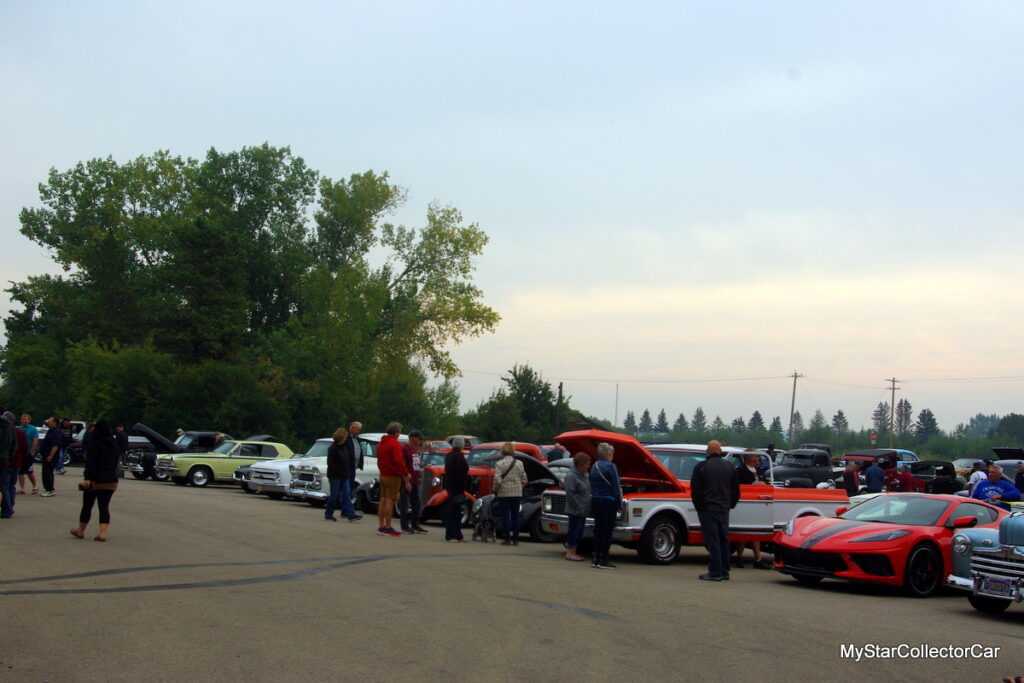 Gull Lake is situated in the heartland of Central Alberta and has somehow been able to maintain its quiet charm and avoid the tourist trappings of similar resorts that have been radically altered by the intrusion of the modern world.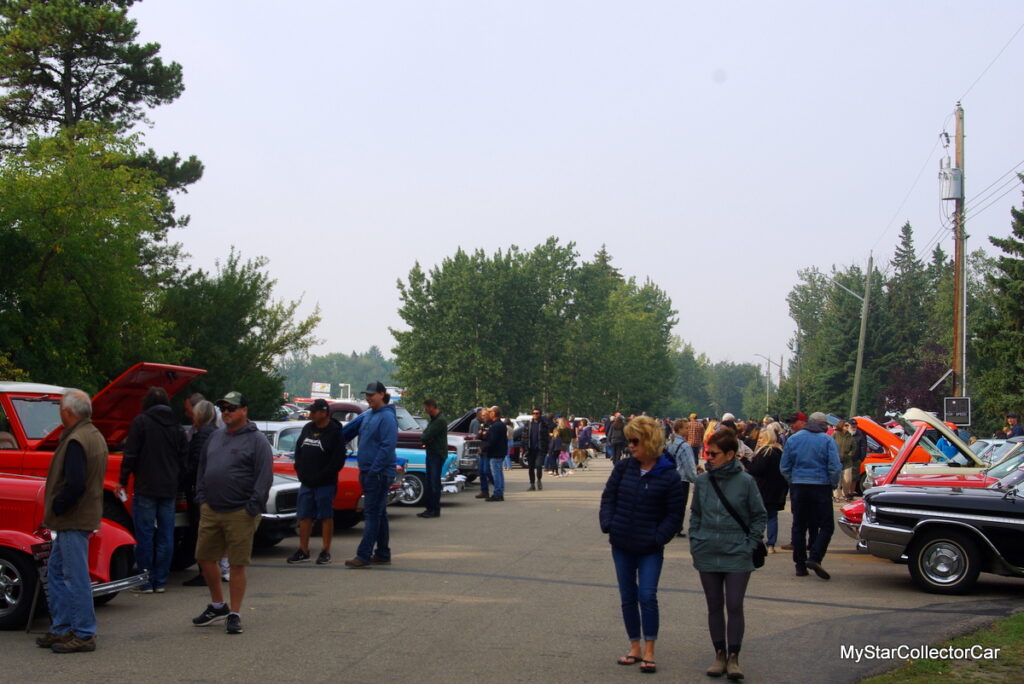 Their annual car show takes place on both grass and a treed lane that runs in front of the community center and provides an excellent place to display the retro rides.
The Gull Lake organizers were not blessed with perfect weather this year, but their picturesque location, breakfast feast, and very cool assortment of retro rides were more than enough to compensate for cooler weather and smoke from a distant fire.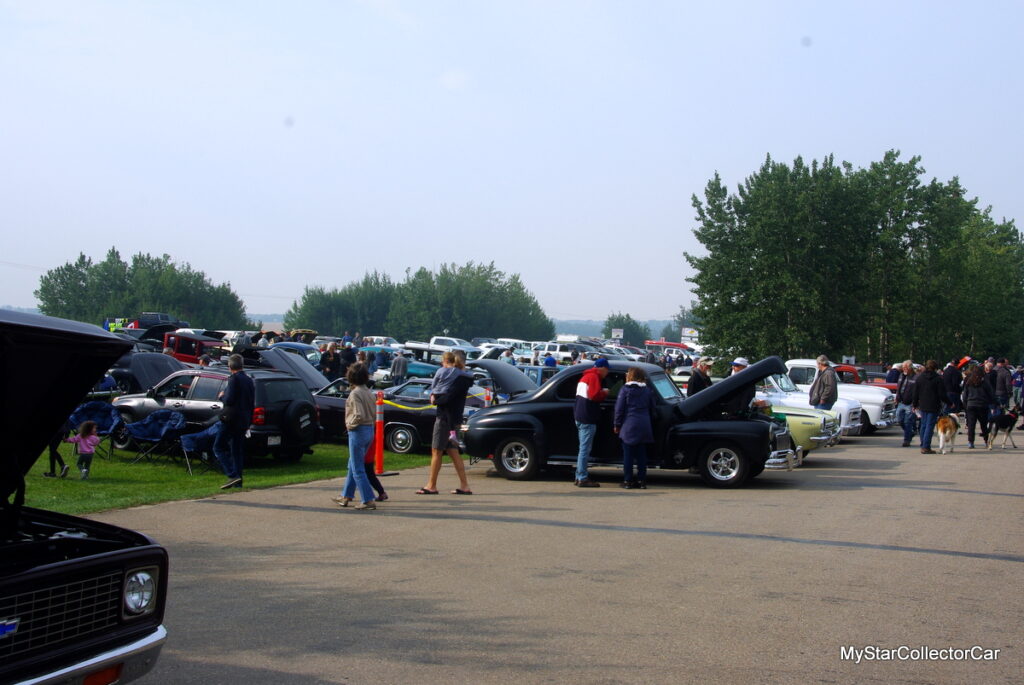 There was an excellent turnout of both owners and spectators at the Gull Lake show, mainly because people thoroughly enjoy the friendly atmosphere-smoky or not.
MyStarCollectorCar spotted a 1956 Volkswagen at the Gull Lake show, but not just any vintage Bug because this one had a Chevy small block under what is usually the trunk of a typical '56 Beetle.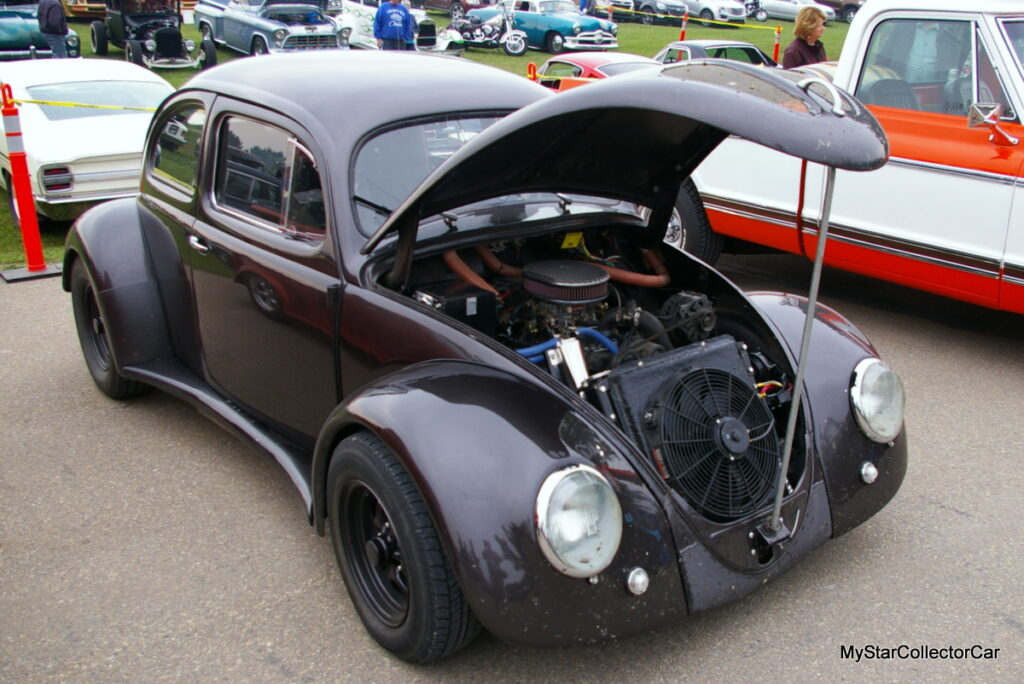 There was a very generous collection of bug splats on the 1956 VW Beetle's windshield and front body components, so it was very clear the Chevy small block engine transplant was a resounding success.
The retro Beetle's talented owner turned Herbie the Love Bug into a stone-cold killer on the road and his creation drew a ton of attention at the Gull Lake show. MyStarCollectorCar will reveal how he built his unlikely street monster in a future article.
A 1928 Model A roadster hot rod is a familiar sight in our neck of the woods, mainly because its adventurous owner is not afraid to drive it through wind, rain, sleet or snow since bad weather does not really matter to him.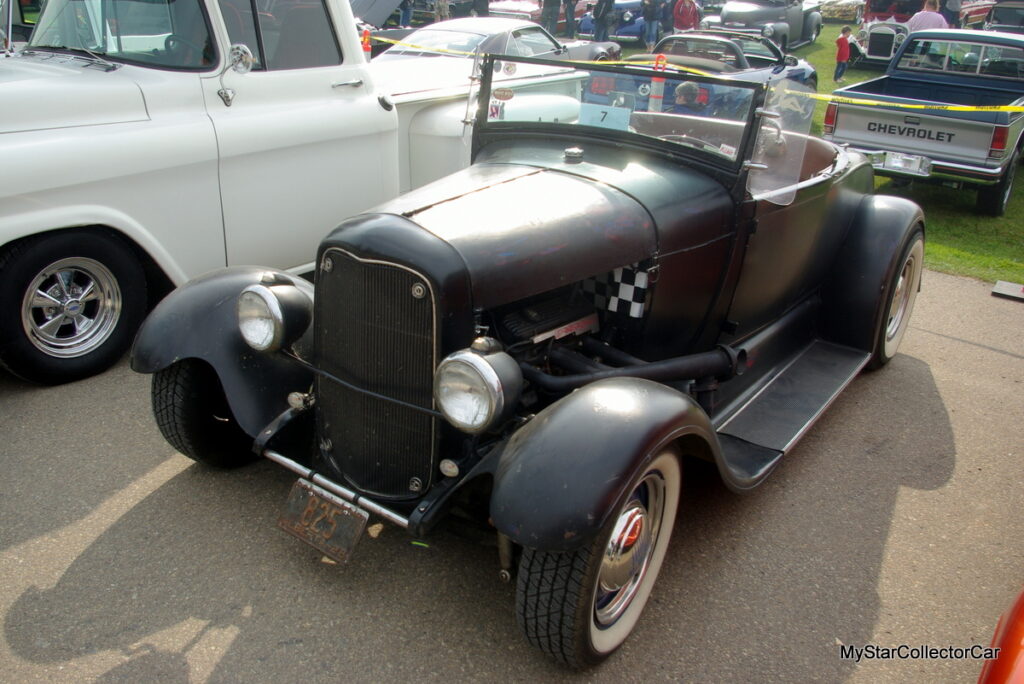 MyStarCollectorCar finally caught up to its owner at the Gull Lake car show and was able to get the full story behind his '28 Model A hot rod and their adventures together on the road.
Our readers will enjoy this one when we do a future feature about the well-travelled duo.
The final addition to our Gull Lake stories was a 1940 Chevy truck that has been with one family for over 80 years. Somehow it managed to survive hard work on the family farm and eventually ended up with the grandson of the former owner.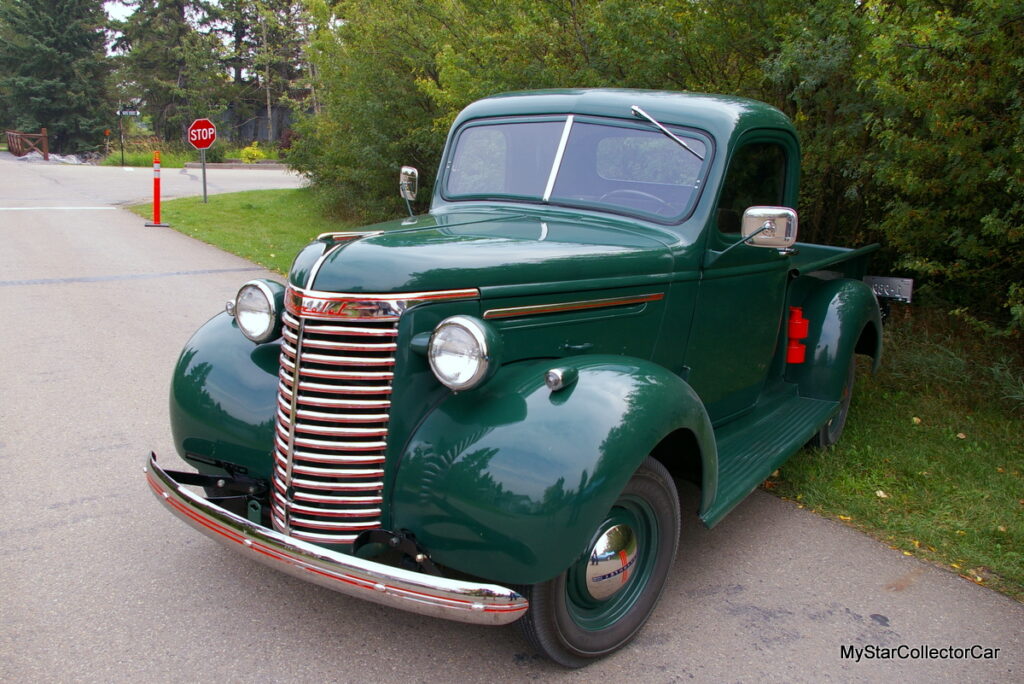 The grandson developed a deep connection with the truck over the years and wanted to ensure the '40 Chevy remained in the family, given its link with his granddad, a man who had a big impact on him.
Mission accomplished in a big way, so our readers will learn all about the 1940 Chevy truck/family heirloom in a future MyStarCollectorCar article.    
BY: Jim Sutherland
Jim Sutherland is a veteran automotive writer whose work has been published by many major print and online publications. The list includes Calgary Herald, The Truth About Cars, Red Deer Advocate, RPM Magazine, Edmonton Journal, Montreal Gazette, Windsor Star, Vancouver Province, and Post Media Wheels Section.