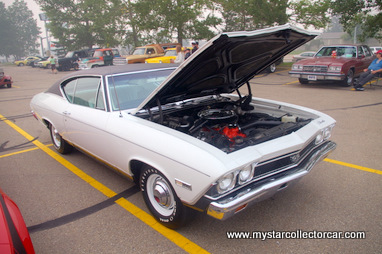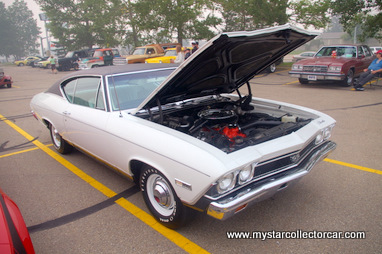 Our mandate at MyStarCollectorCar.com is simple-it's all about owning and truly appreciating the old iron for what it is, not what it's worth.
That's why our first question in an interview is always this-"are you going to keep it?"
The 1966-69 Chevelle SS 396 is considered a classic era for this storied muscle car from Chevrolet.
These are the kind of vehicles that guys are willing to compromise everything to own one-up to and including a happy marriage.
Unfortunately that popularity comes with a high price so buying and selling these cars is good business.
Quite frankly, there's nothing wrong with a free enterprise philosophy but fibbing about a personal commitment to a classic is another story…
This is one of those cases.
This '68 Chevelle SS 396 is a Barrett-Jackson car with all the correct documentation-right down to every fuel bill since 1968. It has 4 build sheets and over 140 pieces of paper attesting to the history of this unique car. It has 35,000 documented miles since its early days as a Texas car. It's a unique white with black vinyl roof- optioned car so that makes it really stand out.
The car is presented as a survivor so it has all the original seals and gaskets-that is a true testimony to the museum-like quality of this vintage Chevy. The brakes are still the factory originals and every piece of the interior is the same 1968 material. The owner's son reported that the car "really drives nice" and it's "a blast to take out".
That's the best part of this story-the impeccable originality of this '68 Chevelle SS 396.
The story should end with the "lived happily ever after" clause because the claim was that the owner "had wanted to own one since his younger days".
But it's clearly not going to end that way-the car showed up at an auction a few weeks later…clearly the guy who'd always wanted to own this 68 SS 396 must have been a huge fan of the Paul Simon song "Kodachrome".
The song with the lines "if you took all the girls that I knew when I was single and brought them all together for one night, you know they'd never match my sweet little imagination". That's the fate of this 1968 SS 396 because once this car hit the new owner's driveway the next addition was a brand new "for sale" sign.
Too bad-we like those Walt Disney-esque happy endings too.
Jerry Sutherland @mystarcollectorcar.com