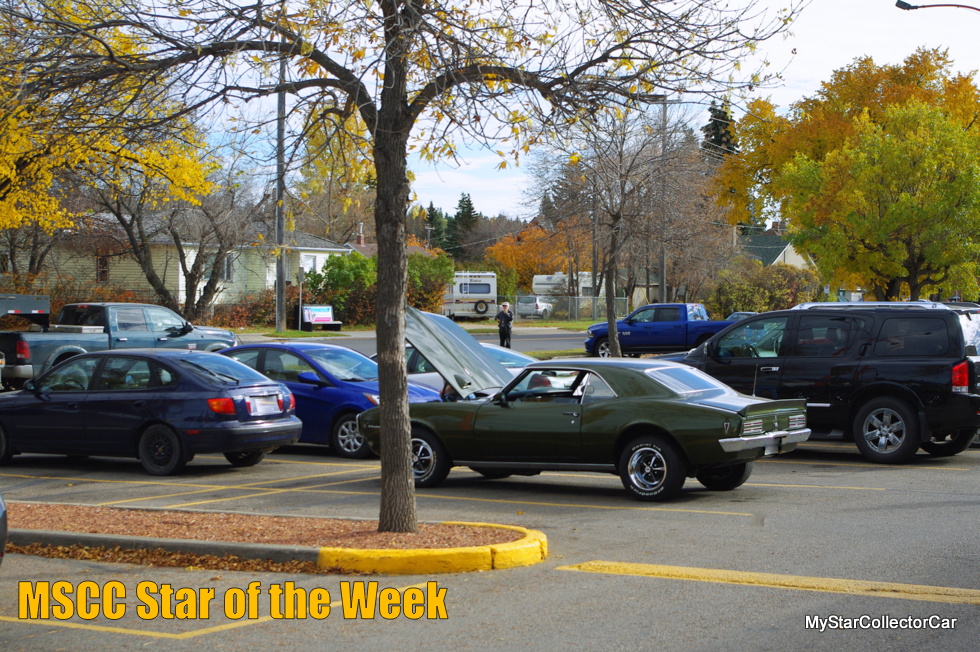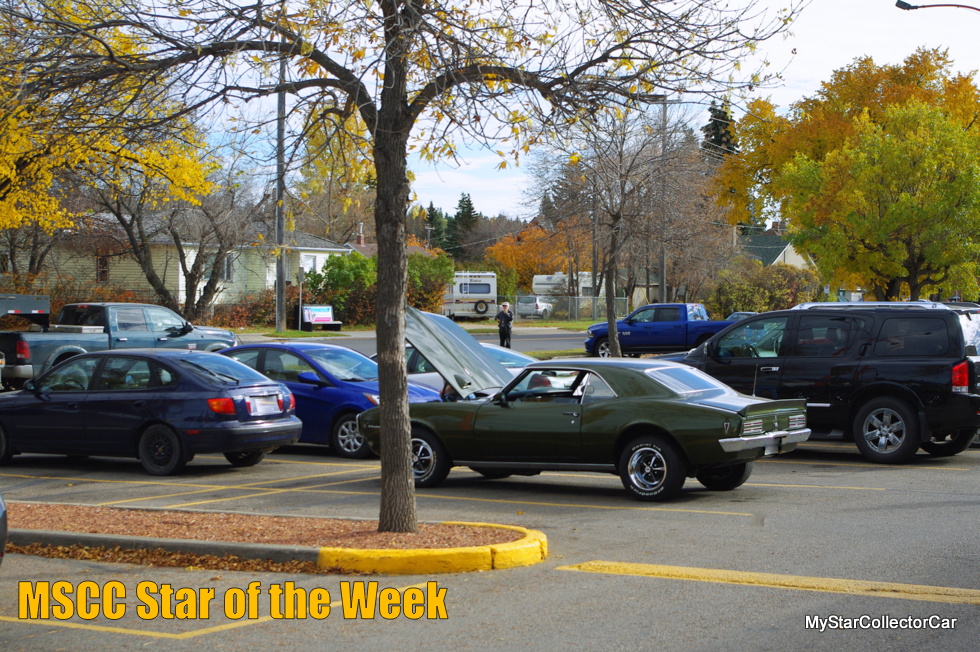 MSCC OCTOBER 11 STAR OF THE WEEK: PONTIAC FIREBIRD—THERE'S NO SHAME ASSOCIATED WITH AN OPEN HOOD
This week had an inordinate number of Pontiacs for MSCC Stars of the Day because there were so many of them out on the street.
Car guys—especially Poncho car guys were out in force because the weather was exceptional and the season is short for old iron.
'Nice weather doesn't offset the occasional misadventure with a vintage ride but the upside is that this automatically qualifies the owner for MSCC Star of the Week.'
That happened yesterday with this MSCC Star of the Week 1st Gen Firebird because there's no shame (just MSCC glory) associated with an open hood.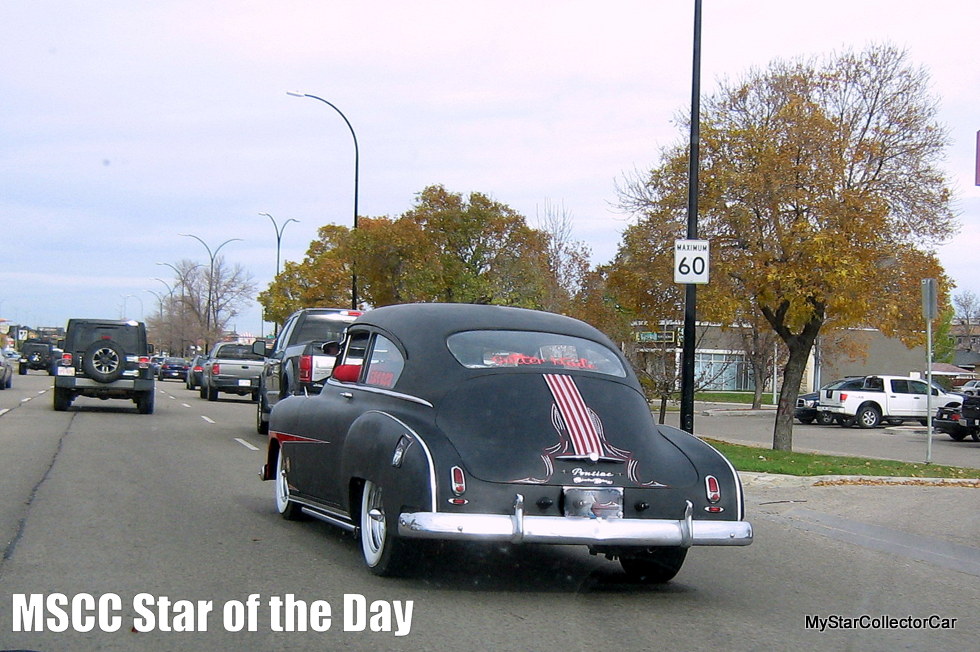 MSCC OCTOBER 10 STAR OF THE DAY: PONTIAC FLEETLEADER FASTBACK—COOL CANADIAN ON A WARM FALL DAY
There's overwhelming evidence Autumn 2015 could be affected by a massive El Nino system.
El Nino is Spanish for "the little boy" but for people in the northern latitudes it means, "really nice October and November and possibly December".
"This is great news for Canadians so it was fitting a rare Canadian car was out on a rare (very mild) Canadian October afternoon yesterday."
That's why this MSCC Star of the Day Pontiac Fleetleader fastback was a cool Canadian on warm fall day.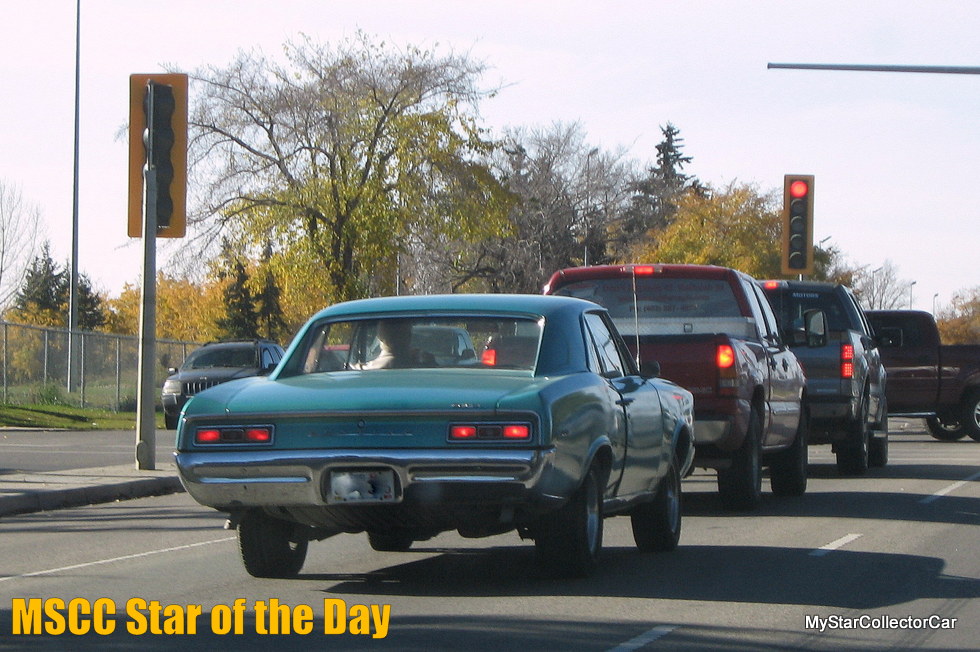 MSCC OCTOBER 9 STAR OF THE DAY: VINTAGE PONCHO— A SIGHT TO SEE IN A SEA OF TRUCKS
Today's traffic is based on pure function over form so you'll see hundreds of practical vehicles before you'll see a frivolous car like a convertible.
"There's definitely a cost associated with this trend because basically one truck pretty much looks like another truck from behind, one SUV looks like another SUV—you get the picture."
That's why anything out of the ordinary is like a beacon of light in traffic.
This MSCC Star of the Day '67 Pontiac was in traffic yesterday where it was a sight to see in a sea of trucks.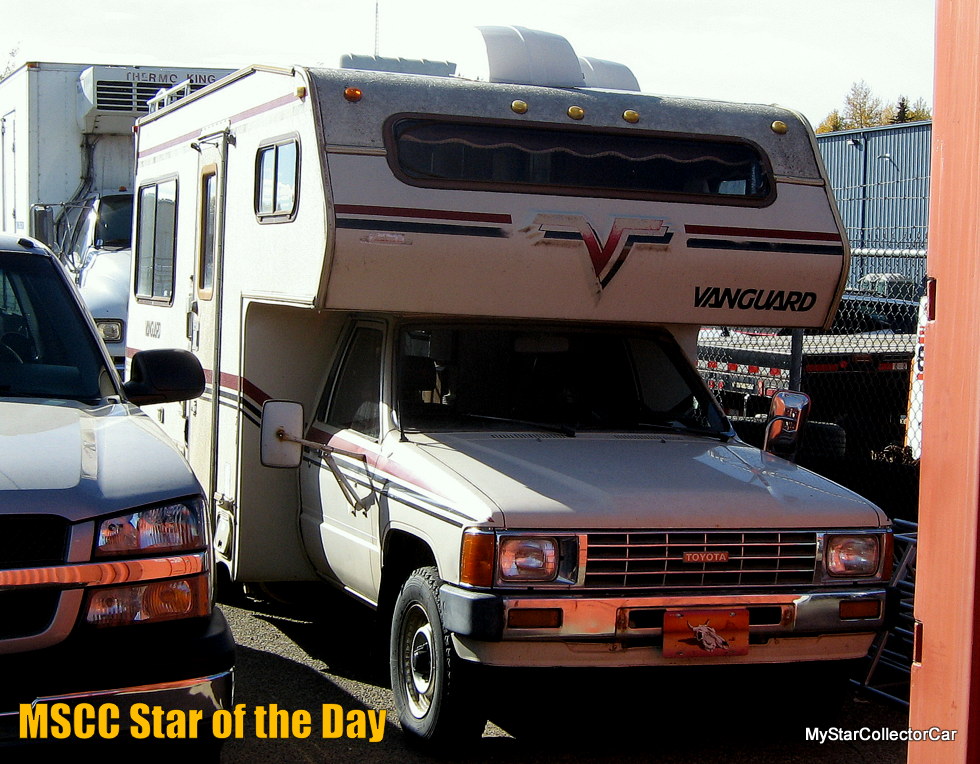 MSCC OCTOBER 8 STAR OF THE DAY: TOYOTA VANGUARD CAMPER—AFFORDABLE IF YOU'RE NOT IN A BIG HURRY
An RV can be one of the best ways to travel because you're essentially behind the wheel of a rolling hotel room.
They're mobile and they offer a real sense of independence because you can come and go from this hotel room anywhere, anytime.
"The only downside is the massive fuel bill that comes with the average RV and that can be a deal-breaker."
That's not the case with this vintage Toyota Vanguard RV because the fuel bill on your vacation won't blow up your wallet but you'd better not be in a hurry to get there.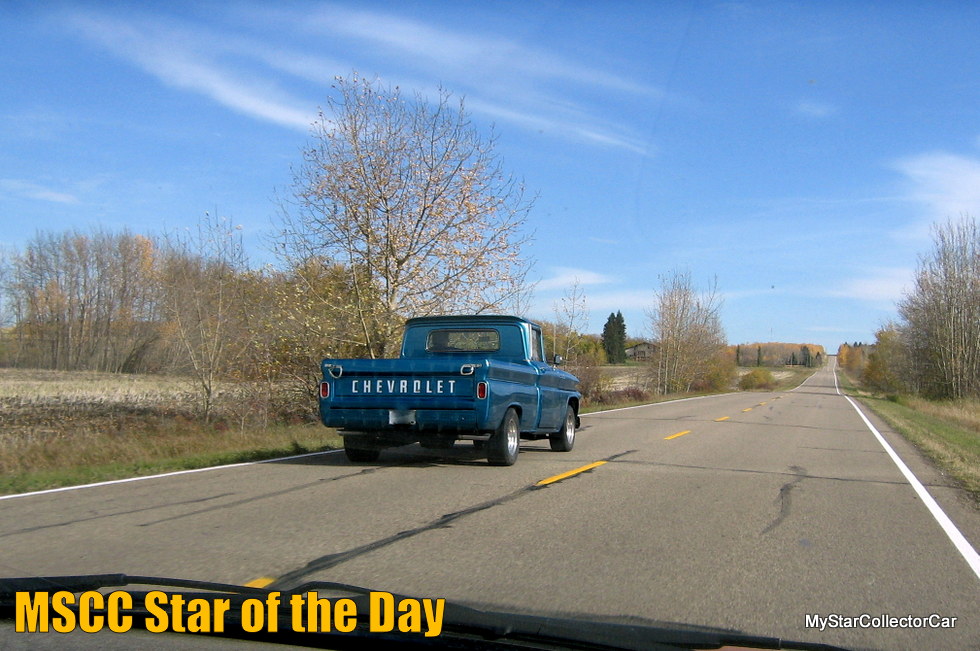 MSCC OCTOBER 7 STAR OF THE DAY: BACK ROAD CLASSIC CHEVY TRUCK—THIS IS WHAT MAKES THE ROAD LESS TAKEN SO IMPRESSIVE
There are many sound reasons to take the less traveled route to a destination.
The pace is more leisurely, the scenery is better and the knucklehead factor is next to nothing on secondary roads.
"The only surprise is a good surprise like a spontaneous sighting of a very cool old ride because old iron really stands out on a back road with no traffic."
This MSCC Star of the Day vintage Chevy truck popped up out of nowhere yesterday—that's what makes the road less taken so impressive.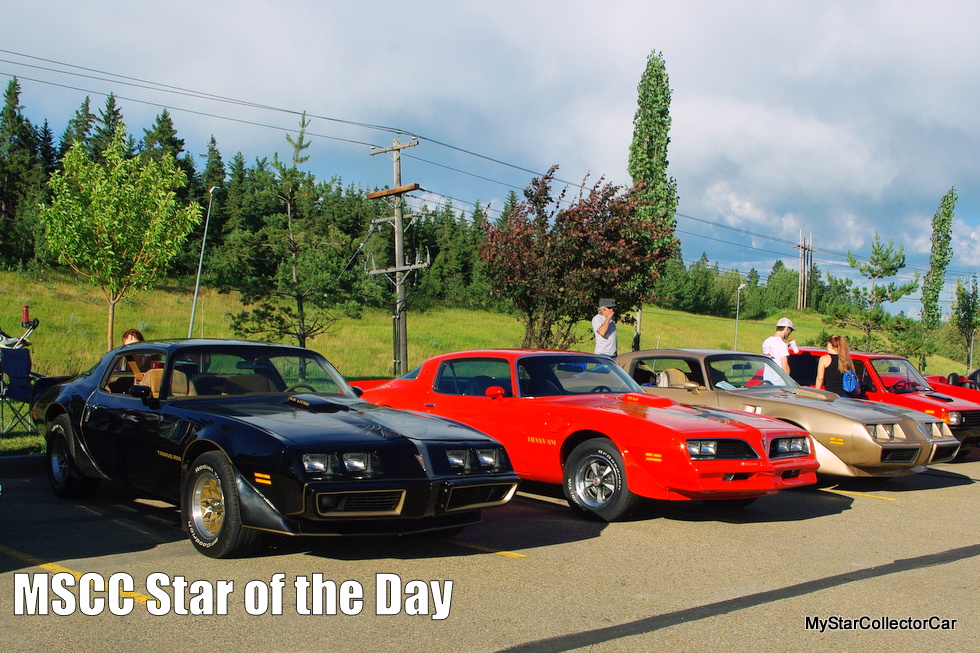 MSCC OCTOBER 6 STAR OF THE DAY: THREE CLASSIC FIREBIRDS EQUALS A REALLY GOOD HAND
Most old cars are a gamble in one way or another but some are far more risky than others.
Sight unseen old car purchases are the biggest gamble because a sale like that is too heavy on trust and too light on detail.
"The premise is simple—not every old car is a good bet because you're buying a history that could be Walt Disney-like; it could be Exorcist-like or the car itself may not be worth a gamble."
These Star of the Day Pontiacs (at a 2014 show) are a great gamble because three classic Firebirds equals a really good hand.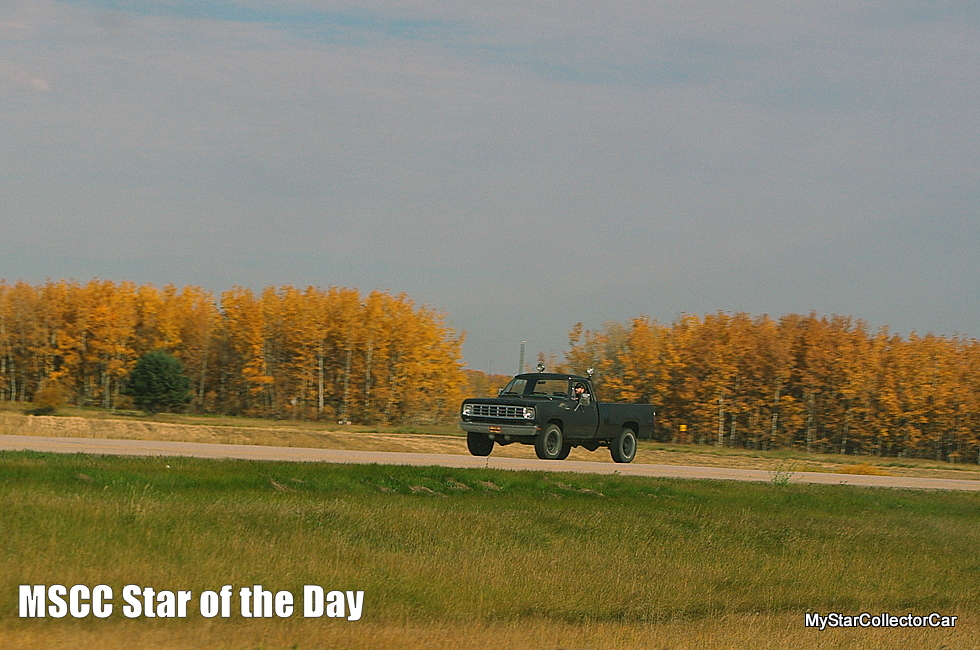 MSCC OCTOBER 5 STAR OF THE DAY: AUTUMN SIGHTINGS—A YET TO BE CLASSIC DODGE TRUCK     Some vehicles are instant classics.   Most people point to the obvious with cars like the '63 Corvette or the '64 Mustang but other vehicles like the '71-72 Chevy trucks easily made a transition into classic status.
"Dodge trucks from the same era were never accorded the same respect even though the '72-76 Dodges were very clean-looking rides."
This MSCC Star of the Day Dodge truck was spotted a few days ago in an autumn sighting of a yet to be classic ride.
CLICK HERE to Like us on Facebook
CLICK HERE to Follow us on Twitter
CLICK HERE to Follow us on Pinterest Please re-post this if you like this article.