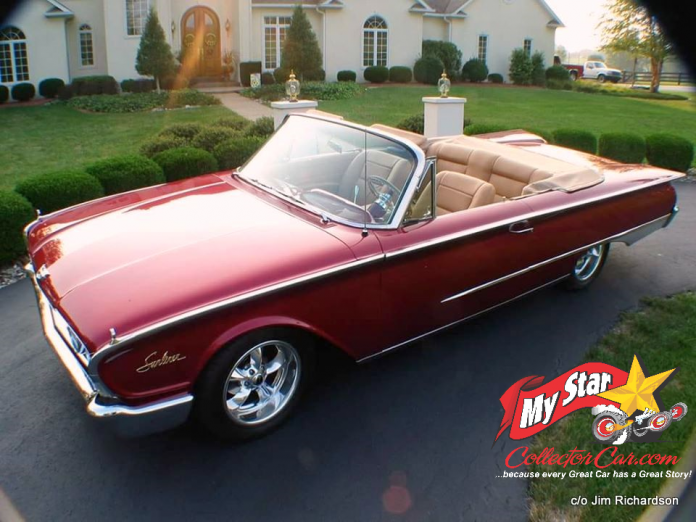 The 1960 Ford is a car that needed no custom touches because when it came out of the factory, it looked like a car George Barris would have built.
Jim Richardson is the proud owner of this incredible custom although he defines his role in different terms: "I am the current owner of Red, but I look at myself as the custodian of this fine car. The 1960 Ford was an all-new car based upon a concept car; it even required a temporary one-year "pass" from various state requirements in order to be sold legally as-built! The cars, at 81½ inches, were actually wider than normal limits, and technically should have been sold with orange "clearance" lights on the roof".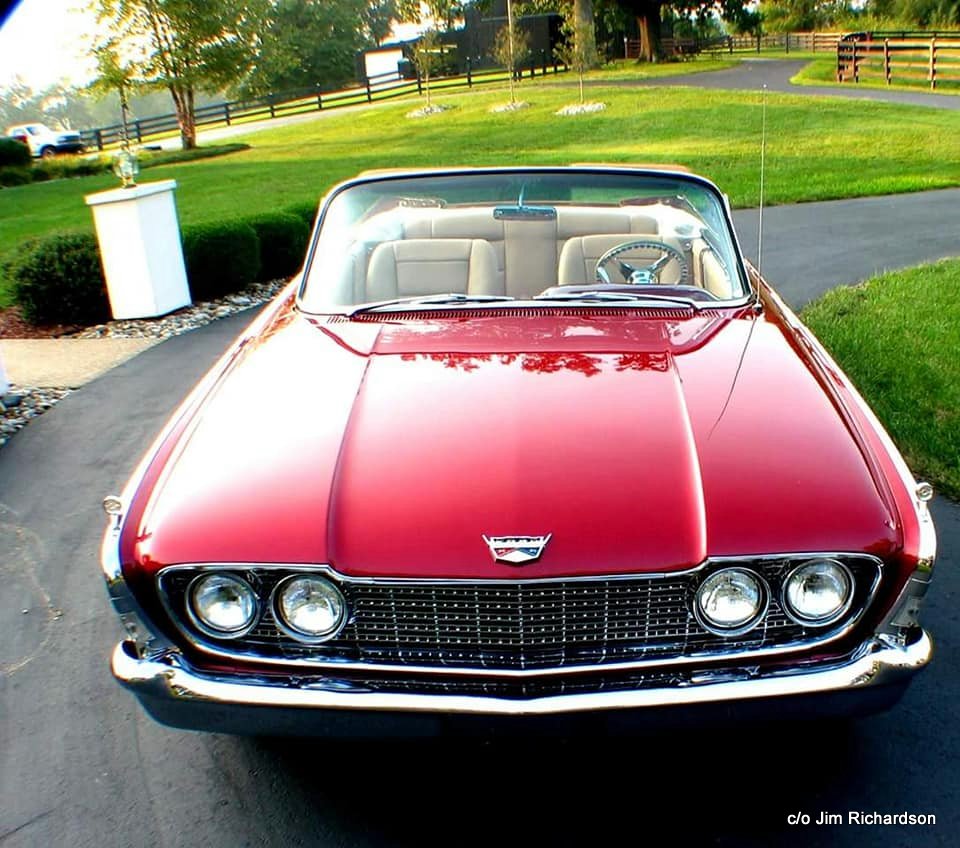 Jim was impressed with the car from Day 1: "I first saw this car in June 2009 at a car show in the Houston area. I was showing my recently restored 1972 Lincoln Continental Mark IV and struck up a conversation with the Sunliner's owner, Terry Lyons, who had purchased the car from a lady in Kentucky five months earlier. Terry and I became good friends and over the years often coordinated trips to local car shows. Terry was a car enthusiast who owned many show worthy cars, but Red (his name for the car) was one of his favorites and I can't remember him leave a car show without the car winning an award. Terry was a great guy, but unfortunately bad things sometimes happen to great people. Sadly, Terry contracted cancer, had a number of associated complications and he passed away in January 2019".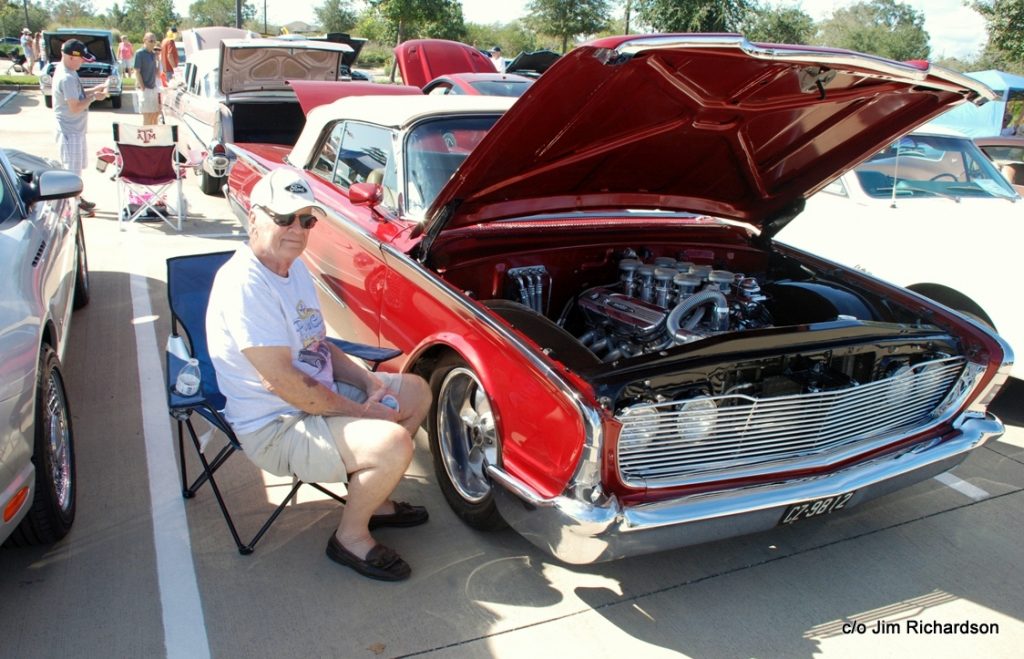 Jim learned the fate of the '60 Ford by accident: "In June 2019 I contacted one of Terry's sons to see if the family wanted some of the photos I had of Terry from the past decade and inquired about his cars. I learned that Red and another car from Terry's collection were to be offered for sale at the Mecum auction in Dallas in September".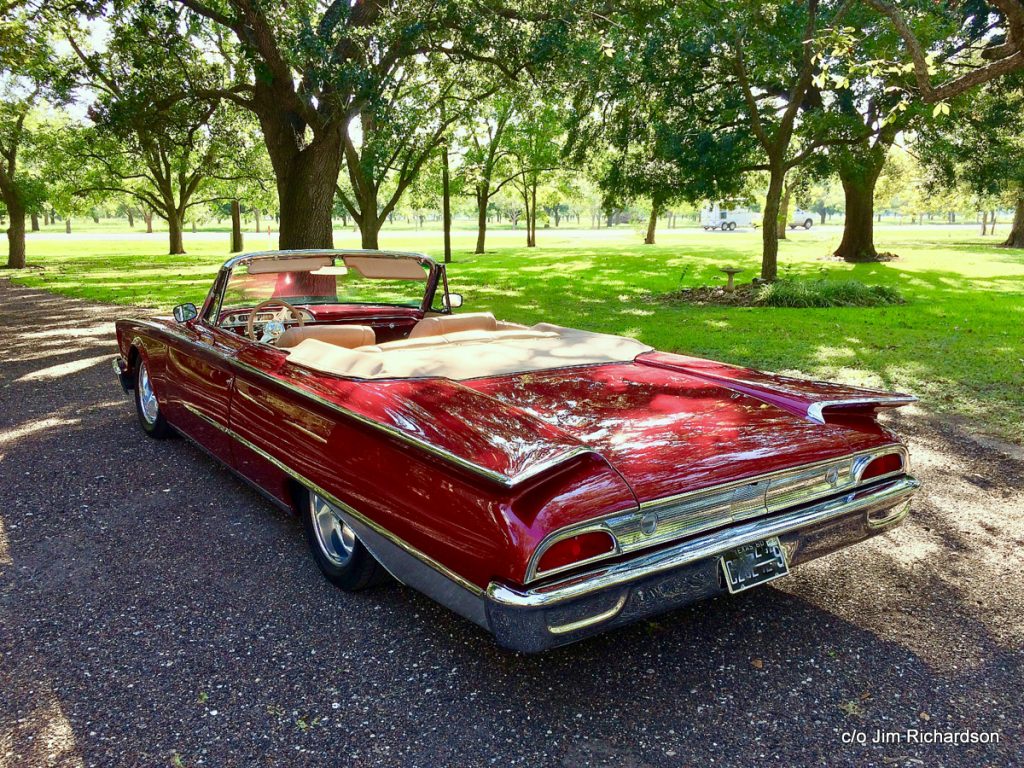 He reacted accordingly: "I hated to see Red go off to auction and end up with someone who knew nothing about the car or its owners, so I made an offer to buy the Sunliner. After a considerable amount of discussion, I was able strike a deal with the sons who were happy to see the car go to one of Terry's friends. In August 2019, I took delivery of the car".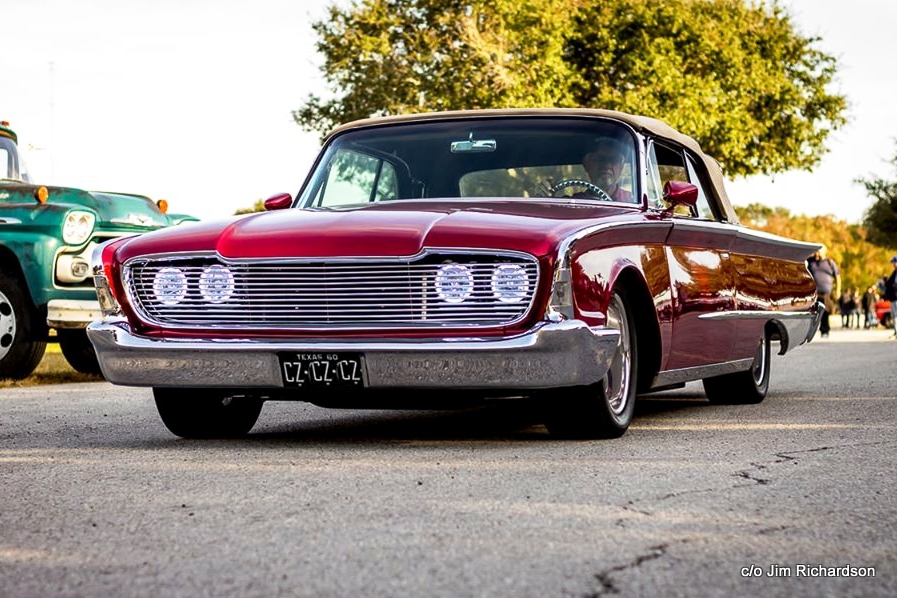 Jim is a student of Red's history: "The Sunliner was purchased in rough condition by Mr. Bob Short of Elizabethtown, KY in 2002. When he acquired the car it was its original Monte Carlo Red, white top, stock interior, hub caps and original 352 CID engine and drivetrain. The car was in bad shape with a lot of rust / rot. It needed new door skins, rockers, floors, one new quarter panel and other body work. Mr. Short made the decision to do the rebuild "right" and a frame-off, rotisserie restoration was handled by Mr. Darrell McKinney, also of Elizabethtown.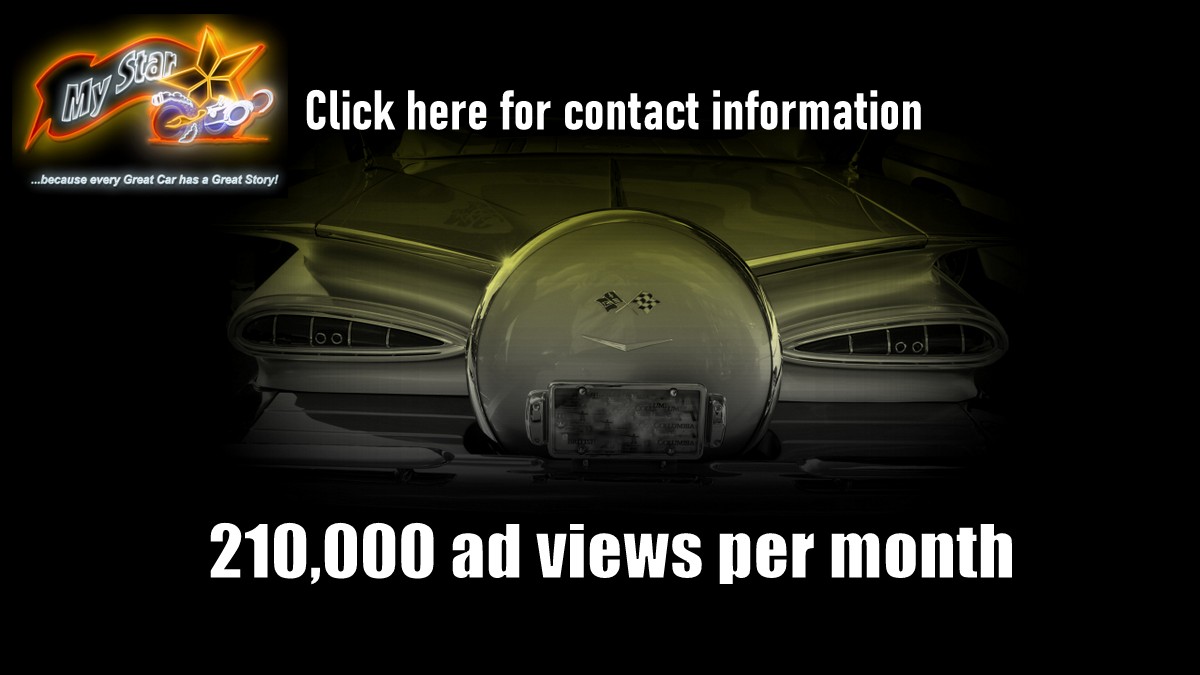 The work included adding a Ford Performance 302 CID crate engine, AOD transmission, rebuilt rear end with 3.25:1 gears and 4-wheel disc brakes. In addition, all the stainless and chrome were reworked, polished and re-chromed to show condition. New glass and weather stripping was installed, along with adding insulation in the doors, floors and quarter panels. The car was totally re-wired and Vintage Air heating and a/c was added along with a tilt steering column and power windows".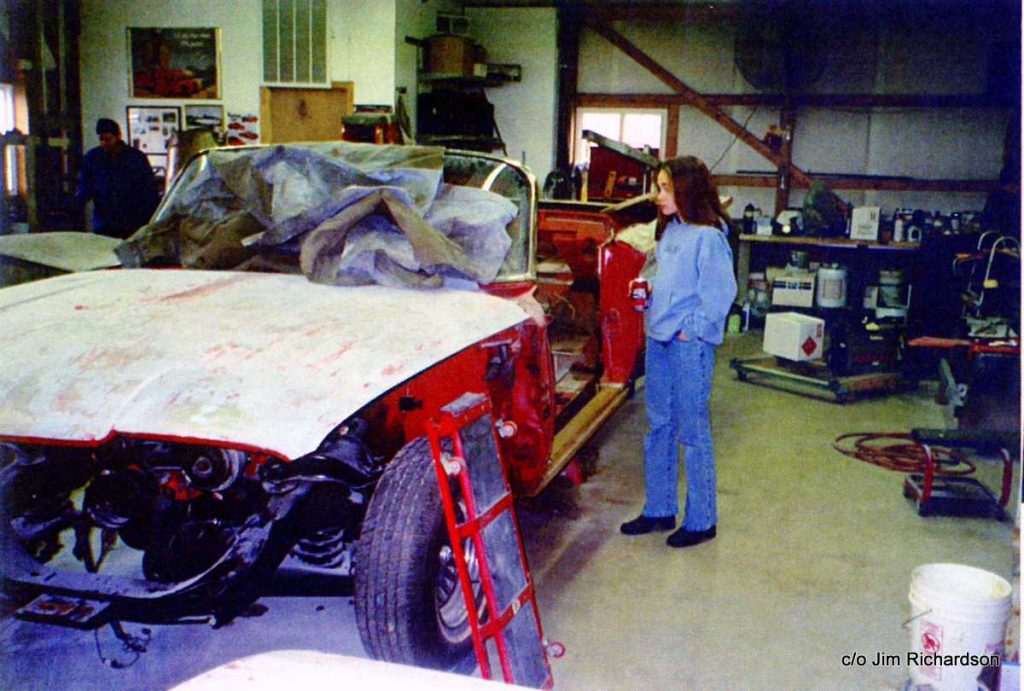 This was definitely a mix and match build: "To ensure driver comfort, the car was retrofitted with 8-way, heated, power front seats from a 1994 Cadillac Eldorado. The car was then sent to Louisville, KY where a beautiful buckskin color leather custom interior was created and installed and a new matching color convertible top was added. The car was painted Magnetic Red Metallic to match Mr. Short's 2002 Corvette and custom wheels/tires were installed. Sadly, after putting less than 700 miles on the car, Mr. Short passed away in 2008 and the car was put up for sale".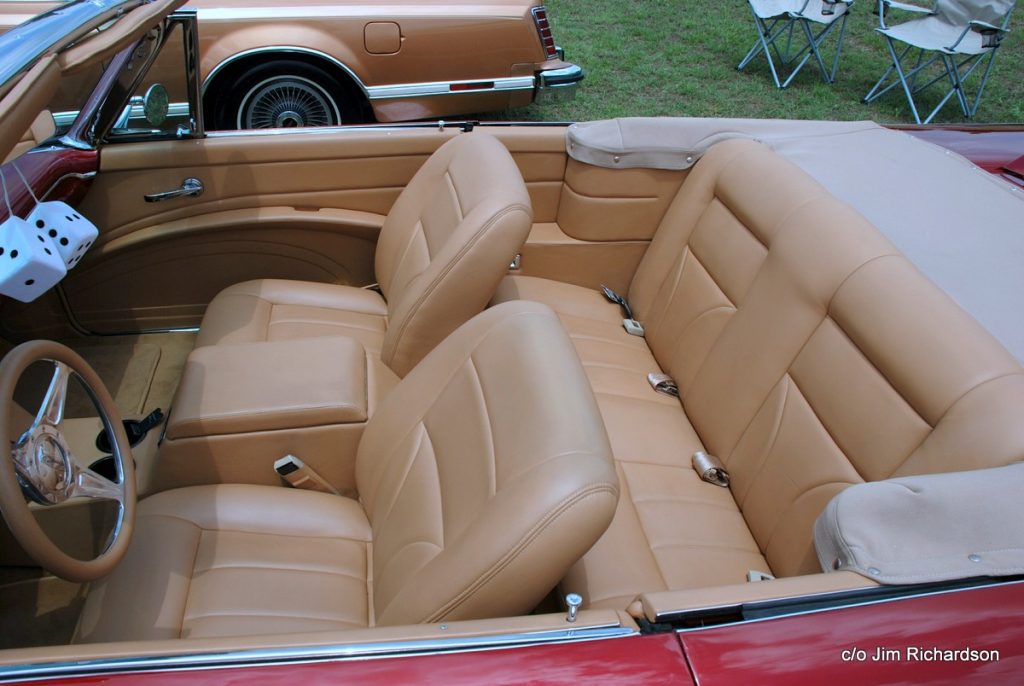 Jim went on to describe Terry's history with the Sunliner: "In January 2009, Terry Lyons purchased the car and after a few years started addressing a few issues and adding his own touches and changes to suit his taste. The first major change was to the suspension and brakes. Terry wanted the car to handle and stop like a modern car. He engaged a speed shop in the Houston area to replace the original front coil/rear leaf spring suspension with a four-link rear set up, tubular A-arms up front with coil over aluminum shocks all around. Disc brakes were added along with a hydraulic assist system to provide stopping power. Additional cross-bracing was also added to stiffen the chassis".
Terry wanted to take the car to another level: "A few years later, Terry said the 420 hp engine in Red was just not enough and he decided to take the Sunliner's performance to another level entirely. In 2015 a 427 IR crate engine (560 hp / 540 lb-ft) with 8-stack injection was purchased and mated to a 4R70W transmission with a Compushift controller, driving a r 9" limited-slip rear end with 3.70 gears. The headers feed into a custom 3" dual exhaust system. The car sounds great and, yes, starting the car will wake up the neighbors".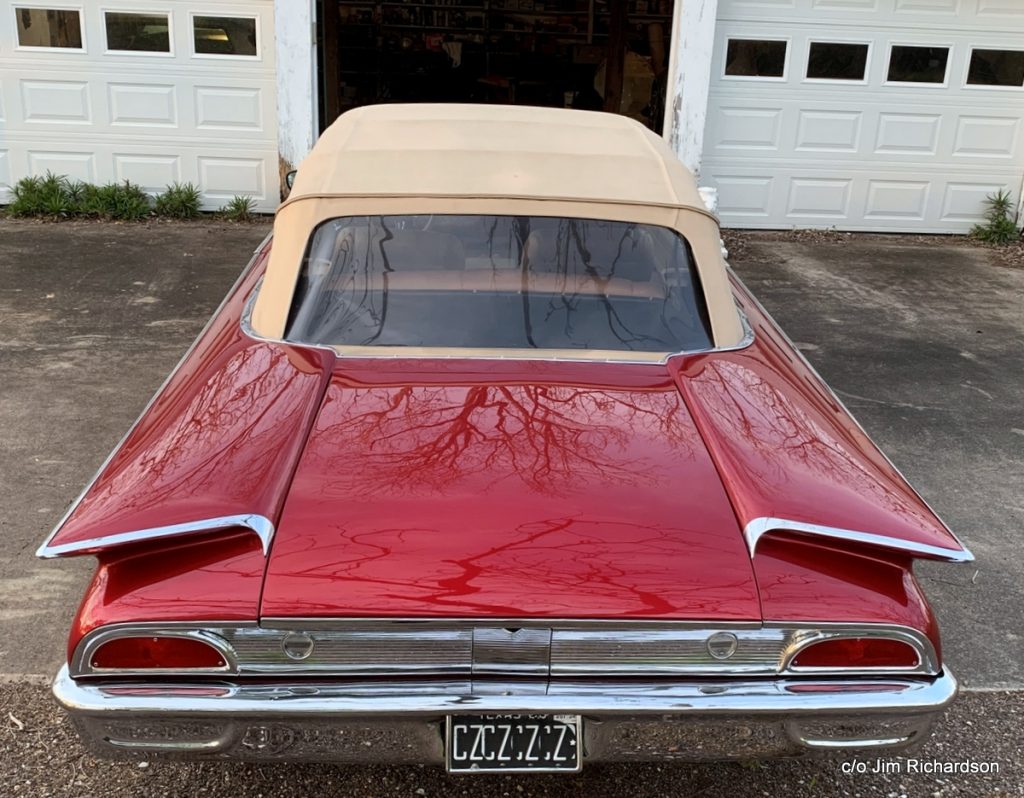 Jim explained how Terry wasn't done with the final touches: "The final changes Terry made were custom touches to the exterior. Although a design feature of 1960 Galaxies vs. prior years was reduced ornamentation, Terry wanted even less. He took the resto-mod look even further by having the car "shaved" and repainted. The emblems, antenna and door handles were removed. The only place the word 'Sunliner' appears now is on the car's glove box door. Flush-mount door handles were installed along with a remote trunk release. The stock chrome side mirrors were replaced with color matched bullet type units. The stock grill was replaced with a custom, horizontal bar, billet unit with hidden headlights with "halo" LED daytime running lights. To complete the "slick" look, the front fender "gun sight" ornaments were eliminated which involved removal of the chrome trim, welding the mounting holes and re-chroming. Details, details, details…"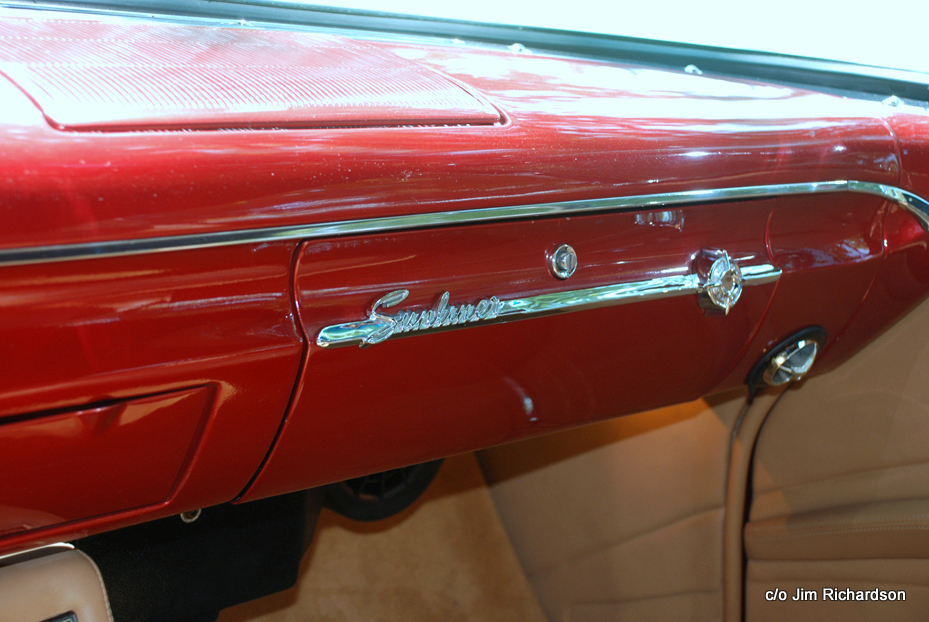 Jim is a proud owner: "I feel I am honored to be the owner of this car. Both the prior owners applied their visions to the vehicle and it is a hybrid blend of each of these gentlemen's dreams. I was blessed to have known Terry and to have watched the "evolution" of Red over the past decade. I am also thankful to have a good deal of documentation from both prior owners. This allows me to at least answer most of the questions at car shows and gives me an additional feeling of being connected to the Sunliner. Regarding questions, with all the emblems removed, most people don't recognize the make or model of the car. I've heard, Chrysler, Impala and Thunderbird in the short time I've owned it".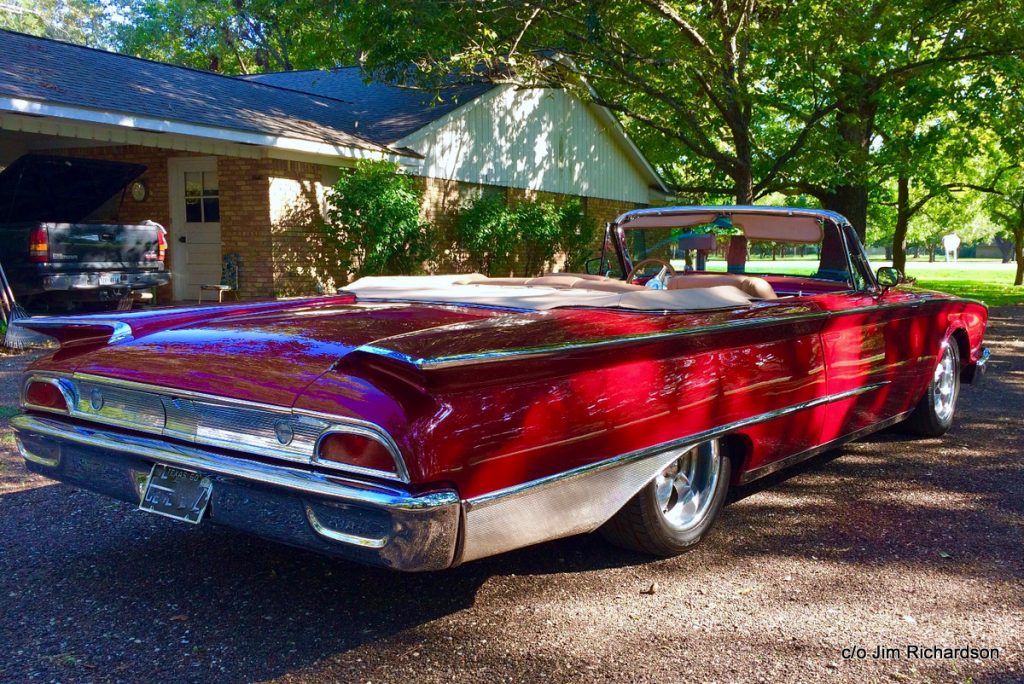 This is not a trailer queen: "I have been putting a few miles on her driving our local country roads and cruising with friends. Driving the car with the top down on a cool, late summer afternoon will put a smile on your face, I promise. Although I don't plan to do it very often, I have stood on it a couple of times and even with all the power and torque she hooks up quickly and comes out straight.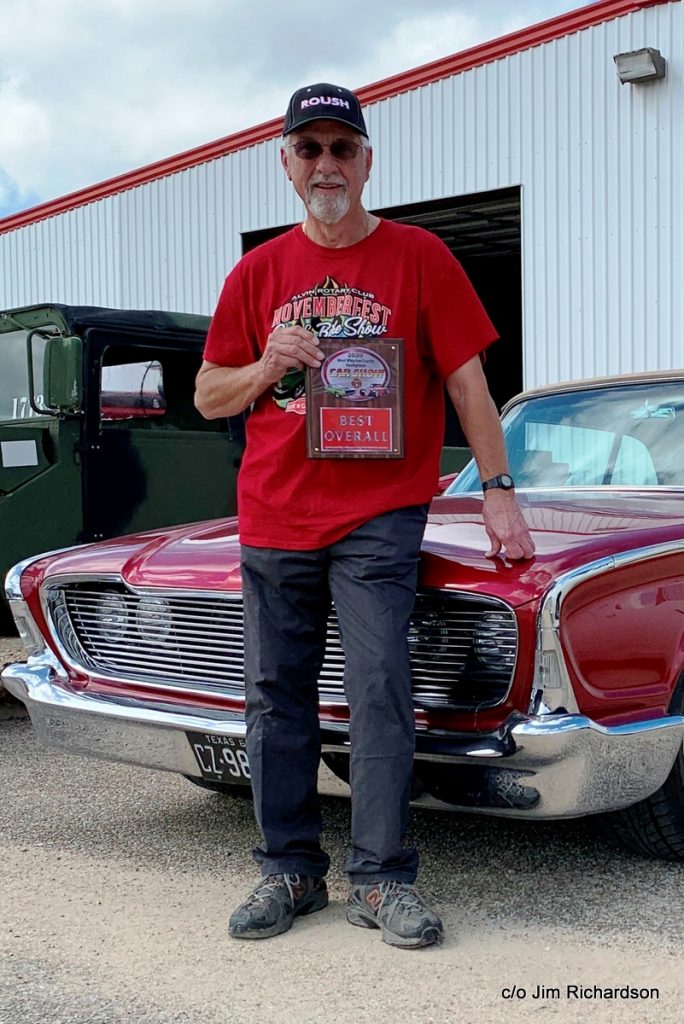 The former owners are also happy about Red's fate.
By: Jerry Sutherland
Jerry Sutherland is a veteran automotive writer with a primary focus on the collector car hobby. His work has been published in many outlets and publications, including the National Post, Calgary Herald, Edmonton Journal, Ottawa Citizen, Montreal Gazette, Saskatoon StarPhoenix, Regina Leader-Post, Vancouver Sun and The Truth About Cars. He is also a regular contributor to Auto Roundup Publications.