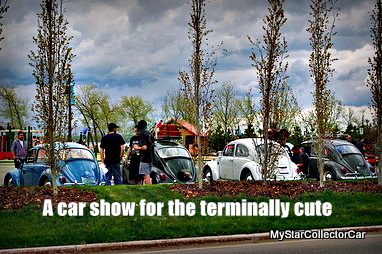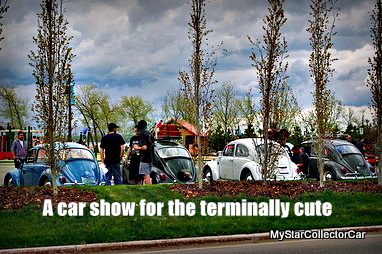 We travel every year to many car shows.
Most are non-denominational in the sense of cars at the show, if you entertain the notion that car guys tend to treat their favorite car companies like a religion.
More often than not, we see shows where Fords are parked next to Chevys, which are parked next to Mopars. They co-exist in perfect harmony at shows, much like the famous Coke commercial from the 70s that wanted to teach the world to sing and hug each other.
However, there are shows where admission is limited to one make or brand name and the door is closed to the other guys.
We attended a recent car show where the guests of honor were of the Volkswagen persuasion and we took some time to hang out with some of their owners.
This VW show extended an invitation to a few other Euro brands, so we did spot an Audi mixed in among the Volkswagen clan.
Our particular interests were the vintage Volkswagens at the show because these air-cooled vehicles from the past are not as common as the days when the game "Punch Buggy" produced some very sore arms on long vacation trips.
Punch Buggy was a pretty simple game: Long road trips were a chance to be the first kid to spot one of the millions of Volkswagen Beetles on the road back in the 60s while riding in the back seat of the family sedan or wagon.
The reward for the winner was a clean shot at the kid next to him in the car in the form of a shoulder punch. This was a time long before today's cell phones and TV method to keep kids happy and quiet on a family road vacation.
The rules of the game were firm but fair and helped establish a sentimental bond with the Volkswagen Beetle, albeit a painful one.
There were only enough Beetles at the show to cause minimal Punch Buggy pain because these terminally cute rides from Germany have largely disappeared off the face of the earth many decades past when they a common sight on North American roads.
We spotted a very nice 1965 Volkswagen Beetle with its original California black plate and tracked down its congenial owner, a retired commercial airline pilot who still flies charters in Canada's far north.
Look for his Bug story in a future MSCC feature and learn why he chose to jump into the vintage car hobby with an ultra-cool Beetle.
The other end of the spectrum was a young 20-year-old car guy who saved enough cash to buy a rare 1964 VW Double Cab, which is essentially a vintage Volkswagen van configured into a 3-doored crew cab with a pickup bed.
The owner of the unusual Vee-Dub truck was an outgoing guy who had already used it as a great ice-breaker with young women of his generation. Perhaps he should be a role model for other young guys who may want his edge in the how-to-meet-babes department. Look for his entire story in a future MSCC feature.
The numbers of classic air-cooled Volkswagens may be down significantly since their heyday many decades ago, but the interest level in these iconic vehicles remains sky high for many people.
Count us among their fans.
Jim Sutherland