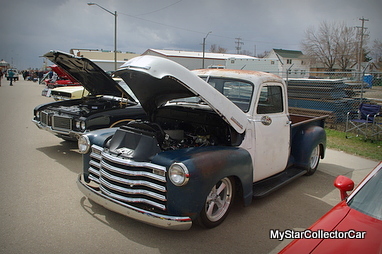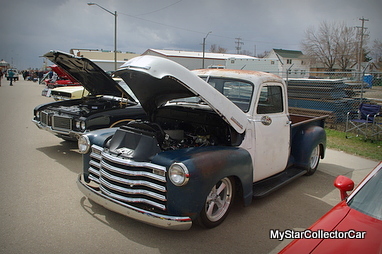 Early 50s Chevy pickups never lost their appeal in the hobby because they lend themselves to so many options.
Chevy trucks are the default position for builds for many reasons but one of the biggest is style.
Style is followed closely in importance by an incredible abundance of compatible and affordable parts.
Wayne Ham is the proud owner of a 1950 Chevy pickup and those factors were important but in his case, the truck itself was the biggest deal-maker.He explained how it came about it: "I bought it from a local guy, I was working on another one that's what got me thinking about this one. I have a hunch it was a farm truck from Saskatchewan originally".
This was a work in progress: "It had a 305 covered in grease and oil and it was out of a Cutlass. It's on a modified Olds Cutlass frame with a GM front end and rear end from a Cutlass and now it drives like a Cutlass".
Wayne added his own touches to the Chevy truck as he explained: "I put a Ramjet 350 in it because the engine was a little tired and it kind of went with the patina. There was a lot of tinkering so I rebuilt the seats and did the headliner but there are no felts around the window, it needed stuff like that done".
This truck had a few other built-in modifications that got Wayne's attention: "I'm going to lift it a bit, I'm not a fan of air bags because coils will do the job fairly well but keeping it simple is the best way".
There was a crossroads at this point in the project: "The guy wanted it to be a rat truck so all of the skin looks that way, but I'm not sure if I agree but for now I think I'll leave it that way. Everything, all the tin work is original at this point".
Wayne faces two schools of thought every time he shows the truck as he admitted: "There are only two comments—I should paint it or leave it alone. Right now keeping it simple is the best idea".
There are ongoing debates about whether you should inherit someone's project or start from scratch but Wayne had clear thoughts on that issue: "The heavy lifting was done so I don't mind doing the other stuff because it's something I can do for myself and it was the right thing to do".
Wayne bought this project to drive and so far he's been faithful to the concept: "First time I had it out was this spring I was a pleasure to drive so I might consider a long run to the Radium show. It goes down the road so nice. I'm having lots of fun—that's what has me hooked on it".
Classic Chevy trucks have a huge following but this one won't be on the market again because Wayne has a well-defined game plan for his pickup and it's one that really makes sense: "I have a grandson who's 18 and he thinks it's the greatest thing".
The future looks bright for this 1950 Chevy truck.
Jerry Sutherland
CLICK HERE to Like us on Facebook
CLICK HERE to Follow us on Twitter
CLICK HERE to Follow us on Pinterest
Re-post this article if you like it…thanks.