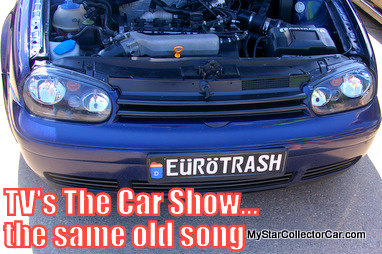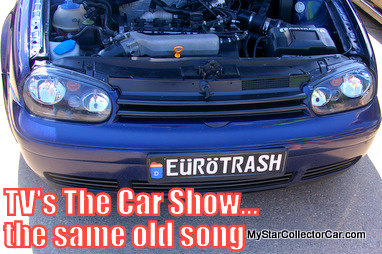 The common denominator for The Car and Man Show is Adam Carolla.
Adam was a reasonably funny guy on The Man Show as a partner in comic crime with Jimmy Kimmel.
He never forgot his roots when he put his stamp on The Car Show for the Speed Channel.
The new show is focused on cars as they relate to the antics of Carolla and three co-hosts on the show.
The only thing absent from the Man Show is the chugalug guy who vaporized beers to a happy German drinking song. Carolla has managed to include buxom babes in the new show, although they are not a fundamental part of The Car Show– yet.
However The Car Show does have an aging frat-boy vibe to it because that is part of Carolla's schtick. All four hosts work hard to appear outrageous in the program and, at times, it might make viewers wince a bit.
The Car Show is clearly a project in the works as it strives for a dare-to-be-different look at the automotive culture. You may get an eerie déjà-vu chill because the Brits already cornered this market with the original Top Gear.
One of my early criticisms of The Car Show is its dismissive attitude toward the North American car culture. All four hosts seem to have man crushes on imports and little love for the Detroit iron. They likely say Porsh-uh and we of the unwashed North American masses say Porsh. Potayto-potahto.
I have come to expect that most famous car guys have little use for domestic rides, but would it kill a show to include a car guy who actually loves the Detroit stuff? The problem with The Car Show is its attempt to appeal to the philosophy of average guys-as long as they are car snobs. "That dog don't hunt" on this side of the Atlantic where most average car guys still love the Big Three products and their performance legacies.
The elitism is extended to "famous" race drivers who are not exactly household names to me. They seemed to have achieved their fame in foreign race circuits that are completely unfamiliar to me and a giant herd of potential viewers.
I would suggest a few current or former Nascar boys with names like Petty, Wallace or Ken Schrader (funny guy)-icons of a very familiar race league to the core audience for The Car Show.
It would be fair to assume that The Car Show is still in its early laps.
There is plenty of time to make a few adjustments that will make the show more appealing to car guys and less likely to blow up or wreck before the checkered flag.
Jim Sutherland

More car stories are found at https://www.mystarcollectorcar.com/
COMMENTS
DENNIS:"Sounds like something I can pass on. "Frat Boy' krap and European cars don't interest me, neither did 'The Man Show' or Jimmy Kimmel, for that matter".