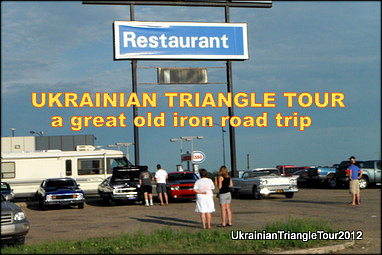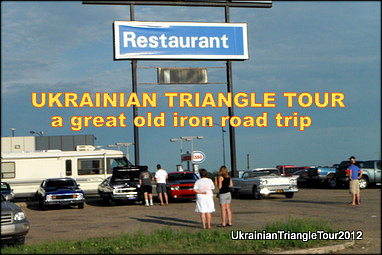 The road trip is an important part of the old iron experience for many reasons.
Car guys are free spirits by nature and adventurers at heart–there's no other way to explain why anyone would hit the highway in 2012 behind the wheel of a 50-year-old car.
A vintage vehicle road trip really distills down to the old adage, "if I have to explain it to you, you'll never get it" because it involves old tech cars, new age idiots on the road and wives with less zeal for the old car experience.
Those are intimidating obstacles but they don't stop clubs across the planet from organizing and participating in tours with old rides–this is a classic example.
The Ukrainian Triangle Tour is set in north central Alberta, Canada. This is a very picturesque parkland region that was settled by a large number of Ukrainians many decades ago in search of a better life in this rich farming area.
Ryan Rexin is the founder of this unique tour and he explained it this way, "I know it is a little more than a triangle, and when mapped out looks like a square, but it started off as just the Egg, Pyrogy, & Sausage, the 3 Ukrainian monuments in Alberta. Then I realized why just pass all these other ones and not stop so I tossed them in as places to stop. But I really liked the title Ukrainian Triangle, so that's what it's called".
The journey is important with the old iron but the destinations are a factor and Ryan mapped out a very car-friendly route over 240 miles (400 K) and nine hours.
There is always a starting point in any road trip and this one was no exception as Ryan explained, "So we met up at the Highway 16 Esso near Ardrossan, on July 28th, 2012.There was a '66 Ford Fairlane rag top that met up with us at the Mundare turn off. We pulled into the large egg as a group of 20, two vehicles were there already waiting for us, one was from Mannville, the other from Lloydminster. Our numbers grew to 26, while stopped there. But back down to 25 when we left".
Every town in the area has a "claim to fame" landmark. The first stop in Vegreville was one in a series of the biggest and best theme , "A total of 19 cars made up our little convoy as we headed to see the worlds largest Ukrainian Easter egg (pysanka-зніфтфлф) in Vegreville".
The next stop was more extraterrestrial, "Our second stop was St. Paul, where we took over the parking lot of Alberta's very own UFO landing pad".
The Ukrainian culture popped up again at the next stop, "Our third stop was in Glendon, at the worlds biggest pyrogy (pyrohy-знкщрн), we invaded Pyrogy Park and had the whole park to ourselves. The plan was to have lunch at the little restaurant across the street. We overwhelmed that poor little place. So lunch threw us an hour behind as Glendon became a 2-hour stop".
Food is definitely a trademark of this tour, "Stop #4 was the town of Vilna, at the world's largest mushrooms. Vilna was a short stop to try and make up on some time. Some of the town's folks were set up along main street in lawn chairs waiting for us to cruise on through town. And one fella that helps put on Vilna's show and shine (August 19th) came out with a bunch of water bottles for all the thirsty cruisers".
Adventure is always a heartbeat away with old iron and this tour was no exception, "As we were headed towards Smoky Lake from Vilna, that '66 Ford ragtop had a blow out, the front left tire blew, pulling the car across the highway, narrowly missing oncoming traffic. Thankfully no one was hurt".
The next stop was less harrowing, "Our 5th stop was Smoky Lake, some of their car club members were at the pumpkins waiting for us". To clarify, this the town has the world's largest pumpkin patch on display.
A giant duck was the highlight of the next stop but the participants started to thin out as Rex admitted, "Our 6th stop was Andrew, the World's biggest Mallard Duck, our numbers had greatly reduced here".
The end was in sight on the Ukrainian Triangle Tour 2012 and the giant food product theme continued, "and finally the final stop was Mundare, home of the worlds largest Ukrainian sausage (kubasa-лгифіф). About 19 of us had dinner at the little Ukrainian restaurant in town".
This is the kind of trip that car guys thrive on because it's off the beaten path and it embodies the road less traveled. It embraces the charm and friendliness of the small town and it showcases the classic iron to the public.
Cars run better when they're used more and that's another factor but the real message comes from Ryan-he summed up the experience in this way.
"This was a great trip. Thanks to all who showed up, after all a cruise isn't a cruise without great cars and great people to drive them".
Jerry Sutherland