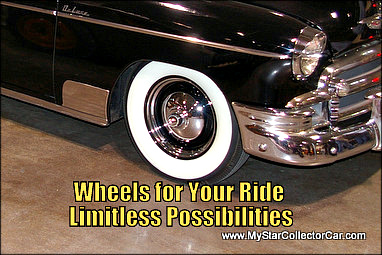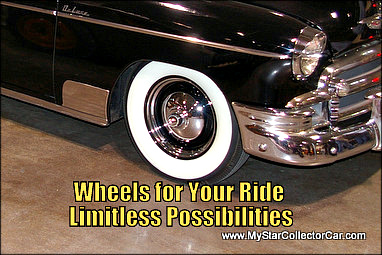 There are many ways to roll on down the road in 2012 and it is all a matter of personal taste and choice when it comes to tires and wheels under the classic car or truck.
One car guy's taste and choice in this may not exactly be another guy's bread and butter look.
Taste is a personal call for everybody.
Some people like to remember the 70s for a ridiculous clothing choice called leisure suits when there were many of us who would have happily chosen death- by- falling- disco- ball rather than wear this kind of apparel.
It was a matter of personal choice then and now, except that the guys who actually wore this stuff were immortalized in retro photos forever and ever amen. I am happy to report that none of my buddies were stupid enough to wear this disco clothing and we weren't collectively that bright.
The same principle applies in 2012 to wheel choices, although the tastes in wheel choices will not get you ridiculed by your car buddies unless you also show up at a car show in a leisure suit.
Muscle car owners who are true to the period look of the 60s and 70s may choose dog dish hubcaps for their badges of honor on a period-correct ride. That was the understated no-nonsense factory look of the day in the golden era of Detroit muscle.
An alternative at the time may have been CRAGAR style mags from a local speed shop supplier. Mags always added a little extra style points to a vehicle in those days and the classic mag was a must for many car guys in the 60s and 70s.
Chrome wheels were also an option at the time to add a little bling to the ride, whether they were mags or full wheel choices for the buyers.
Some guys chose standard wheels, beauty rings and baby moon hubcaps for their style upgrade, while other guys liked rallye wheels on their vehicles.
The rallye wheels may even have been a factory option in some cases.
These days we have added ultra low profile tires and very large wheels into the custom look mix. Some car guys love the look on their rides while other guys are reminded of Saturday morning cartoon cars when they see the over-sized wheels on cars or trucks.
Ultimately, it does boil down to personal choices today as much as yesterday. In fact, even more today because there are all of the retro choices still available as well as the new look in wheels and tires.
Today's choices may even include a concerted effort to improve old school handling and grip with the new technology in wheels and tires that may also allow an upgrade to allow for a disc brake upgrade and more tire tread on the road.
It is all a matter of taste then and now when it comes to the wheels and tires under your ride. But leave the leisure suits at home.
Jim Sutherland
Follow us on Facebook at-http://www.facebook.com/MyStarCollectorCar
Follow us on Twitter at- https://twitter.com/#!/MyStarCollecto1 
Follow us on Pinterest at- http://pinterest.com/jerrysutherland/classic-iron/