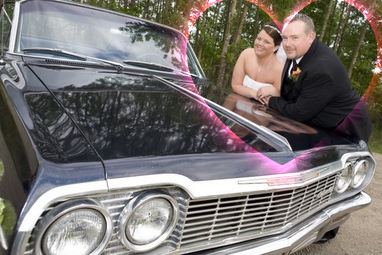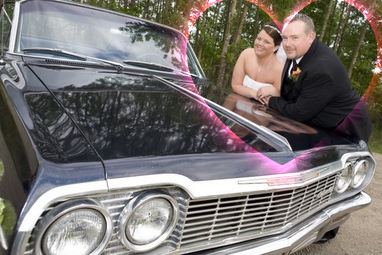 The final Valentine's Day Wedding Car is a story that should have been made into a Hallmark movie. The 64 Chevy is an iconic car on its own, but this particular 64 Impala had a family history that dated back to when it was brand new.
It was a narrative worthy of a Valentine's Day movie.
We did this story back in 2009-it was one of the first articles in MSCC and we've added an updated wedding story.
Here's the original story:
"The honeymoon was never over for Jim and Barb Giesbrecht and their 1964 Chevy Impala 2 door hardtop. The Chevrolet was their wedding car because a brand new direction in life required a brand new set of wheels to take you there back in 1964.
Jim, Barb and the Impala shared a honeymoon together and the three of them continued down that road of life full of kids, summer vacations and winter hockey games. The Chevy handled it all like a reliable pack mule.
There are times in every family, especially back in the 60s and 70s, where finances hit some serious whitewater – Jim had to ponder selling the family heirloom at that point.
Fortunately, Barb jumped into the debate and the Chevy is still part of the family in the 21st century. You rarely see the wife defending an automotive legacy but that's the kind of person Barb was-the car was full of too many good memories and she couldn't cut that Day 1 member of the family loose.
Great call but now Jim's battle is wrestling wrenches away from his son Terry.
Terry loves the car as a lifetime member of his family but he'd like to yank the sensible 283 motor that Jim ordered back in 64 and plunk a giant big block into this American classic.
Terry won't win.
Jim knows he doesn't have to get there fast. He never did. He just has to keep getting there in style like he always has in his 64 Chevy full of memories".
PART TWO-THE SECOND FAMILY WEDDING

Part two of the Impala's history happened when Terry Giesbrecht and Tosha Stevenson decided to get married-the only logical wedding car was sitting in Jim's garage.
Bear in mind that the 64 Chevy is a survivor car-in other words, unrestored. That means that it shows the wear and tear of nearly 50 years. Typically, a non-pristine car that looks a little rough isn't at the top of a bride's "accenting the motif of a wedding" wish list.
But this isn't a typical car and Tosha was the first to recognize how important this family legacy was to her new husband. She described riding in the wedding car as an "awesome experience" leading most Tim "the Tool man" Taylor car guys to speculate that if Terry hadn't married her…the lineup of suitors would be down the block to court Tosha.
Tosha's new father in law Jim took a practical approach to the wedding car-as she explained, "he had the interior cleaned and new seat covers to protect my wedding dress". Other than that, the car is 100% the same 64 Chevy that Terry's mother and father used as a wedding car –that's something that wedding planners might not understand but your average car guy will sure connect the dots.
For Terry and Tosha, the Impala ran like it did when Beatle-mania was a brand new term. Tosha added, "that Terry went to the church in the car then Terry and I and the best man and maid of honor drove away in it. It was fantastic". No doubt Terry heaved a sigh of relief after that successful mission, but most car guys know that a small block Chevy is one of the most reliable engines ever built.
Maybe that bullet proof factory 283 will convince "more-power" Terry not to replace it with a big block when he inherits the classic Chevy.
Tosha admits "that the car will never leave the family" and she can understand why-it's a part of the family and with any luck, her kids will make the Chevy a 3rd generation wedding car.
Ultimately,this would not have been possible without Barb Giesbrecht and her foresight to keep the classic 64 Chevy.
Unfortunately Barb passed away before she could see her venerable wedding car included in her son's wedding-but the legacy she left is evident.
No doubt Barb would have been incredibly proud that her own wedding car had such a prominent role in her son's wedding story.
Happy Valentine's Day
Jerry Sutherland
FOR ALL OF OUR WEDDING CAR STORIES PLEASE FOLLOW THIS LINK– https://www.mystarcollectorcar.com/2-features/special-issue.html