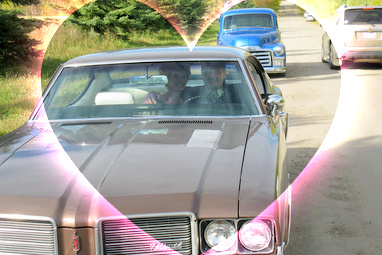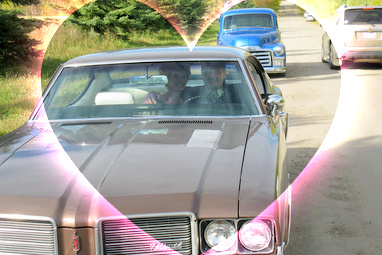 During this Valentine Wedding Cars week we've had fun with the eternal struggle- "wife versus old car".
In reality, there are many examples of spousal support for their husband's vintage iron addiction…
This phenomenon is rare-rare as a confirmed UFO sighting. But UFOs can actually be weather balloons so… statistically they are up in the sky and they are-technically-"unidentified".
So technically UFOs and brides who love the old iron do occur randomly in nature.
Though 100% bridal support for a husband's old iron addiction is probably rarer than a UFO, we found it in these 2 vehicles-the 4th in a series of wedding cars.
This combination of Valentine's Week wedding cars makes a solid case for the reality of that rare, but welcome occurrence.
Joan Robinson not only supports her husband Larry's hobby-she actually contributed one of the classic rides in this wedding party-a 1954 GMC pickup.
Joan understands Larry so well that his 50th birthday present was a 50-year-old GMC truck. We covered that great car guy story in this piece back in 2009-https://www.mystarcollectorcar.com/3-the-stars/star-truckin/216-the-50th-birthday-truck-54-gmc-pickup-a-great-way-to-celebrate.html
The other wedding car was a 1971 Olds Cutlass–the same car that Larry and Joan used as their matrimonial chariot back in 1978. Larry bought the Olds in 1973 and he just couldn't let go-it's a great car and he's a highly qualified mechanic so lifetime maintenance wasn't an issue.
The Olds was the Robinson's courting car so Joan developed a lifetime attachment to both driver and car. One of the first things she discovered about Larry was that he is the ultimate car guy-he owns them, has trouble parting with them and he works on them for a living. What little spare time he has is typically spent at a car show.
That truck was the 2nd player in the wedding cars (son Tony and new daughter in law Brady's wedding party showcased the 54 GMC & the Cutlass). Not surprising…make no mistake about it-the Robinsons are a true classic car family.
That's why the 1954 GMC and the 71 Cutlass were such important additions to the wedding party.
The wedding had a few staged moments, but the two cars actually performed like Swiss watches. Larry is modest about his mechanical prowess but in reality the 40-year-old Oldsmobile is an excellent example of his attention to detail and preventative maintenance. As for the GMC, Larry wrapped up the critical mechanical details on the classic old truck-he wouldn't have had it in any other way.
Nevertheless several pictures were taken with the bridesmaids behind the truck shoving it up the road. It made for good visuals but the reality is that neither Robinson vehicle needed any help on Tony & Brady's wedding day Sept. 25, 2010.
Larry and Joan were justifiably proud of their son and new daughter in law last September. The icing on the cake was the big roles that the two wedding vehicles played on that day. That was achieved because Larry is a car guy with a vision for the old iron and Joan is a wife who completely understands and supports that vision-a Valentine's Day car romance at its finest.
The next generation Robinson nuptials could make the 1971 Cutlass a 3rd generation wedding car for two good reasons-Larry will still own it, the car will still be running like a clock.
Joan wouldn't have it any other way.
Jerry Sutherland
More wedding cars are found here…https://www.mystarcollectorcar.com/2-features/special-issue.html
COMMENTS
KATHLEEN:"I have to agree with the comments re. luring women to the website…not necessary, as there are many of us that have always enjoyed car/truck stories, and even more, enjoyed a history of loved vehicles. My inspiration came from being part of a large family which included 6 brothers that loved cars. It was fun to watch two brothers who loved working on models of vehicles that had to be put together with glue and painted with a brush, and to see their huge collection of models multiply during the school years. It was exciting to watch some of the brothers working on vehicles while still living at home, and being excited about the process. It's been great seeing two brothers share their passion about vintage vehicles and their stories, and to enjoy their writing talents in sharing those stories with others that are "car people". I love the stories, and as your sister, I share in your passion…and of course you know that I married a man who shares in the passion too. We'll never get tired of the stories, so looking forward to reading more!"
BOB:"I can't remember what my wife gave me for my 50th birthday. I think it was a bottle of cologne. HIS WIFE REALLY SET THE BAR HIGH".