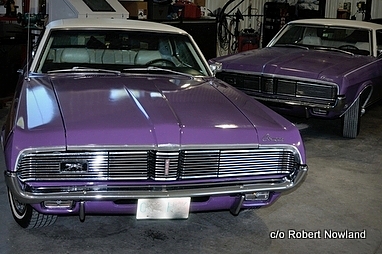 '69 Cougar XR7s are relatively rare but this particular version is extremely rare.
These purple and white XR7s were an incentive plan for an insurance company so they were a badge of honor for the employees.
It was a great motivator for the employees of Rocky Mountain Life but the company itself needed a few more business lessons because it crashed and burned leaving investors and the Alberta government holding nothing but promises.
Robert Nowland is both an owner and historian for these unique Mercury pony cars so he explained the back story to these cars, " Rocky Mountain Life Insurance Company was started by James E Wood, a graduate of the Life Insurance Marketing at Purdue University,. Jim Worked with Crown Life Ins. Co from 1948 to '64 and that included 10 years of Management".
Jim had a better idea so, " In 1964 Jim was President, Founder and Chairman of Rocky Mountain Life Insurance Company. Impressive growth in from 1967 to 1969 was driven by the Purple Cougar incentive for salesmen".
The cars were a good incentive as Robert explained, "It was possible for a new recruit to be presented with a brand new Purple Cougar by achieving an income level of $2000 per month, then maintaining $1500 dollars each month after that. A failure to retain that level for two consecutive months the car had to be returned, and pre-qualifying at the $2000 was required to get the car back".
The purple color was intentional, "The Cougars were factory ordered by Universal Sales and Service in Calgary with fleet paint WT9083, then leased to RML by Hillcrest Auto Sales Lease Ltd. The reason for the choice of Purple was because the $10 (Canadian) bill at the time was purple on the back, so purple was referred to as the color of money".
Robert loved the Cougars from Day 1, "Unlike many I did not have the opportunity to purchase a Cougar new. Arriving in Vancouver from overseas in 1970, I was attracted to the cougar by it's sequential tail lights. It was September 1994 when the opportunity came to own my first Cougar, a well used Lime Green 1970 XR7. Now having a Cougar I wanted to connect with other Cougar owners before making plans to rebuild my car, with the Internet I found and joined the Classic Cougar group on Yahoo".
The fraternity of the club was very productive, "Being a member of the Classic Cougar group I would contribute and learn, then one day a thread about Purple Cougars by Ray Harwood from Victoria started which I followed with interest. Ray a Cougar enthusiast had found the shell of a purple Cougar that had been stripped of most of its parts, thinking it might be special he bought the shell, and after some time of dragging it from place to place he rebuilt it to a running car. Discussions continued, then one day a thread mentioned there was a purple Cougar in Kamloops, where I live".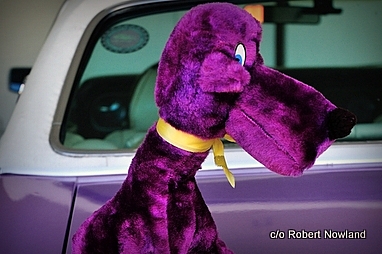 Robert was sold, "This was too much of an opportunity to pass up so worked at getting connected to the owner so I could look at it with no intention of buying the car. It was February 02, 2003 when I first saw the car, what struck me most, it had been repainted mid life to white. The white paint was lifting in places and the purple was visible underneath, lifting the driver side mat and looking in the trunk where it had not been repainted was also purple. March 19, 2003 I got a call asking if I wanted to buy the car as the owner's wife decided he had too many vehicles and some thing had to go. In a no haggle deal I purchased the car, and in a couple of days it was in my carport at its new home".
The next stage is assessing the project, "When I purchased the car the sequential lights did not work as they had been butchered by the first owners husband who purchased it from Dearborn Ford in Kamloops after it came from Universal Sales and Service when Rocky Mountain Life Insurance no longer needed it".
There were a few more secrets, "The engine would start in any gear (not good with an automatic) and the tilt away steering did not tilt away. Being a Red Seal Heavy Duty Mechanic those were no issue. The car was mostly in original condition, and not molested other than the stock radio with 8 track had been replaced, the interior while not in pristine condition was, for my needs, very acceptable. May 17, 2004".
The process continued for Robert, "I started a clean up, and on site repaint back to the WT9083 colou it left the factory with, every weekend until the week before an August Fordnutz Cougar Club show in Vancouver. The day of the show you could still smell the fresh paint. The clean up which included engine removal and refreshing the engine bay plus timing chain replacement and engine repaint. The exterior was stripped and sanded, fenders hood and all chrome and accessories removed for painting. The car is not perfect but that is more of a reason to show it on the street every day and not keep it hidden away".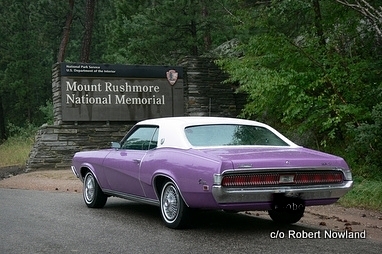 Robert loves to get the XR7 on the road, "Depending on how winter goes I try to get it on the road early in the spring, and drive it every day through to mid November."
There is almost a 100% certainty of a problem with old iron on the road, "On July 7, 2007 at over 6000FT near Gypsum Colorado on my way back from the Cougar National show, I had just filled up with gas and was going down the interstate when the car just quit. I am traveling alone with nothing but a GPS, my first thought is I got water in the gas. Lifting the hood the top of the engine was covered with gasoline, and is hot as it boils on the intake manifold. The first order of business was to remove the air Cleaner, and soak up the gasoline so I didn't get a fire".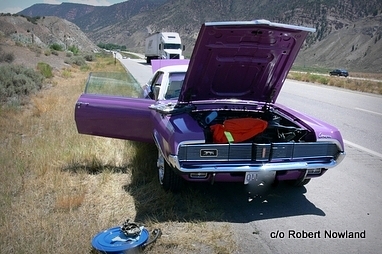 "Doing some troubleshooting I found that cranking the engine the carburetor would flood and pour gasoline onto the intake manifold, this was going to require some road side carburetor surgery to find the problem. Once the top was off I found that the pin holding the float in place had come out, causing the float not to close the needle valve resulting in the flooding problem I had. I spent about 1 1/2 hours in +30C weather working over a hot engine, being careful not to drop any of the small clips I had to remove in the disassemble and reassembly before I was mobile again".
Nevertheless, Robert is undaunted on road trips,"I have taken a number of trips to Vancouver and Edmonton, a trip to Issaquah Washington, toured Alberta from Calgary to Cold Lake and down to Lethbridge checking known RML cars. But the longest trip I have made was to the 2007 Cougar Nationals in Denver Colorado, and back covering more than 5200 km".
A purple '69 XR7 is an attention-getting device and Robert has seen it all, "Everything from thumbs up to that is not a factory color, and is that one of those. The most interesting comment came at the 2004 Mustang International in Calgary, a fellow walked up to me and said you should be in jail. My response to him, was you are the person I need to talk to, this was like many chances to learn about the cars, where there was no details they could provide. I am thinking they or a friend lost money from their investment when the Alberta Government closed the company".
The reference is to the spectacular end to Rocky Mountain Life.
Robert is definitely keeping his Cougar and extending the data base on these cars, "Now that I have retired I plan to drive it and enjoy it as long as I can. I have collected a lot of information on the company and the cars, I have also received help from Phil Parcells (CCOA Database Manager) some of that can be seen on my website.
"I plan to put all the collected information together to share with other RML Cougar owners. I have a picture of 1968 Purple RML Cougars and have not found one, we think there are 1970 RML Cougars but have not been able to find any even talking to some of the RML Directors".
The history is a moving target, "The number of Cougars has not been confirmed, there is said to be 94 to 98. I have been told by George Revitt (President Universal S&S) there were 115, while Jim Woods notes reference 150 at one time. I have a photo of 1968 Purple Cougars, photos of repainted 1969 XR7's with sports mirror, and a cartoon of 1970 Cougar for RML. Only 1969 XR7 Cougars have surfaced that we have been able to verify through VIN numbers or owners manuals, my search has not ended but gets harder as each day passes".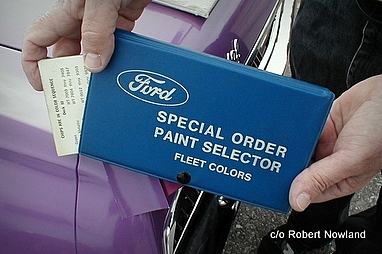 Robert is certain of one thing-he has a rare car,"I do know of 12 road worthy RML Cougars and have seen 10 of these. I have also seen 4 RML parts cars including one in Red Deer just 1 serial number higher than mine".
Who said business history is dull?
Jerry Sutherland