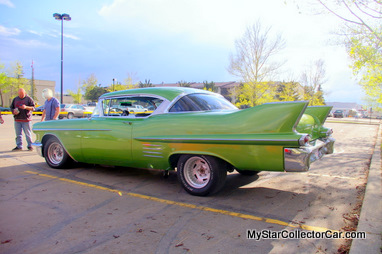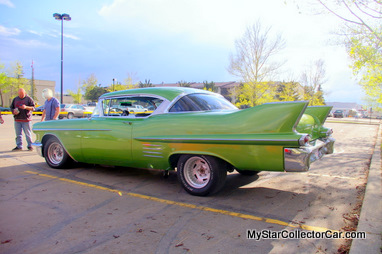 Jerry is an easygoing guy until one subject comes up-tuner cars.
He's not a fan by any means so his natural instinct was to build an anti-tuner car.
In this case, size does matter so he picked the biggest piece of iron he could find to turn into a tuner-masher.

A 5320 pound 1958 Cadillac sledgehammer…
Jerry qualifies the investment in this behemoth by quipping that, "I can carry a tuner car so I can drive home and nobody knows me".
Jerry found the car after a lengthy search for a project but he admits that he didn't know a lot about 50s Caddys "it was a fluke deal, first car I've ever built. I saw an ad for a '58 Cadillac so I asked if it had fins".
The car's body was basically sound; it had a seized motor but Jerry spent 4 years on the project and he strictly adhered to the "build in your garage" code of conduct. His car buddies told him that they'd have no respect for him if he wasn't 100% hands-on with limited resources in a tight space.
Jerry admits that this was "a long, tough build" but he did have a fair amount of help with the Caddy. He's a motorcycle mechanic so the barter system was alive and well throughout the project. The front fenders and rocker panels were refreshed but generally the body was solid for a 50 year old car at the time.
One of Jerry's biggest issues was a power brake booster. He spent a large amount of money on a custom system that didn't work and eventually solved the problem with a used $5.00 booster from a Camaro-the luck of the car project.
Some fabrication was required including custom motor mounts for the Chevy big block that resides under the hood of this former luxury liner. The car runs on pump gas and still puts out 500 horsepower but as Jerry admits, "it's not really economical". Clearly gas mileage isn't an issue when you're on stealth mission to ambush tuner cars with a bright green finned monster from the 1950s.
Jerry painted the car according to true car guy garage-build protocol-in his garage with a trouble light for illumination. The results are surprisingly good-clearly Jerry took his time with the finished product under crude, but effective circumstances. He added that "it took lots of sanding and more patience".
The Caddy does what it's asked to with a 3:73 12-bolt rear end as Jerry reluctantly confesses that he's "buried the needle" a few times. He reports that "it's a fun car and it turns a lot of heads" Jerry's a busy guy so his 1958 Cadillac with a nasty attitude doesn't get out as much but he has taken it on a few road trips and he reports that they've been "awesome trips and he's made really good time".
More importantly, this giant Cadillac is out there fulfilling its prime directive-to find and ambush tuner cars. Jerry bushwhacks then at every opportunity and he never gets tired of the shock and awe that a late 50s finned Frankenstein brings to the game.
Tuner car guys are less enthusiastic about Jerry's old Caddy…
Jerry Sutherland
For more car guy stories click here-https://www.mystarcollectorcar.com/2-features/stories.html