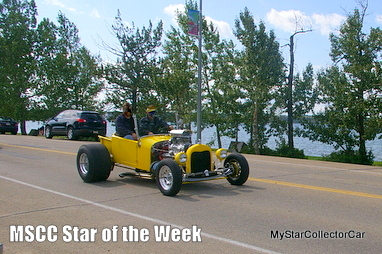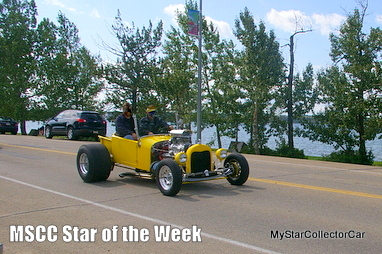 MSCC JUNE 1 STARS OF THE WEEK: A T-BUCKET…BECAUSE THE PAST DOES MATTER
The T-bucket has been a hot rod icon since the 1950s when Norm Grabowski built the Kookie T.
His car was so visionary it was featured in a full-page, April 29, 1957, LIFE magazine photo plus it became a TV icon in the hands of "Kookie" Kookson III on 77 Sunset Strip.
Bucket Ts were cool, but wildly unpredictable cars because of the short wheelbase and massive horsepower — all stacked in the front end. You were right over the steering wheel so these cars didn't handle like a new Vette.
Nevertheless, T-buckets endure to this day and their storied past makes this one an easy choice for MSCC Star of the Week.
MSCC MAY 31 MSCC STAR OF THE DAY: AMC JAVELIN – THIS PONY WAS OUT FOR A RUN
AMC Javelins were the last pony car in the race when they debuted on August 22, 1967 to kick off the '68 model year.
The Summer of Love was a tumultuous era to join the pony car wars but the AMC Javelin made a seamless entry with this very cool car.
This MSCC Star of the Day Javelin was on the road last September doing what pony cars do best.
Run…
MSCC MAY 30 MSCC STAR OF THE DAY: WHEN IN DOUBT FIND AN OLD SHOEBOX FORD
The key to any successful custom ride is to start with something that can readily transform into the world of cool.
There's little doubt you could put four wheels on a shipping crate, slap a hemi in it and call it cool, but most of the sane world wouldn't share your enthusiasm for your custom ride.
But what about a shoebox?
This MSCC Star of the Day shoebox Ford at a show a few weeks ago definitely answered the question.
MSCC MAY 29 MSCC STAR OF THE DAY: 1961 PONTIAC PARISIENNE CONVERTIBLE – TOPLESS & CANADIAN
There are many stereotypes about Canadian summers and most them end with some kind of crack about two months of bad skiing.
In some cases, this is a painfully accurate observation but generally there are a few weeks in Canada where a convertible makes sense.
There are a few distinctively Canadian soft-tops with distinctively Canadian names like Meteor Rideau Sunliner or Acadian Beaumont.
This MSCC Star of the Day 1961 Pontiac Parisienne convertible at a show last year proves how classy Canadians can be when they go topless.
MSCC MAY 28 MSCC STAR OF THE DAY: GROCERY GETTER-WHY EVERY GUY BUILDS A RATTIE
Rat rods are generally a form over function proposition – they're more like 4-wheeled works of art with a cutting torch for a paintbrush.
Practical people don't strip a car down to bare metal, rip out the stock seats in favor of metal bomber seats, drop it inches off the ground and add an exhaust system that is muffler-less and 10 inches away from the exhaust ports and call it functional.
Nevertheless, some guys can get by on the practicality angle by using a rattie for a grocery getter like this MSCC Star of the Day from last week.
MSCC MAY 27 MSCC STAR OF THE DAY: TRI-FIVE CHEVY TRUCK – THE SIGN SAYS IT ALL
The real reason guys build old rides is recreational.
The key word in the old car hobby is "hobby" so any time spent in old iron is recreational just like golfing or camping.
This MSCC Star of the Day tri-five pickup was on the road this past Sunday and the road sign really nailed the philosophy.
It read camping and golf in the same direction.
MSCC MAY 26 MSCC STAR OF THE DAY: 1968 FURY III – SIXTIES C-BODY GETS SOME GLORY IN 2014
Most Mopar muscle guys barely noticed the new full-sized Plymouth Fury when it debuted in '68.
They were too busy looking at the new Road Runners, Super Bees and fuselage styled '68 Chargers to notice the unassuming C-Bodies.
That is an understandable oversight because that B-body era is one of the most iconic lineups Chrysler ever had and these cars certainly delivered for the youth-oriented target group.
Furys were meant for the older generation so they didn't get the press, but these cars were unsung heroes for many families back in '68.
This MSCC Star of the Day '68 Fury III was on the road last week and it definitely got some attention 46 years after the Road Runners took all the glory.
For past MSCC Stars of the Day please click here.
Star of the Day page sponsored by Southside Dodge.