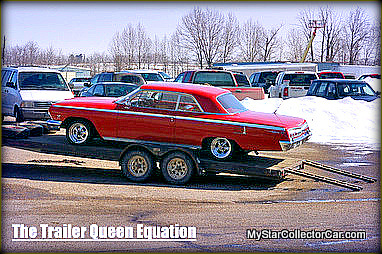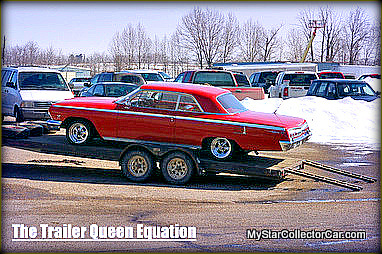 I interviewed a car owner this summer who had concluded an incredible restoration on a car from the 60s.
He had every reason to be very proud of his show stealer car, but its appearance at a car show was a very rare occurrence.
The car had over 100,000 miles on it when he discovered it and decided to restore it to a show winner level automobile. The process took more than 5 years and less than 10 years. I want to exclude detailed information about the car's make, year and model out of respect for the likable owner because his car had one serious flaw: he never drives it.
In fact, he had put less than 100 miles on the car since his incredible restoration. It was obvious that the amount of personal time and money that he invested in the car was enough to convince him that it should never be taken on the road.
He wore the scars of a long and painful restoration and he almost winced when I asked him how much time he had spent behind the wheel of the car.
This car was destined to be a trailer queen and will never again experience the open road under his watch. The car had morphed into an investment for him that, in his opinion, would depreciate if he chose to drive it anywhere except in and out of the trailer.
This is the point at which I reach a fork in the road when I talk to these kinds of car owners. I can understand why they want to protect their investments, but I cannot understand why they would fight the overwhelming urge to drive the damn car.
The car had a fairly stock period-correct small block in it and was a very street-able ride that would have been a blast to drive on the road. I would have taken about 17 nano-seconds to get behind the wheel and stretch out the car's odometer reading in a significant fashion on the street-but that's me.
There are many car guys who have sacrificed a great deal to complete a restoration project that took as long (or longer) as this car's and their first thoughts after it was done were;"let's take this baby out for a spin". That is the way it is supposed to work in car guy world.
The only exception to this rule is a car with 50 original miles on it. You may not want to hit 51 under these conditions.
Important note: none of the cars pictured in this article are the subject car.
These are drivers driven by car guys who really understand the basic philosophy behind the collector car culture: if you got 'em then drive 'em.
Jim Sutherland
Follow us on Facebook at-http://www.facebook.com/MyStarCollectorCar
Follow us on Twitter at- https://twitter.com/#!/MyStarCollecto1